4 Ways to Increase Website Visibility on Google For Free
Increasing your chances of getting at the top of first page organic search results is always a main goal for businesses, whether big or small. Wishing is easy, but getting there is the hard part. Here are four simple and proven ways to help increase the visibility of your website on Google, for free!
Create a Mobile Friendly Website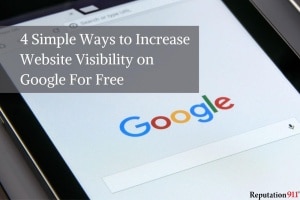 Making sure your website is mobile friendly is an easy way to increase your search engine ranking as well as increase traffic. The average American uses their smartphones to find out information about places to eat, things to buy, and places to see, all at the tips of their fingers. 
Making sure your website is mobile friendly ensures the user experience is easy and efficient for both new and old customers, helping improve customer satisfaction and increase branding effectiveness as a whole. Optimizing for mobile devices is always a good idea.
Offer High Quality Content 
Creating high quality content is also a way to get ahead of competition and improve the ranking factor of your overall site. The content of your website should always be clear, concise and engaging for a wide range audience. Nobody likes a boring website! Balancing an easy to use website with engaging design and content should be one of your main goals. 
The content, both image and text, of your website should always be of high quality. This will help your brand appear professional, like-able, and trustworthy. Google recognizes high quality content with the help of algorithms and updates on the Google platform. Google always recognizes a high quality website that keeps user experience in mind. 
Reputation911 Tip: Utilizing blog posts help you capitalize on the use of quality content, and helps keep your content up to date.
Utilize SEO Keywords 
Just like high quality content is a priority, so is your SEO. Search Engine Optimization utilizes several different factors to help make your site as efficient as possible. Using keywords help you do exactly that. 
Long tail keywords are phrases that help Google better understand what the content on your site is about. The more keywords and the higher the quality, the more likely you are to land at the top of organic search results.
Keywords should also be used in your meta descriptions across your website to help communicate with Google. 
Reputation911 Tip: Be careful of keyword stuffing. More is not always better when it comes to keywords, using a free keyword density checker like PrePostSEO can help you avoid that problem by scanning your content before you post. 
Connect to Social Media 
Use social media as a tool to help improve the overall performance of your site, and increase your visibility on Google. Connecting your website to all of your professional social media accounts and profiles helps boost the performance of your site. 
Think of social media as a supporting document for the content of your website. The more information there is, the more likely Google is to view your site as information for a given user.
About us
We are a Online Reputation and Privacy Management Company that helps our clients Restore, Promote, and Protect their online image.