Last Updated on July 18, 2023
Part of a successful digital marketing strategy is making sure that your online image remains positive and trustworthy. If negative content appears in Google search results for your or your business's name, it can severely damage your online reputation. It is rarely possible to remove all negative content, but by using online reputation management (ORM) strategies, you can bury negative search results.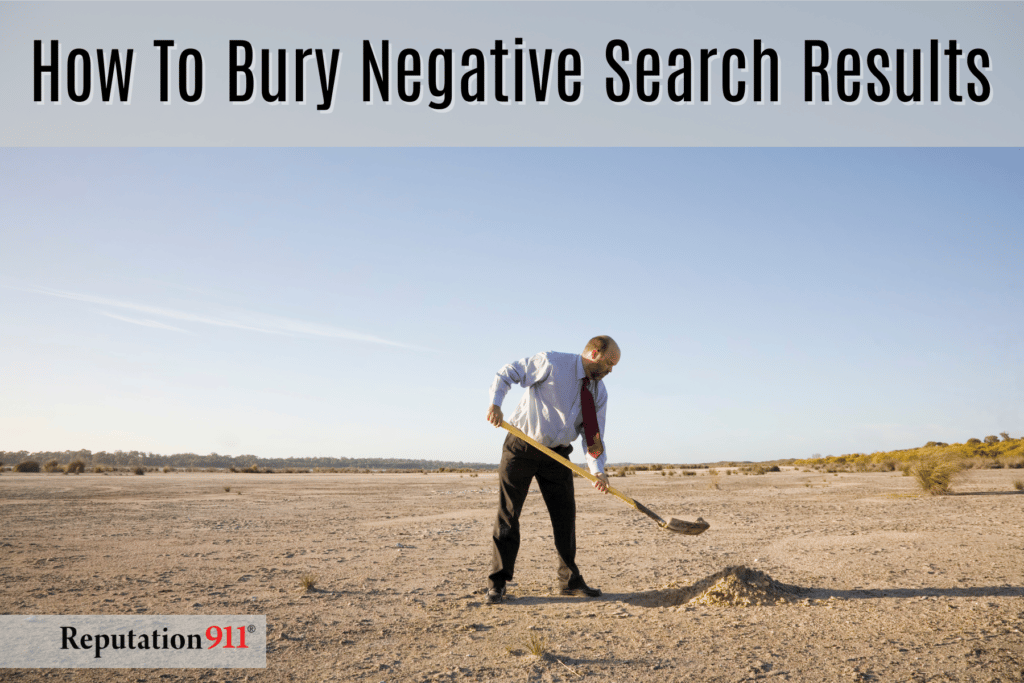 What does it mean to Push Down Negative Search Results?
How often do you look up information online? If you are like most people, it is pretty frequent, and you are probably using Google's search engine. Google has monopolized the search engine sphere, and it is where most people turn to when they want to find information.
Have you ever thought about how often you look past the first page of Google? Most people never do.
Google uses a complex algorithm and ranking system to decide which sites make it to the first page of Google search results. This algorithm updates constantly and uses hundreds of factors to determine the ranking of relevant search results.
Essentially, this means that you can use the algorithm to your advantage. If you can get sites with positive content about you or your business to rank highly on Google, they will out-rank the negative content. Eventually, negative content gets pushed to the second page or beyond of Google, and almost no one will ever see it.
Why Bury Negative Search Results?
The power of online reputation can not be understated. Nowadays, anything you do online has the potential to affect you in real life, for better or for worse. Knowing how to suppress negative search results from Google and replace them with positive content will put you on the path to a glowing reputation online.
Some of the benefits of a positive online reputation include:
Doors for networking opportunities will open up.

When employers search for you online, they will find good information about you and are more likely to hire you.

Similarly, this can help you in online dating as people may search for you online.

Get accepted to college.

Having a good reputation leads to increased revenue for your business.

You will be able to attract top talent for your business.

Establish yourself as an authority or expert in your field and industry.

Establish and maintain relationships with clients.

Develop a positive personal brand.
How To Bury Negative Google Search Results: 6 Strategies
1. Try To Remove Negative Search Results 
Before you try to push down negative search results, remove as much of the negative content online as you can. The less negative content there is to suppress, the more successful your suppression tactics will be.
It won't be possible to remove everything, especially content posted by other people, but there are some steps you can take:
Remove negative content from your social media sites. Go through and take down any content that could paint you in a negative light, including blog posts, tweets, links to other sights, images, etc.

Remove negative reviews from Google reviews and other review sites to proactively manage your online presence since 91 percent of people read them.

If your friends or family have posted anything about you that you don't want to circulate online, ask them if they will take it down.

For any other third-party content that you want to take down, find the website owner's contact information and send a professional removal request, or have it no-indexed.

Submit a

Google DMCA Takedown Notice

in cases of copyright violation.
Once the content is removed, you can create new, positive content to take its place.
2. Create New Profiles
There are many websites and social media platforms that automatically have a high ranking in search engine results. Creating new profiles and publishing new content on these sites will help to bury negative search results that may come up.
In order for this to work, you should fill out your profile completely and use keywords that you want to be associated with, such as hobbies, interests, and anything about the industry you work in. Use information and images that paint you in a positive and professional light. Remember to always post fresh content regularly.
Some key sites to create profiles on include:
Facebook

Instagram

LinkedIn

Pinterest

Twitter

Tumblr
3. Start A Website
These days, every professional needs to have a website in order to establish an online presence. By having your own site, you have a direct way to tell the world who you are and what you are all about. It gives you back control over your online image and establishes a level of trust with people who come across it.
Make sure to use your search term for your URL, such as your name or business name. With so many user-friendly website builders out there, it has never been easier to make your own site.
4. Blogs & New Content
Publishing regular, quality blog posts gives you additional control over the information that people can find about you online. Not only is blogging a fun creative outlet but posting fresh content will increase positive rankings on Google. You can write about hobbies and interests, share valuable information, and post content about your professional field.
Identify positive keywords to associate with your search term and use SEO (Search Engine Optimization) techniques in order for your blog posts to rank highly in Google. The more positive blog posts you publish, the more it will bury the negative results.
5. Interlink Your Different Sites
Now that you have created a website and all these new profiles, you can start connecting them to each other. Google's algorithm will increase the ranking of all of your sites just by simply linking them together.
For example, you can use your blog posts to insert links to your various other websites into the text. You can then publish links to your blog posts on your social media accounts. Linking them all together will help to strengthen their ranking and will bring them all up in Google search results, which will push down negative content.
6. Press Releases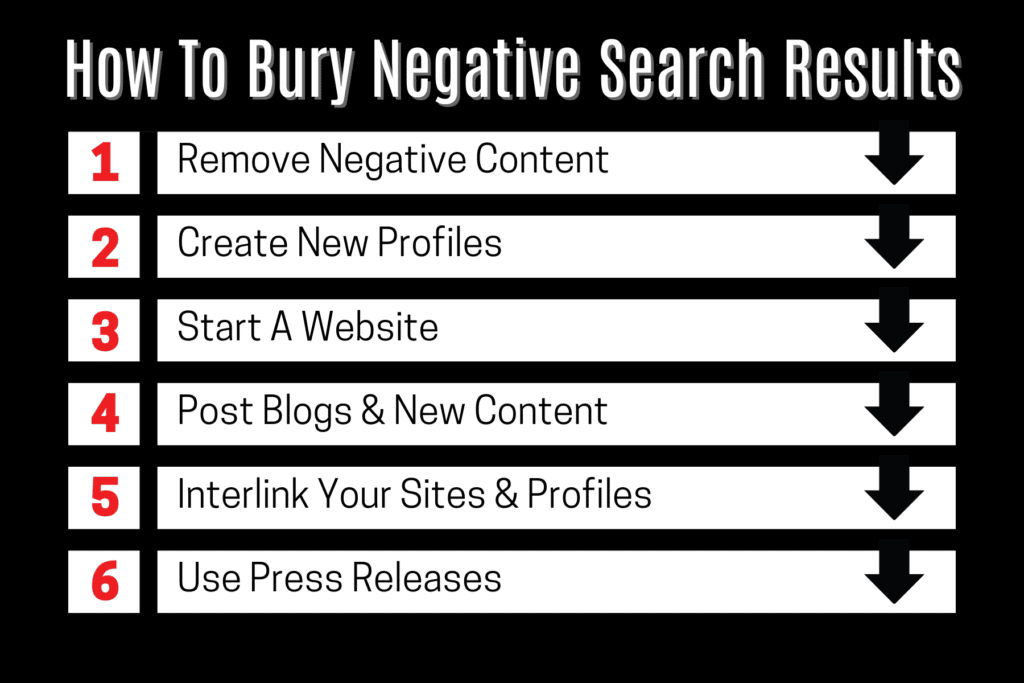 Creating your own content goes a long way toward creating a positive online reputation. To take it a step further, it is important to get third-party sources to publish new, positive content about you. Google will rank your content even more highly if outside sources besides you link to it. Press releases will make your content more trustworthy and authoritative, and will expose you to new audiences.
When To Hire A Professional
Improving your online reputation by burying negative search results is a long-haul effort. Your reputation won't improve overnight, but you must stay consistent. It can also be challenging to figure out whether you are doing the right thing, or making things worse. If you lack the time or expertise, it might be time to hire a professional to help you with your online reputation.
The expert team at Reputation911 provides full-service online reputation management for individuals, brands, and businesses.
We are a reputation management company that helps to make you Look Good Online.