This post has been most recently updated on July 28, 2023
Reputation management allows brands and individuals to shape and influence how they are viewed online. This process helps improve overall brand sentiment and public perception.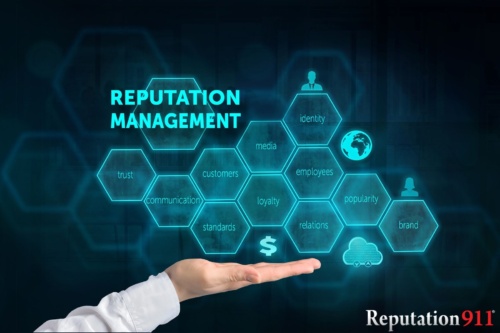 Reputation management shapes what is being said online through your own messaging and not by others. It addresses negative feedback, false or detrimental content online, business and organization reviews, and more.
It is also known as online reputation management (ORM), internet reputation management, brand perception, and others.
This article will help explain the definition of reputation management, its purpose, how it works, and the types of reputation management strategies you can start using to take control of your online reputation.
Article contents:
The Importance of Reputation Management
Your reputation is created by what people see of you from what is published and associated with your name, business, or brand on the internet. So, depending on your search results, (whether it's good or bad information) what people find about you online has a direct effect on their perception of you before you ever meet them.
While word-of-mouth marketing is still a good source of brand recognition, online reputation management (ORM) is now a necessity for individuals, personal brands, and businesses, both big and small. Today, over 90% of consumers look at online reviews before they buy from an individual or business. This means you could be losing almost all of your customer loyalty based on a few bad reviews.
It's a much more competitive world in the age of the internet. You no longer have a choice as to whether or not you want to be part of it, but rather how you or your business will handle it.
Who Needs Reputation Management?
There are many instances in which reputation management may be needed. How do you know if you need reputation help? Ask yourself these questions:
Have you been missing out on new job opportunities?

Are clients or new sales leads just not getting back to you?

Did you not get that promotion when you had the skill set and qualifications? 

Is there something negative online about you or your business?

Do you have enough polished content available online to impress people?
If you answer yes to any of these questions, reputation management might be right for you.
Types of Reputation Management
There are 4 main types of reputation management services that companies and firms offer:
Individual Reputation Management

Business Reputation Management

Online Review Management

Online Privacy Management
Here are what reputation management means for each of the types of services listed:
Personal Reputation Management 
Personal reputation management refers to an individual, whereas business reputation management refers to representing a corporate brand. Distinguishing between both categories is easy when you know your goals and needs.
In today's world, where everyone cyber stalks everyone, individual reputation management is more important than ever. Reputation management for teen students can be important to decrease the chances of being denied college entrance if admissions officers find unflattering content about them (even if that information is not true).
Even working professionals will suffer if search engine results create a bad online presence for them. Salespeople might lose clients or have trouble gaining meetings, and freelance or contract workers might lose work opportunities if their negative content appears ahead of an up-to-date portfolio in search results.
Brand Reputation Management 
Research has shown that 88% of customers find online review sites to be trustworthy sources. Additionally, 80% have admitted to changing their mind about buying a particular product or service based on negative customer reviews found online.
Source: BrightLocal
In this case, your online reputation is directly tied to revenue. If you have too many negative reviews or negative content, potential customers may choose to do business with your competitors.
Online Reputation Management
Have you ever tried Googling yourself or your business? What are some of the first things you find?
Review Sites

Social Networks

Images

Articles

Videos

Comments
These all get factored into your online reputation. To understand this better, let's look at how search engines like Google work.  
When negative links are the first thing someone sees when they Google your name or businesses, it lowers that person's ability to trust you based on that first impression. On the other hand, review sites and other outlets with positive reviews and happy content build trust and turn happy customers into brand ambassadors.
Online Privacy Management
Internet Privacy Management means keeping your name and information private on the internet. Online privacy management includes removing unwanted links, blogs, and images from your personal or business search results, and permanently keeping your personal information off people's search sites and the rest of the Internet while protecting your online reputation and privacy.
Effective Reputation Management Strategies 
Here are a few common, yet effective strategies to manage your reputation online.
Removal of negative content
Google search suppression
Creating new social profiles
Wikipedia management
Guest posting
Business crisis management
Personal crisis reputation management
Online review management
Removal of negative content
Removing content from the internet, this is an effective tactic to control your brand perception online. However, it may not always be possible to remove content from a website or social media account that you do not have access to. If you fail to reach the publisher, or they refuse to remove content themselves, you may send a DMCA takedown notice.
Google search suppression
Using SEO and keyword optimization, you can optimize websites you own to update to push negative search results down in the Google search results. The idea is to push off unfavorable search results that appear when someone Googles your name off the first page of the search results, because very few web users click past the first page.
Creating new social profiles
By creating new social media profiles, it gives you the chance to publish content that will put your brand in a more favorable light. The creation of social media accounts can also help push any negative search results that appear for your name down in Google.
Wikipedia management
Creating or updating a Wikipedia page is another effective strategy that individuals and businesses can use. All updates must be inline with the policies and guidelines Wikipedia enforces.
Guest posting
Another strategy is to write an article for another website. This allows you the opportunity to contribute positive content to drown out the negative articles.
Business crisis management
For any business, a crisis can occur at any time. When it does occur, organizations must mitigate damage to their reputation. Crisis management is the process of managing your organizational perception at the time a crisis hits, which includes a crisis management plan.
Personal crisis reputation management
Much like businesses, individuals can experience a crisis that can affect their online reputation. Personal crisis reputation management is the act of managing an individual's reputation online. 
Online review management
Reviews can make or break a business. Online review management is the process of monitoring reviews mentioned about your business on Google and other online directories. 
Controlling Your Brand Perception Online
How can you control your online brand perception? You must know the differences in how to use owned, earned and paid media.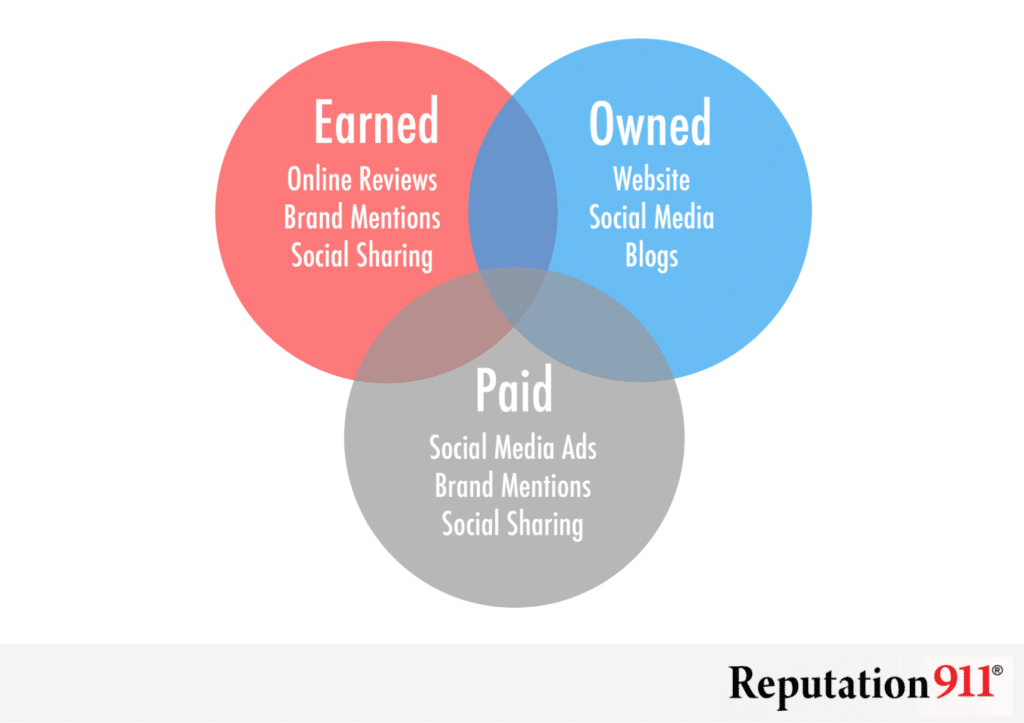 Owned Media
This is what your brand owns and has the ability to create content to control brand perception. This includes:
Website 

Email

Podcasts

Blog

Hosted Events

Social Media accounts

Google My Business profile

Other Directory Sites 
Handling owned media:
Promote positive content

Be consistent with your message and branding

Monitor customer feedback when content is posted

Use owned media for any mishaps or crisis
Earned Media
These are the sources of online content that you oftentimes, don't have control over. 
Mentions

Social media shares

Best of/worst of reports or roundups

Online reviews 
Handling earned media:
If negative content is published about your brand, ask the source to take it down

If that doesn't work, go through Google or social media platform to get it removed

Look for PR opportunities to promote positive content about your brand on other websites 
Paid Media
Any marketing or online media that you pay for.
Social media ads

Search engine ads

Display ads

Retargeting

Influencer marketing

Sponsorships
How to Recover From a Bad Reputation
If you find that your brand has a negative reputation online, you can take steps to reverse this. Follow these steps to improve your reputation.
Assess the damage
How much has your bad reputation damaged your brand? Find and flag the negative content about your business or personal brand.
Respond with an apology
If the situation calls for it, make amends. Issue a statement apologizing for any wrongdoings that have affected customers, stakeholders or others that have been affected as a result.
Create a recovery plan
Oftentimes simply issuing an apology is not enough. You'll need a long-term recovery plan to change your reputation. Employ the reputation management strategies to put your brand in a positive light and rebuild trust again.
Communicate proactively
Moving forward, communicate positively, and explain any changes you have made to address the issues that led to your bad reputation.
Be consistent
To recover from a bad reputation, you'll want to be consistent in your actions and words. To put your brand in a better light, make it a priority to follow through on any commitments made. This will help rebuild trustworth in your interactions with others.
Be patient
Recovering from a bad reputation takes time. It does not happen overnight! Following these tips above will help you, in time, repair your reputation.
Reputation Software and Management Tools
Automating your reputation management can be a great way to catch negative content about your brand. Considering using one or more of the following platforms or softwares to stay on top of our online perception:
Google Mentions

SEMrush

Ahrefs

Buzzsumo

Yext

Attest

Latana

Mention
In addition, there are a few free reputation monitoring tools available for use to check your reputation online.
Why Invest in Reputation Management?
There are many reasons why having a great reputation matters for businesses and individuals.
For businesses, online reputation management is critically important. There is a stark difference between a business with a good reputation and one with a poor reputation. The truth is, having a great reputation can either make or break a business!
For those with higher stakes to uphold; a client, customer, employee, coworker, or investor could all do a quick Google search and find one simple link that could completely change their perception of you.
Hiring someone to help you take control of your online image could be exactly what you need to repair your reputation and reinforce your brand with positive content and search results for people to find.
What Can Reputation Management Companies Do?
Depending on how little or how much work is needed to restore one's online reputation and what approach (removal versus suppression) will be taken are all factors related to pricing for reputation management. 
Investing in online reputation management services ensures a return on investment no matter which area you choose to focus on. Any step toward solidifying a professional brand, whether business or personal, is a step towards benefitting your first impression on anyone who types your name or business into Google. 
When working with a reputation management company in any of these areas, you should utilize a strategy and plan specifically designed for your needs.
A professional reputation management service will work with you one-on-one to define a course of action to either remove negative results completely or create a plan to suppress negative content with new content that helps build your brand from the ground up.
How to Find a Good Online Reputation Management Company
Here are a few key areas to consider when deciding which is best for you.
Do they offer a full comprehensive scope of services?

Are there strategies customized for each client and situation?

What is their track record, and do they offer case studies or client references?

Are they specialized in the industry or following the new trend?

Is the work results-based and in real-time?

Do they offer transparency when it comes to pricing and services?

Is their work guaranteed for the long term?

Do they offer monthly updates and reporting?
Most importantly, how long have they been providing reputation management services?
We are a reputation management company that helps to make you Look Good Online.