8 Step Guide to Local Reputation Marketing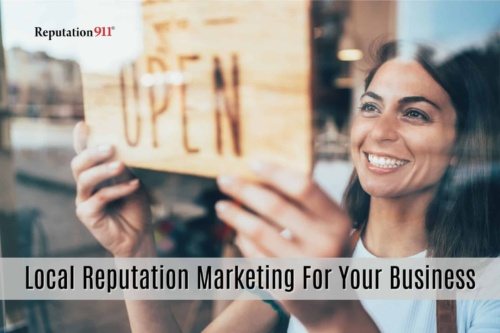 Whether you're a small business serving the local area or a national business seeking positive PR in the town or city you're based in, managing your local reputation is essential in today's digital landscape. An increasing number of consumers rely on online reviews before making purchase decisions. This makes local reputation marketing a crucial aspect of your business strategy.
What is Local Reputation Marketing (and Why Should I Care)?
If you own a local, in-person business, it's easy to underestimate the power of having a digital presence. Big or small, local or national, every business can reap huge rewards by establishing an online presence.
In today's age, the real world and the digital world are becoming more and more intertwined. People often form first impressions of businesses online, even within a local area. Local reputation marketing focuses on establishing a positive online presence for businesses within a specific area.
Benefits of Local Reputation Marketing
Increased Awareness
Even within your own town or city, not everyone is going to know about your business. Optimizing your presence and improving local SEO means people can find you on local search results.
Improved Trust
Even if people are aware of your business, they still might not purchase from you. Potential customers want to know that they can trust you before making a buying decision.
Online reviews
95% of consumers read online reviews before they make a purchase, and more than half would pay more for a product with good reviews! If you're not thinking about how to get positive reviews, you're leaving money on the table.
More foot traffic
People use Google Maps to get everywhere these days, especially if they are visiting or are new to the area. Putting your business on Google Maps means that more people are able to find you.
Customer loyalty
When you establish an online presence, you get the chance to interact with the local community via social media. When customers feel like they have a relationship with your business, they are more likely to become loyal, repeat customers.
Crisis preparedness
Every business experiences a reputation crisis or negative publicity at some point. Having a well-established internet presence puts you in a better position to weather the storm.
Organic promotion
Much of the classic "word of mouth" promotion happens online nowadays! Happy customers can tag you in posts and share your website link with friends and family, leading to organic growth.
Local Marketing Platforms
To successfully implement local reputation marketing, leverage online platforms tailored for local businesses. Here are some of the most common directories and platforms that can help improve your business's online presence:
Google My Business

Yelp

Yahoo

Bing

Foursquare

Facebook

Twitter

Instagram

Linkedin

TikTok

Medium

Angi

Manta
It's also a good idea to build your own website and blog to increase your online visibility.
Guide to Local Business Reputation Management
How can local businesses use reputation marketing to improve their reputation and online presence? 
Now that you understand the importance of local reputation marketing, let's delve into a step-by-step guide on local reputation management.
Optimize Google My Business
Google My Business is an essential tool for local reputation marketing. Ensure that you optimize your GMB profile and keep it up-to-date with accurate business information. Make sure to include:
Your address

Phone number

Website link

Hours of operation

Photos of your business
Regularly post updates, announcements, and offers to engage with potential customers and show that your business is active and responsive.
Fill Out Other Directories
In addition to Google My Business, don't overlook other directories that can bolster your local presence in online searches. Take a look at the list above again and see if there are any relevant to your specific industry. Filling out multiple directories helps more people find you.
Monitor Your Online Reviews
Stay vigilant in monitoring your online reviews across various review sites and platforms. Respond promptly and professionally to both positive and negative reviews. Customers will trust you more if you respond to reviews quickly. Plus, monitoring them helps you spot and handle bad reviews as early as possible.
Ask for Positive Reviews
Don't be afraid to request satisfied customers to leave positive reviews about your products or services. Positive reviews not only improve your business's reputation but also help push down any negative feedback that may exist.
Here are some tips to get more reviews:
Google My Business, Yelp, and TripAdvisor are some of the most popular review sites, Make sure your business has a profile on some of these sites.

Send reminders to your customers to leave a review, such as an email or text message.

Add links to your review pages on social media and your website. Make it as easy as possible for patrons to leave reviews, otherwise, they won't do it.
Respond to Bad Reviews
No business is immune to negative customer reviews, but the worst thing you can do is ignore them. Other people will see if you don't respond to negative feedback, and this can make you look even worse.
Instead of ignoring it, use this as an opportunity to show off your professionalism. When addressing negative feedback, show empathy and a willingness to resolve any issues. Responding to negative feedback professionally will:
Help you manage your online reputation

Demonstrate to potential customers that you value their feedback

Show your commitment to providing excellent service and improving customer experience
Give Back to the Community
Active community involvement can significantly impact your local reputation. Participate in local events, sponsor community initiatives, or organize charity drives. Showing that you care about the community helps build trust and loyalty among potential customers.
Use Social Media
Engage with your local audience through social media platforms. Share valuable content, customer testimonials, and behind-the-scenes insights into your business. Respond to comments and messages promptly to foster a sense of connection and reliability.
Reach Out to Local Press
Connecting with local media outlets can lead to positive PR for your business. Press coverage in newspapers, online articles, or local TV segments can boost your credibility and increase your visibility within the community.
Closing Out: Local Reputation Marketing
Local reputation marketing is a crucial strategy for businesses in today's digital landscape. By optimizing your online presence, you can enjoy numerous benefits, including increased awareness, improved trust, and enhanced customer loyalty.


In today's fast-paced business environment, reputation management for business is more important than ever. If you need help with managing your business's online reputation, our expert team is here for you. We offer a range of reputation management services to make sure you look good online.
We are a reputation management company that helps to make you Look Good Online.