Reputation Analysis (Complete Guide for Brands)
Brands use reputation to be seen positively and accurately while communicating with their audience. You can use reputation to build trust, loyalty, and engagement with the potential customer base in your market segment. Here is all that you need to know about brand reputation analysis.
What is a Reputation Analysis?
A reputational analysis is a process of evaluating a brand's reputation. The process involves analyzing the data related to the brand's reputation on various channels, including social media, search engine results, and consumer reviews.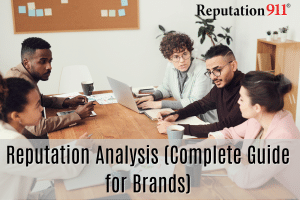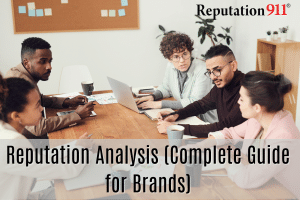 It allows you to identify where your company stands regarding its reputation and what kind of impact that has on your business. It also helps you understand how customers perceive your company and what they prefer when it comes to products or services offered by your company. You can use this information to improve customer engagement with your brand through social media marketing campaigns or other forms of advertising.
Why Is a Reputation Analysis Important?
Your reputation is important. It can make or break your business. Beyond just a brand health check, there are several reasons why a reputation analysis is important for brands.
To Determine If the Brand Can Invest in Advertising
Brand reputation analysis also helps businesses determine if they should invest in advertising or other forms of promotion. Suppose a company has a bad reputation. In that case, they may want to invest more money into advertising so that their name becomes better known worldwide.
Gain Insights Competitors
It allows businesses to improve their online reputation by learning from their competition. Now that businesses can easily access the reputation of other companies online. They can see what other brands are doing right and wrong and then make changes accordingly. These insights can help your brand gain a competitive edge. 
To Identify Problems Early
A reputational analysis gives insight into how your customers feel about your brand. That means that you can address problems before they become bigger issues. If you know what your customers are saying about you as a company, you'll have a better chance of handling those issues before they become major problems.
Determine How Much to Investing in Branding
Using marketing metrics to measure your brand's performance, you can get a sense of its performance and, more importantly, what is needed to improve it.
How to Analyze Your Brand Online
The online world is wild and unpredictable, but it doesn't have to be that way. You can use these four tips to conduct an online reputation analysis and ensure your brand stays safe and sound.
Know What You're Looking For
Before looking at reviews, knowing what you're looking for is essential. Are you looking for positive feedback? Negative? Are you looking for complaints? Or are you just curious about how people feel about your product or service?
Fake reviews may not occur very often, but when they do, there are some pretty convincing ones that could work against your brand if they go viral. So, look out for suspicious behaviors and take note of any reviews that seem suspiciously similar to other user reviews on the same page or website. If something feels off with one review, check the other ones too.
Conduct Surveys
The main reason for conducting a survey is that online surveys are the most reliable method of collecting information. People are more likely to respond to the questions posed by surveys compared to other methods. You can conduct surveys by phone, on a forum, or in Facebook groups.
Analyze the Findings of the Surveys
By analyzing these findings, you can get a good idea of what your customers think of your brand. If they have a positive impression of you, that's great news! If they don't, then it's time to make some changes.
When to Use an Expert for a Reputation Analysis
Want to begin the reputation analysis process but don't know how to start? Using a reputation expert can help you gain insights into your brand's reputation online that you might not catch otherwise. 
If you have more questions about a brand reputation analysis for your brand, Reputation911 is here to help! Our experts provide business reputation management services that help improve online presence and reputation.
About us
We are a Online Reputation and Privacy Management Company that helps our clients Restore, Promote, and Protect their online image.