What is Brand Reputation?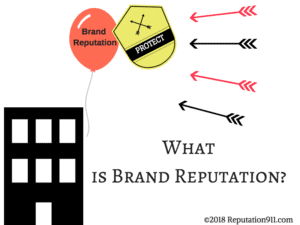 Brand reputation refers to how a particular brand (whether for an individual or a company) is viewed by others. A favorable brand reputation means consumers trust your company, and feel good about purchasing your goods or services. An unfavorable brand reputation, however, will cause consumers to distrust your company and be hesitant about purchasing your products or services.
While companies used to be able to shape their brand reputation with ease using traditional advertising and public relations, it is much harder to keep others from damaging your brand without online reputation management in today's world. Thanks to the rise of social media, companies are finding that one mistake will destroy their brand in seconds. Here are just three examples of brands that took a hit because of social media:
Kenneth Cole, Fashion Designer.
Cole tweeted about last year's Egyptian riots in an attempt to promote his new line and came under fire for insensitivity: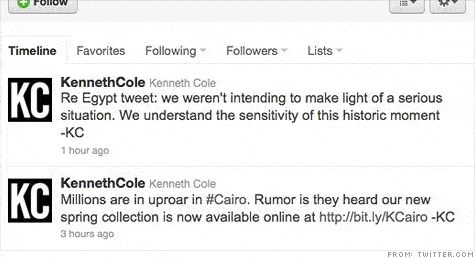 The tweet was removed and a lengthy apology was posted on Facebook, but that wasn't enough to fix Kenneth Cole's brand reputation. A spoof Twitter account @KennethColePR and a #KennethColeTweeting hashtag forever link the brand to the incident.
Domino's, Pizza Chain.
A group of bored Domino's employees uploaded to Youtube a series of videos in which they played with food ingredients that they claimed were going into meals ordered by customers. The videos went viral, quickly picking up more than one million views, and the employees involved were faced with felony charges. Executives hoped the controversy would die down and did little to communicate what steps Domino's was taking to rectify the matter over Twitter. That led followers to question whether Domino's was really doing anything, which led to further consumer distrust and a ruined brand reputation.
Marvin Austin, UNC Football Player.
Austin tweeted a photo of a receipt from the Cheesecake Factory in Washington, DC, where he had racked up a $143 bill.
When members of the local media questioned why he was in Washington, and how he was able to pay for the trip, UNC officials declined to comment. Their silence spurred an NCAA investigation that uncovered 9 NCAA violations including evidence of improper benefits being provided by agents, academic fraud, and a first ever "failure to monitor social media" charge against the University of North Carolina's athletic department. The controversy led to player suspensions, pink slips for the head coach and associated head coach, a resignation from the athletic director, and a one year ban on postseason play.
In each instance damage to the brand reputation could have been minimized if the organizations had practiced proper online reputation management. Instead, each organization allowed damaging content about itself to be posted online, and did not move quickly enough to control the conversation and minimize the damage. As a result, each brand reputation mentioned above took a hit. Kenneth Cole's customers viewed the brand as insensitive; pizza consumers viewed Domino's as a brand that allows its employees to violate health codes; and high school football players viewed UNC's football brand as a poorly run program.
You should not wait for your company to commit a social media faux pas before engaging in online reputation management. Using social media, message boards, and online review sites, your customers and employees might already be damaging your brand reputation. To take control of your brand reputation, reach out to Reputation911 immediately for online reputation management and brand reputation assistance. Every second you wait to reach out to us, allows more time for damaging info about your brand to spread online.
About us
We are a Online Reputation and Privacy Management Company that helps our clients Restore, Promote, and Protect their online image.