This post was most recently updated on December 19, 2022
Online reviews can change a company's status overnight. One bad review appearing at the top of a company's search results can turn customers away and cause them to do business with the company's competition. 
To maintain a successful business, it is crucial to have accurate and positive search results on the first page of Google. Online review management can help. In this post, we outline some best practices and strategies for your businesses to manage online reviews.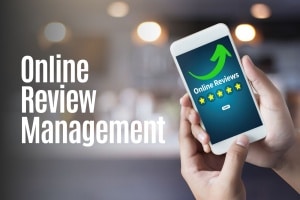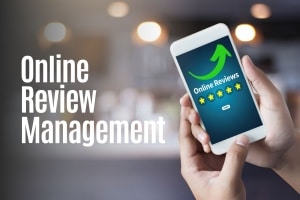 The Importance of Google Reviews 
A company's first page on Google often represents a first impression of the company to consumers. Today, the majority of consumers will consult a company's online reviews and search results before committing to making a purchase. Depending on whether your reviews are positive or negative, they will directly correlate with your business's conversion rates. Needless to say, online review management is important.
Along with the classic search results, search engines like Google now have a feature that shows a small selection of a company's Google reviews on the right side of the page. These reviews are what will stand out to consumers looking into a business. If the results display one or two bad reviews, potential customers may be scared away.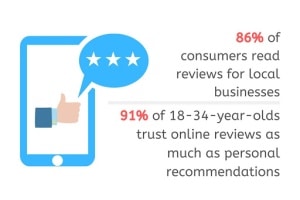 Bad Reviews Can Affect Online Reputation Management
Google also uses this information when considering a company's overall reputation score. If negative reviews and comments appear in this section, the company's rankings on Google may fall as their cost for marketing and SEO increases.
A negative online reputation can negatively impact your ability to gain new customers or maintain the trust of current customers, employees, and even business partners. No one wants to invest in a business or brand with a bad reputation. Managing online reviews can help combat this.
How to Handle Fake Reviews 
Online reviews have a strong impact on potential customers because they offer a first-hand look at real experiences had by other customers. However, it is important to realize that not all reviews are reliable.
Fake reviews have become a major issue for businesses, both big and small. Businesses and individuals in service industries are at exceptionally high risk of receiving fake negative reviews. This group includes doctors, surgeons, mechanics, restaurants, oil companies, financial service companies, and many more.
Fake reviews may be left by past employees, competitors, or individuals holding a personal grudge who are looking to attack a business or individual. This is especially important for small and local businesses. One bad review handled with care can be a deciding factor in your success.
Best practices for handling reviews:
If you suspect you've encountered a fake review for your business, it's usually best to report fake or inaccurate reviews to the review website's support team. In repeated cases, the best action could be legal recourse.
How to Handle a Bad Review 
When approached with care, consideration, and confidence, bad reviews can turn into an opportunity to improve your business's customer service. Negative reviews allow your business to display attention to customer satisfaction publicly. According to studies, more than two-thirds of users trust reviews more when they are a mix of negatives and positives.
Responding to customer feedback, especially negative, is incredibly important. Avoiding bad reviews can be detrimental to business, decreasing your star ratings and your customer's ability to trust your business.
If your business receives a positive review, a response thanking them will encourage others to provide their customer experiences. Businesses rank higher when they interact with their reviews. Be sure to check in on your review platform as often as possible. Develop a management system or use review management software to stay on top of your business's reviews. Responding to reviews in real time will let potential customers know that you are proactive.
Best practices for addressing a bad review:
Flagging Inappropriate Reviews.
If a review is full of profanity or hateful speech, it most likely violates the terms of whatever review site it's on. Instead of responding, it's best to flag it and escalate it to the review site administrator.
Ignoring Irrational Reviews.
Sometimes customers will write reviews to irk a business owner and staff. In this case, it's best to ignore the reviews to avoid further argument.
Responding to Negative Reviews.
Many customers that have a negative experience will post a review with their reasoning for feeling dissatisfied. In these cases, it's best to respond whether you agree. It shows that you care about the experience of your customers.
Best practices for good reviews:
Encourage positive reviews
Encourage your customers and clients to review you online. To get reviews on Google My Business, click your profile, then click the blue box that says "get more reviews". This will generate a review link that you can easily pass along to your customers.
Use your reviews as an asset
The importance of reviews can not go understated. That's why you should consider adding those reviews to your website. This review management strategy can help add trust for your web users. 
Share positive reviews on social media
When your business receives a great review, share it on your social media profile! Then be sure to share it on your Twitter, Instagram, and Facebook feeds. Not only does this build trust with social media followers, but it can also encourage others to write positive reviews.
What to Do When Bad Reviews Cause You to Lose Business 
If your review response was not quick enough or did not help improve the customer's dissatisfaction, it could become a much bigger problem. When bad reviews become a bigger problem, it's time to improve customer satisfaction and invest in online review management. 
How Online Review Management Services Help
Companies need to develop a strategy for online reviews. This will help to protect, or better yet prevent, fake reviews from bringing down their business. How can businesses be sure the reviews representing their company are authentic, and how can they remove fake reviews?
Reputation911 offers online review management services while following best practices to help businesses and professionals improve and protect online reviews. While some companies offer a short-term fix for online review management, the team at Reputation911 goes a step further to ensure long-term permanent results.
Many companies that provide online review management services will provide a dashboard for businesses to manage their reviews on open-ended sites such as Yelp, Vitals, Tripadvisor, and Google+. While these sites can be a great way to reach customers and get a company's name out, they are geared more toward the site's users rather than the business itself.
Our Approach to Reputation & Review Management
Reputation911's online review management strategy is to build out close-ended business sites, blogs, and social media platforms such as Facebook, Twitter, Youtube, and LinkedIn to allow the business owner or individual to have control over what is being said about their company.
At the same time, Reputation911 will set up its clients on certified consumer review sites to prevent fake reviews from being published. These sites use ethical and professional tactics to identify and filter out fake reviews while posting authentic reviews for potential customers.
Reputation911 adds another layer of protection by checking reviews left on open-ended sites to make sure they are real reviews sent from real customers with real IP addresses. If a fake review is detected, the legal team will challenge the review and work to have it taken down.
For more information about how to monitor and manage your online reviews and maintain your business reputation, contact Reputation911 at 866-MY-REP-911.
We are a reputation management company that helps to make you Look Good Online.