It's hard work owning a business, and reputation management for businesses and organizations matters more than ever.
Business owners can spend years developing a strong and reputable brand, but a poor online reputation can instantly tear all of that hard work apart. With so many forums, review sites, news sites, and social media sites out there, it can be tough to monitor what consumers are saying about your company. However, it is crucial to your business's success to have a clean online profile and stay informed by practicing smart, effective reputation management.
Just one negative article, whether it is accurate or not, can put your reputation in a crisis and have a massive effect on the success of your business.
According to a Harvard Business School Study on Reviews, Reputation, and Revenue: a one-star rating decrease can reduce revenues by nearly 10% for a business.
Why Do You Need Business Reputation Management?
Reputation management for businesses is becoming increasingly important in a fast-paced environment where companies are constantly innovating, growing, and increasing competition. Running a business comes with a load of responsibilities. There is a lot to take care of and a business's online reputation can often get neglected. However, a company's online image is often what consumers first look to when considering a new product or service. With the internet so easily accessible through mobile devices, tablets, laptops, and home computers, consumers are doing their research before they buy anything, from their next meal to a new vacation home. If your company is not ranking well in the search results, or a lot of negative information is showing up about your company, you are handing potential new customers right over to your competitors. Failing to effectively monitor and manage your business reputation will lead to losses in sales, positive press coverage, as well as hiring ability.
Creating a positive online reputation for businesses and corporations is an ongoing, continuous process essential to the success of any business, both large and small.
How to Manage Your Business Reputation with Reputation

911
As experienced and reputable professionals, the team at Reputation911 knows what it takes to boost your business's reputation well above the competition.
Manage a business reputation crisis
Whether your business needs business reputation crisis management now or is trying to prevent one from happening in the near future, it is important to look at all of your options and take the first step. The first step in preventing a reputational crisis is developing a reputation management action plan which can consist of a consultation with a dedicated account manager at Reputation911. During your consultation, an account manager will go through your business's current online image, detecting risk factors and identifying any undesired information within your search results. The account manager will then work with you to develop a customized strategy to restore, promote, monitor and protect your business brand today and tomorrow.
The engineering team and content writers at Reputation911 will establish a positive online presence for your business by creating secure professional profiles and social media accounts designed to be picked up by popular search engines such as Yahoo or Google. These sites will work to suppress any negative content showing up on the first pages of your business' search results.
Investigate false information found online
Reputation911's investigative team will track any websites, articles, or reviews that provide any false, outdated, or misleading information about your business. Once the false information is detected, our team will work to have the content immediately removed or suppressed. 
Promote your business brand
Once your websites and social media accounts have been created, it is important to know how to best use each platform to promote your business brand. It is one thing to have a presence, but if you are engaging with your customers and sharing the correct information, you will see much greater results. Our experienced brand reputation managers and content writers will work closely with your business to write accurate, search engine optimized articles, press releases, website landing pages, and social media pages to build your online image and promote your business brand.
Monitor your business's search results
It is also equally important to constantly monitor how your business shows up in the search results. The engineering team at Reputation911 provides ongoing business reputation monitoring, keeping track of the results of your business's search terms and checking for brand mentions that may come up in online forums or message boards, working to increase the visibility of positive content for your future customers.
Maintain
your online business reputation
Search engine results are constantly changing from day to day. Results showing up at the top of the page today may not be there tomorrow, while results on other pages may be bumped up to the first page. Because of this constant change, it is important to maintain your business's online platforms. The team at Reputation911 will work around the clock to maintain and monitor your business's first and second-page search results through our proven and customized strategies. We will continue to promote and update your websites and protect them from any unwanted articles, images, or links that may appear over the next year.
Business reputation accounts updates
As part of our business reputation management process, you will receive monthly status reports from your dedicated account manager regarding the status of your online search results. During this time, you may also submit any information you would like us to update on your business profiles and websites and any upcoming articles or press releases you would like to bring to our attention.
Who Benefits from Business Reputation Management
Learn More on Business Reputation
Be sure to read our most recent articles on how to manage the reputation of your business.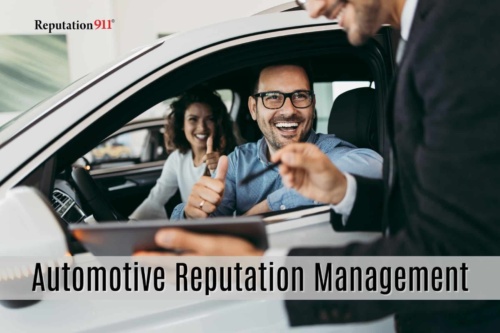 Google knows that customer reviews influence people more than marketing and ad promotions. Customers value online reviews as much as…