How to Suppress Negative Search Results
Suppression is a form of Search Engine Optimization (SEO) that involves building up and updating positive content in order to remove or suppress negative content off of first page search results.
Suppressing negative, false, or outdated content from search results can help businesses, brands, and individuals protect themselves from a reputation crisis.
When you suppress negative content, you are replacing it with more relevant information, providing Google and its users with more positive and accurate search results.
Why Google results are so important
A reputation problem or crisis often begins with a bad review, blog post, or article directed at an individual or business. These negative articles are easily connected to your name with a quick search on Google.
Search engines like Google are meant to help you answer any question with online search results that best match the keywords you use. Within seconds, Google will find the most accurate information to help you answer your question. 
What happens when a new customer, colleague, or hiring manager types your name or business into Google? If shocking results are the first results they see online, their ability to trust you will decrease drastically in a matter of seconds.
Why can't I delete my search results? 
It can be difficult to remove information that is already published to the internet. Due to internet guidelines for content removal and its viral nature, some search results cannot be removed entirely. When this negative content cannot be removed, one must look towards suppression as a key reputation management strategy.Suppression of negative search results is highly effective because people rarely ever click past the first page of Google Search results.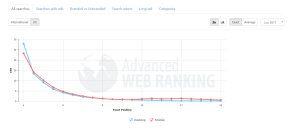 How do I get rid of negative Google search results?
In order to "get rid" of Google search results, your key focus should be removing them from your first page of Google search results. Sometimes, removing unwanted negative search results is not an option due to freedom of speech. If the search results do not violate Google's policies against prohibited and restricted content, your best option is to push negative search results down by creating new, fresh content that far surpasses the negative results on Google.
The key lies within creating positive content in association with your name that is more relevant, helpful, and truthful compared to the negative results.
High quality content Is your key to suppressing negative search results
Creating new, high quality content is your answer when suppressing negative search results. Most importantly, creating the content with SEO (Search Engine Optimization) in mind is the most important factor. This takes keyword research, competitor research, and specialized techniques and software. 
Remove negative search results 
In cases where you can't remove the negative content from Google with a removal request, your best option is to push down the negative content. This in turn helps "remove negative search results" by pushing them further and further away from your first page of search results by replacing them with the new content. 
The importance of search engine optimization 
A common misconception about pushing away the negative content is that it's quick and easy. True reputation management takes time and attention to the fine details. Other reputation management companies may fall short by cutting corners and dazzling customers with creative visual content. However, the best results come from good writing and SEO. 
SEO or Search Engine Optimization is a blanket term that covers how efficiently you are gaining web traffic online. This can come from images, text, videos, writing, posts, social media profiles, articles, blogs, forums and more. 
SEO gets your organic, unpaid results. In hindsight that means the improvements are real. Google sees organic traffic as the most important content online, helping users find the best answers to their questions by unpaid, unbiased sources.
How do I get more organic search results? 
Once you've built all these new sources of content to help suppress your negative search results, you have to make sure it can be found online. There is no sense in creating beautifully functioning websites, blogs and social media profiles if they cannot be found online. That's where SEO comes in handy. 
How do I push down a bad Google review? 
Some people's main concern may be bad reviews in their search results hurting their personal brand. In order to remove this type of content from Google search you have two options. 
If the review is fake, explicit, untruthful, illegal or other types of problematic content, you can report the review to Google by flagging it as spam.
Your other option is to gain more positive reviews to help push down the negative reviews. This actually helps build your online reputation by gaining credibility to your brand, while taking action to bury negative search results. 
What is the best online reputation management company?
Look for a team of reputation experts that will develop a customized strategy for each individual or business to help promote and protect their online reputation and professional brand. Suppression acts as an effective reputation management strategy with just three basic steps.
In order to suppress negative search results, you need to create new and better content to outperform the negative content. A personal website will help to improve your online image and get you found online.
Depending on the severity of the situation, you may need to create additional websites, press releases, articles, and social media accounts to help repair your Google search results.
Finding a team of SEO experts who are experienced in creating content that shows on the first page of your Google results will help in cleaning up your online reputation for good. 
Promoting your new website and content 
Promoting the new content and websites across multiple platforms is key to getting them to rank up in your search results above the negative unwanted articles and content.
This step helps Google recognize the new content to be "more important" than the negative search results which ensures that your search results are organic and will continue to perform and rank on the first page of Google. 
Instead of "burying" unwanted content, experienced writers work with clients to create and promote updated, recent material. Truthful, positive highlights of your own personal profile are used to naturally suppress unwanted content further and further away from a front page Google search.
Strategically link all of these new sites
Linking all of the sites together shows Google and other search engines that they are associated with your personal websites to ensure that they are the first thing people see when they search for you online.
This is one of the most important parts of the suppression strategy and will help put a business or individual back in control of their online search results.
Suppression of negative search results allows a business or individual to define their professional brand and decide how they will be perceived on the world wide web. Look for a company that guarantee its results and not just it's work and that will be the key to putting you back in control of your reputation.