How to Remove Personal Information From Google
This post was most recently updated on April 27, 2023
You Can Now Request Removal of Personal Information from Your Google Search Results
Google is rolling out a new feature that lets its users request the removal of private information from their web search results. This feature allows users to remove some of their personal information directly through Google, giving users the chance to clean up their online image so that their info is not inadvertently showing up in search results. Users can request the removal of their phone numbers, personal email addresses, banking information and other personal information displayed in Google searches through a web form or by sending an email to Google.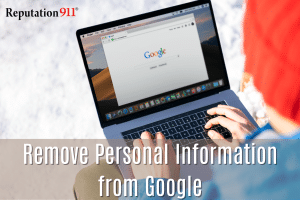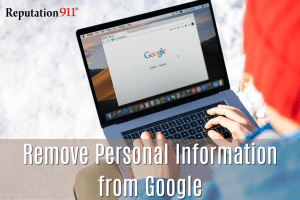 Why Is This a Concern?
No matter how well we keep our personal information hidden online, there will often be someone searching around the inside and pointing out what they see which can put you at risk for identity theft.
Sometimes, Google will display highly personal and private information. This could contain sensitive information, such as financial information (like credit card or banking details), passwords, health information, contact numbers, email addresses, home addresses, etc.
Google's new removal tool makes it easier to remove financial information or contact information from search results pages.
How To Use Google's Removal Request Tool
You can request the removal of all of your information from Google so that no one can ever see your personal information. Google has been very transparent about the process, and how to submit a removal request.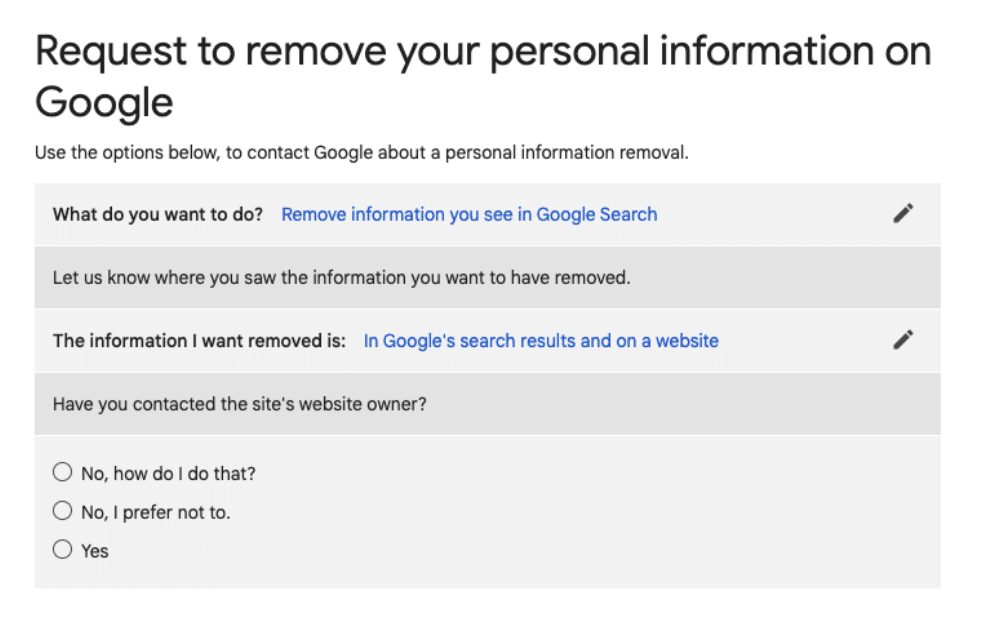 How to Request Removal of Personal Info On Google
:  
The removal request tool is straightforward to use and takes about 5-10 minutes. Here's how you can remove your personal information through Google's new update:
1. Go to Google's Request a Removal page. 
2. Fill out the first few questions about your removal of personal information, financial information, etc.
3. Notify Google whether you have attempted to contact the site owner (or the reason why you haven't)
4. Submit the URL of the content in question
5. Submit the URL of the Google Search result page that the web link appears on
6. As part of the form, there's a section to take a screenshot of the content you wish to remove and attach.
7. You'll need to indicate why you think the website has exploitative removal practices.
8. Click submit. After submitting your request to Google, you will receive an automated email to the email address listed on your list as part of the form.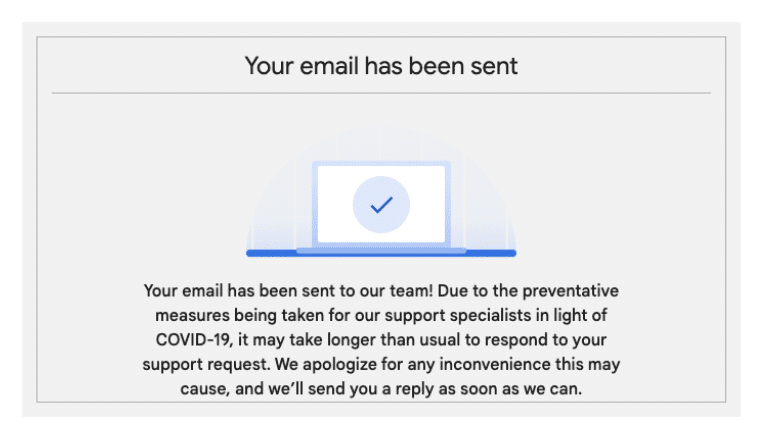 What Personal Information Can You have removed From Google
Google's personal information removal tool allows you to request the following type of pages that contain:
Social security number

Bank account or credit card numbers
Images of handwritten signatures
Images of ID docs
Highly personal, restricted, and official records, like medical records
Personal contact info (physical addresses, phone numbers, and email addresses)
What Information Will Google Not Remove?
Personal information that is part of the public records, such as newsworthy data or material posted to government sites or other official outlets, will not be removed from google.
Public records

Phone number email address
News article
Physical address
Government files
What Else Should I Know About Removing Personal Information from Google Search Results?
When you go through the Google Removal Request process, it's essential to note that you are only removing information from Google searches and not from the internet. Even though Google may agree to remove personal information from displaying in search results, your information will still exist online and can be found by other users. To remove negative content from the internet entirely, it's always encouraged to first reach out to the website owner.
In cases when you can't remove personal information, you can try using negative search suppression, which involves creating content to push down negative search results. 


Conclusion
Google is offering its users direct access for anyone to be able to remove personal information. Google's momentous new update lets you request the removal of unwanted personal contact information like addresses, emails, phone numbers, or credit card information displayed on search engine results pages.
William DiAntonio, Founder and CEO of Reputation911, points out that It's important to remember that removing content from Google Search won't remove it from the internet. It will still be able to be accessed directly from the hosting site.  
Want to learn more about what personal information may still be online about you? Reputation911 provides personal reputation management services for individuals, including online reputation management.
The experts at Reputation911 are here to help you remove your personally identifiable information. 
We are a reputation management company that helps to make you Look Good Online.