Last Updated on February 26, 2023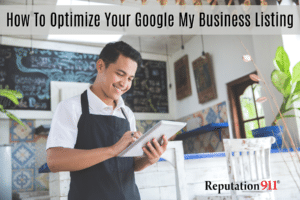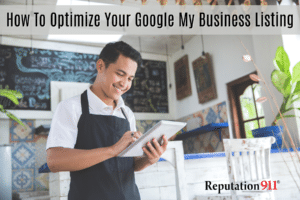 If you want to improve the online visibility of your business, setting up a Google My Business profile is essential. Even if you have a great website and presence on social media, many customers won't find you without a business profile.
However, it is not enough to simply set up the profile. There are so many businesses that simply do not use the full potential of this tool. Optimizing your profile will allow you to stand out from the crowd and rank highly in search results. Read on to learn about Google My Business (GMB) listing optimization.
Is Google My Business Worth It?
Yes, it is worth it to set up and optimize a Google My Business profile. It is a free tool that offers all kinds of benefits for local business owners, including:
Increased visibility in search engines

Get your business

recognized by Google

Allows your business to appear in Google Maps

Lets customers post reviews of your business

Directs traffic to your website, social media sites, and even storefront

Improves your

online presence

and local SEO

Gives customers the information they need to know about your business

Increases sales

Gives you insights into views, engagement, search queries, audience, and website link clicks
Rank Higher In Local Searches: Optimize Google My Business Listing (Your Complete Checklist)
Use Your
Actual
Business Name
The name you use in your business profile should be consistent with your storefront and across all online platforms. Google may not recognize all of these as being connected if the name varies across platforms.
If you have more than one business, do NOT use a location in the name of your business ("business name – Santa Barbara"). The address will be listed below the name anyway, so there is no need to add it to the title. Avoid adding extra keywords in the title either because Google may view this as spam.
List a Local Phone Number 
Even if you use a vanity number in advertising, do not put it in your business profile. A vanity phone number is usually a toll-free 800 number followed by a word related to the business. For example, a car repair shop's vanity number might be "1-800-CARREPAIR".
Google's algorithm prefers a local phone number that is consistent across platforms.
Hours of Operations Are Updated
Customers are much more likely to visit your storefront if you post accurate opening hours. Remember to include holiday hours or other special hour considerations to help customers plans a visit. Having inaccurate hours on your business profile may attract negative reviews if someone tries to visit the shop to find it closed.
Add Categories, Services, and Products
The products and services you provide may not always be clear based on your name alone – especially to new customers. Thankfully, Google allows you to add categories, products, and services to your profile.
When choosing your business categories, you can add one primary category and up to nine secondary categories. Choose only the most specific and relevant categories for your business – more is not always better. The more specific you can be, the more likely people will find your business in relevant search results.
You can also add specific products and services to your profile so that potential customers can learn more about your business. For example, restaurants can add menus, salons can list their treatments, and retail stores can list their products. Your profile will rank highly in relevant searches when you add more content to this section. Fill out as much information as you can, such as the product/service name, the price, and a description.
Businesses that offer services out-with a storefront or don't have a physical address can also add a service area to their profile.
Upload High-Quality Photos
People are visual creatures and are more likely to trust a business that has uploaded high-quality photos and videos to its profile. According to Search Engine Land, uploading more than 100 photos to your GMB profile is correlated with more calls, direction requests, website clicks, and more. More photos translate to more traffic and visibility in search results. Here are a few tips to add photos to your profile:
You don't need to hire a photographer – you can take the photos yourself, and customers can add photos as well

Don't over-edit your photographs

Add categories to the pictures when you upload them

For your cover photo, use your business logo or a main shot of the business

Don't upload hundreds of pictures at once – post them over time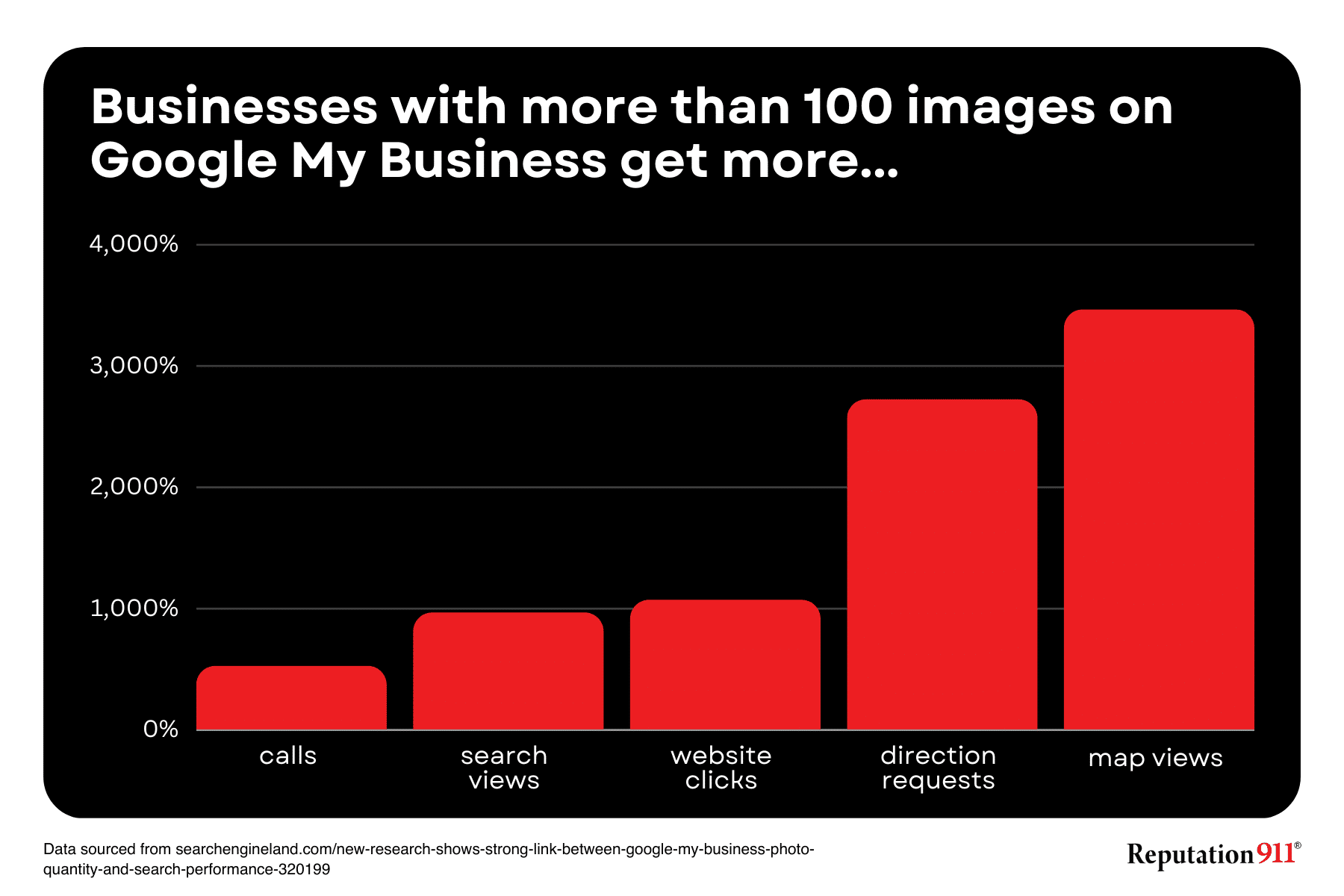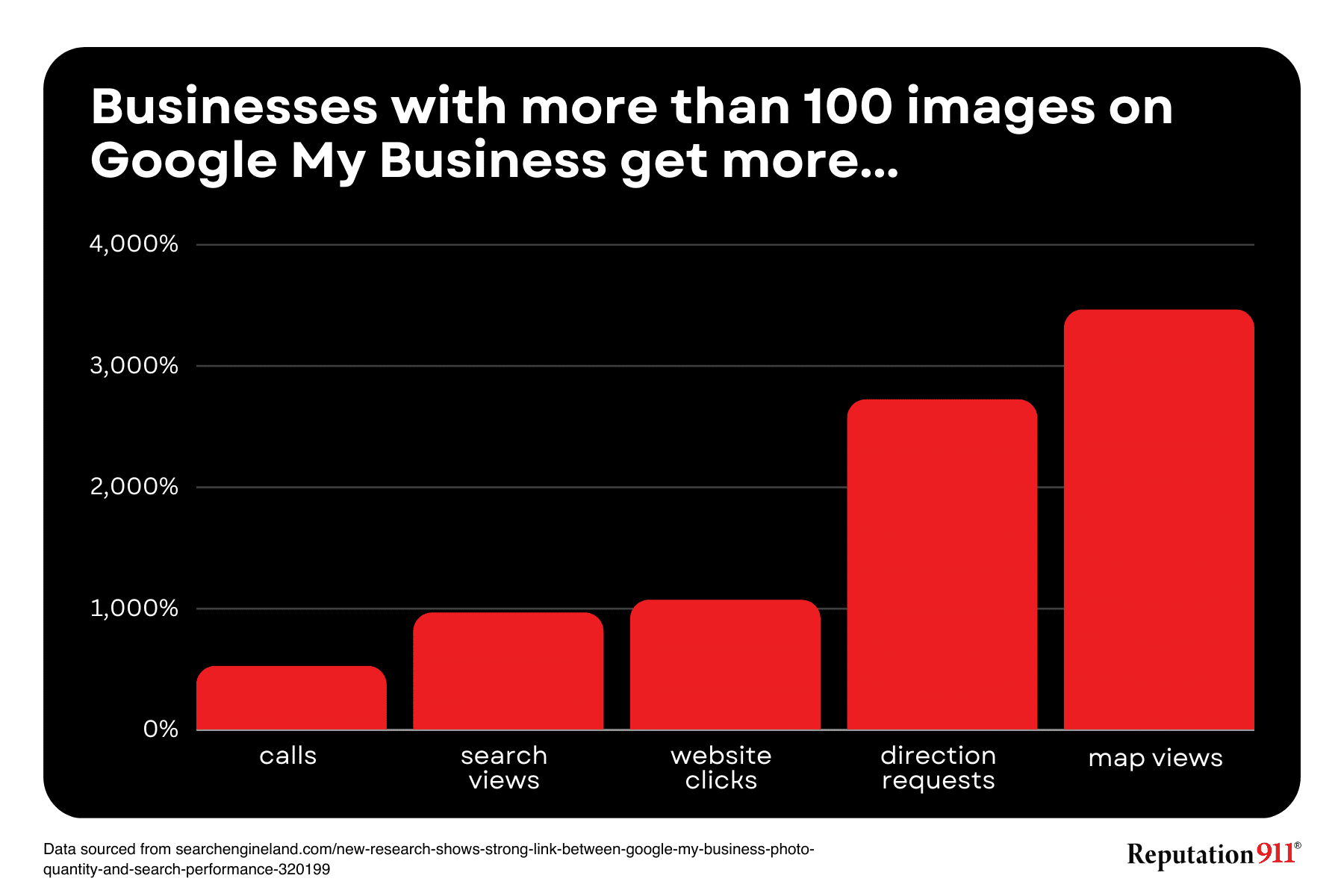 Write a Business Description
It is important to note that there are two different descriptions that will appear on your profile. The short description that appears underneath your name is automatically generated by Google, and you can't write it yourself.
However, there is another "From the Business" description that you can write yourself. Put the most important information in the first 250 characters, but do fill out the entire 750-word description. This section is your chance to add target keywords and add information that doesn't appear elsewhere in your profile.
Post Updates Frequently and Consistently
Posting on your business profile is a fantastic way to engage with customers and rank highly in Google's algorithm. You are able to share news updates, offerings, discounts, products, events, blog posts, and more.
Not only does regular posting legitimize your business to Google, but it also acts as extra free advertising. Potential customers are more likely to interact with your posts on Googe than other social media outlets because they specifically searched for your business. Google posts generally expire after seven days, so it is important to frequently post fresh content.
Ask For Positive Reviews 
Customer reviews are vital for businesses, and Google will rank a business higher if they have a lot of good reviews. According to Bright Local, 98% of consumers read reviews for local businesses, and 87% specifically use Google to evaluate local businesses. Google also scans reviews for keywords related to your business, so this can help you in the algorithm. Here are some tips for getting reviews on Google:
You need to create a Google My Business account and verify your business profile before customers can leave reviews

Make it simple for customers to leave reviews

Actually ask people to leave reviews – you can do this in person, through email, on social media, etc

Link to your Google review page on your website

Respond to reviews – people are more likely to leave a review if they can see that you read and respond to them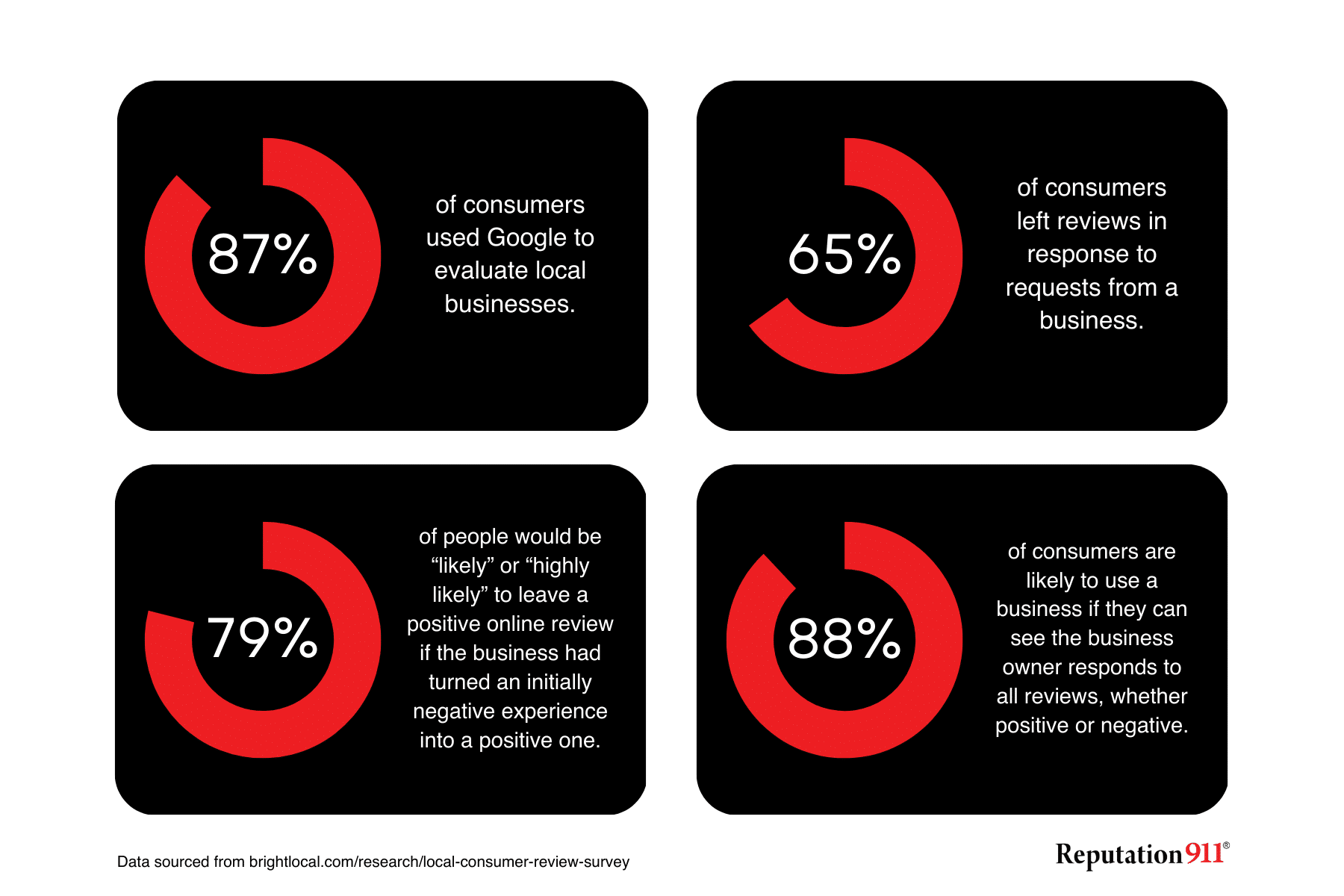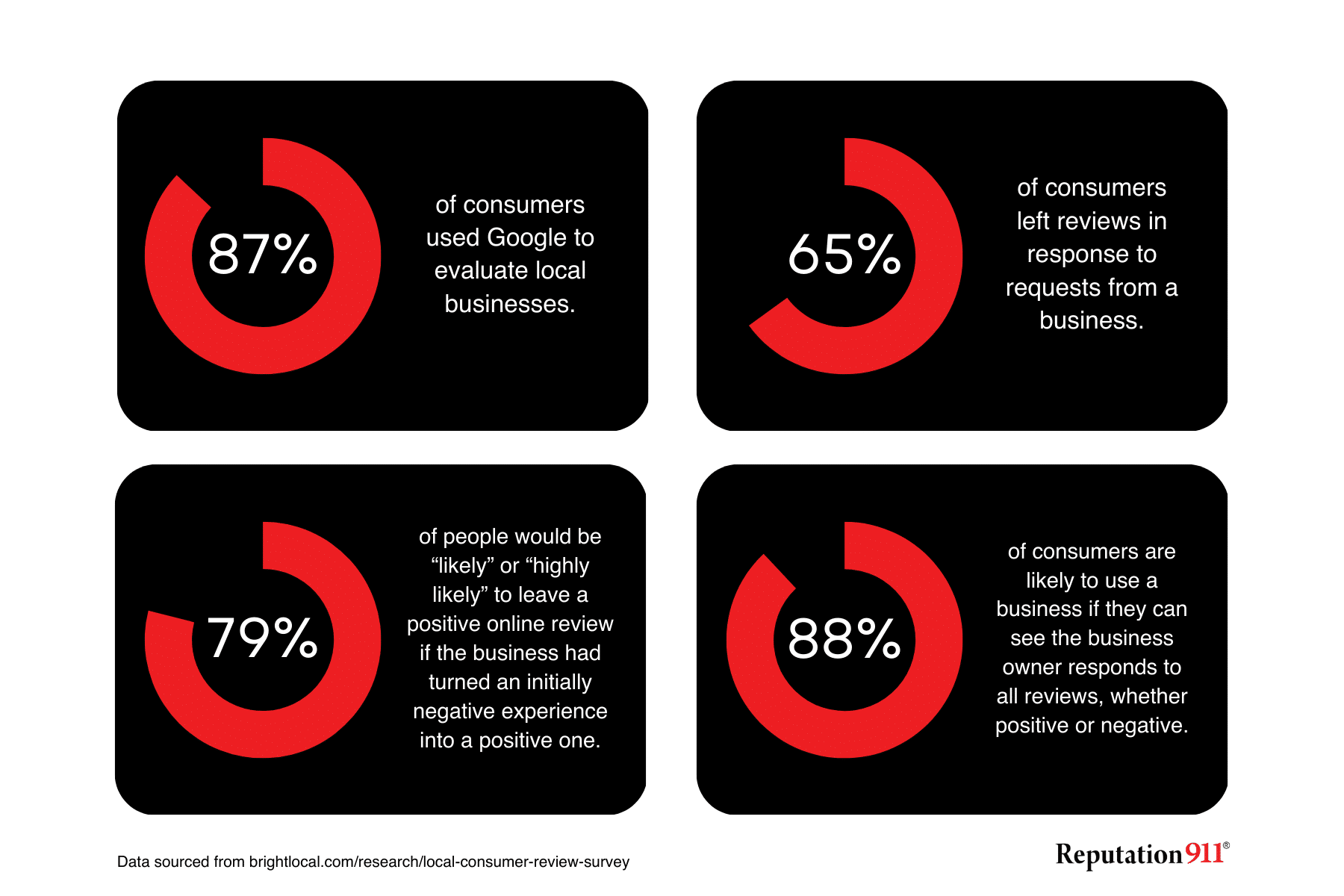 Respond to Negative Reviews (If They Are Real)
It is so important to respond to reviews, whether they are positive or negative. Ignoring negative reviews can actually do more harm than the review itself. Potential customers will assume that you don't care about feedback if you don't respond to it. According to Review Trackers, nearly half of consumers say they are actually more likely to visit a business that responds to negative reviews. 
A negative review can actually be an opportunity to showcase your customer service skills to the world. Here are a few tips:
Don't use a generic response – tailor it to the specific reviewer

Thank them for taking the time to leave a review

Keep things professional and calm, even if they do not

Reply as soon as possible

Listen to the problem, apologize, and offer a solution

Provide them with contact information to resolve the issue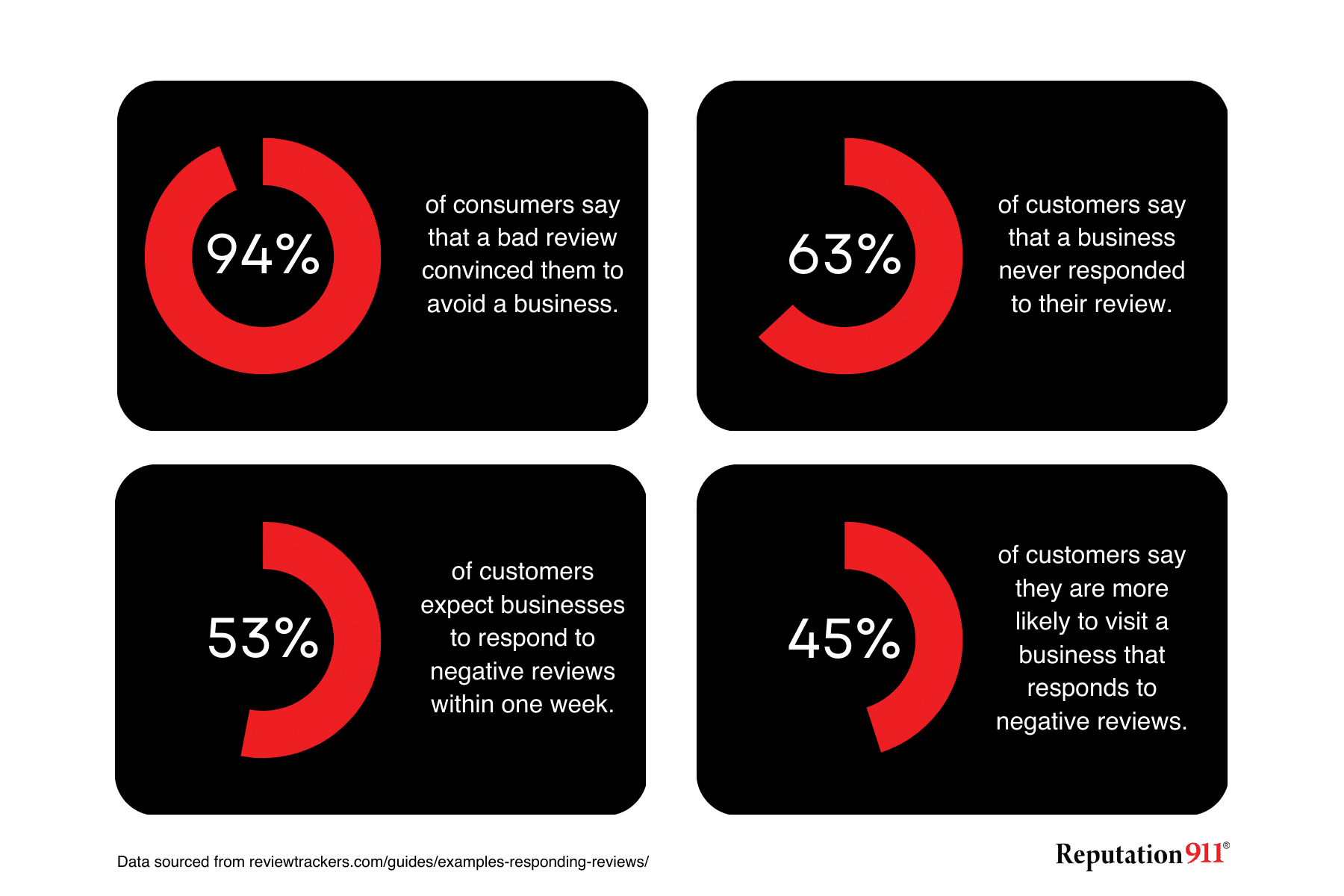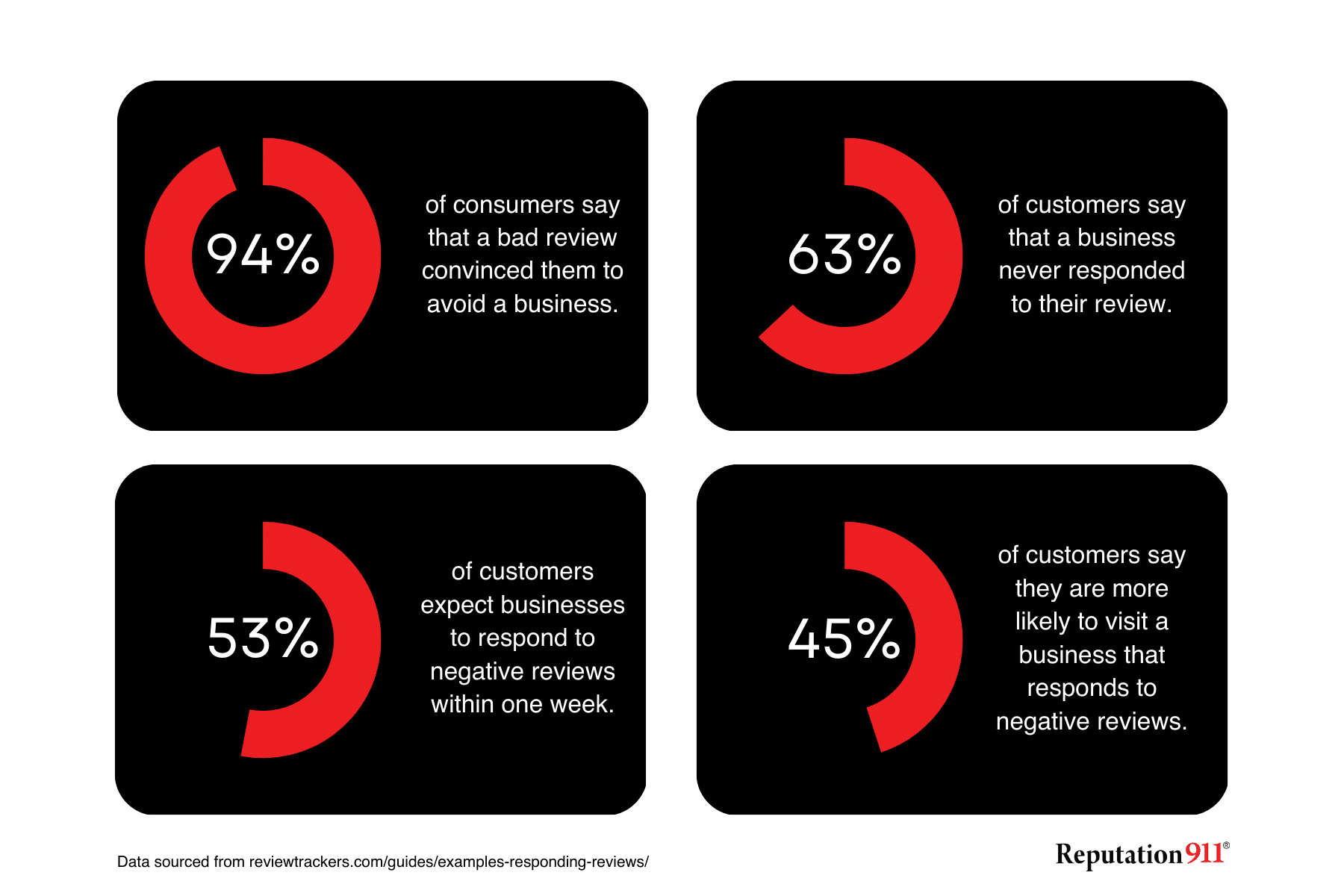 Take Action Against False and Misleading Reviews
Because reviews are so important, it can be detrimental to have fake reviews appear on your business profile. Customers are often unable to tell the difference between misleading and genuine reviews.
Unfortunately, you can't simply delete fake reviews, but you can report them to Google. To do this:
Login to your Google My Business Account

Go to the "Reviews" tab

Scroll through the reviews and select the one you want to report

Click the three dots and select "Flag as inappropriate"

Complete the survey and submit

Take the time to monitor reviews regularly so you can respond to them and report fake ones
Answer Questions 
Many people have questions before deciding to use a particular business. You can give your customers answers to all of their questions directly on your business profile. However, anyone is allowed to ask and answer questions in this section, so remember to set up alerts to monitor this section.
You can also ensure accurate information by asking and answering your own frequently asked questions. Optimize the text by adding target keywords – just avoid keyword overuse.
Enable Messaging
Give your customers an easy way to get in contact with you by setting up messaging directly from your business profile. You can enable messaging by going to the "Messaging" tab in your Google My Business dashboard. When customers want to get in touch for any reason, their message will be sent directly to your phone. Google does not display your personal phone number if you use this feature.
Fill Out Other Local Directories
Google My Business is a vital tool for business owners, but it isn't the only local directory available. You could also make profiles with Facebook Pages, Instagram for Business, LinkedIn Company Directory, Apple Maps, and much more. No matter what site you choose to make a business profile on, make sure the information is all consistent. Use the same NAP (name, address, and phone number) across the web.
Even though other directories are not directly with Google, Google will still see all of the other places your business is listed. All of this will be factored into your rankings. Keeping all of your information consistent goes a long way toward improving your search engine optimization. 
In Closing: Google My Business Optimization
Maintaining a Google My Business profile is a dynamic process that you will have to monitor regularly. Even though it can be time-consuming, it is an incredibly useful tool for business owners. Not enough people take full advantage of their business profile. Knowing how to optimize Google business pages can improve your online presence and help your business thrive.
If you need support with your business's online reputation, the experts at Reputation911 are here for you. Contact us today to schedule a free consultation.
We are a reputation management company that helps to make you Look Good Online.