How To Respond To Bad Reviews
For years, consumers have been keeping track of businesses to see which companies offer the best products and highest quality services. Consumers rely on review sites to see what others say about their experience with a particular business.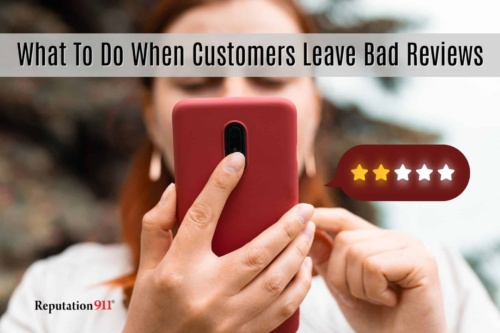 The problem with this system is that individuals dedicate their time to leaving defamatory or fake reviews to attack a business and destroy the company or business owner's reputation, leaving them to seek out business reputation management services to restore their online image.
Keep reading for best practices and examples of how you can respond to bad reviews. 
Best Practices for Responding to Bad Reviews
In an ideal world, customers would never have a negative experience and only leave positive reviews. This just isn't realistic, so it is important that you respond to customer feedback in the right way. 
Go through this checklist when crafting your response:
Respond to reviews quickly and in a timely manner. 
Stay professional when responding to customer reviews. Don't lash out or criticize a customer who has had a bad experience.
Make sure you completely understand your customer's experience before responding to a negative review. You should know exactly why you didn't meet their expectations in order to respond in the correct way. 
Apologize when appropriate but don't take responsibility if something wasn't your fault. 
Show compassion and empathy for the customer.
Reinforce your company's values and standards.
Keep it short and succinct.
Give the unhappy customer your business contact information to take the conversation offline and resolve the issue. If appropriate, you can offer a discount in an email.
Sign off with your name.
Re-read before sending the response to a bad review. 
Responding to Negative Reviews (Examples)
Handling a negative review starts with a response. The last thing you want to do is not respond.
Crafting the right response can depend on the situation. Using the tips above, we have created a few templates on how to respond to negative reviews:
When your company is responsible for the issue:
Mistakes happen! When you're at fault for a bad customer experience, you can use this template to make things right with the customer.
Hello [Name], I hope this email finds you well.
My name is [your name], and I work as [your job title] for [your business]. We appreciate you taking the time to write an honest review of your experience with our company. I wanted to let you know how sorry we are for ["what happened"].
At [your business name], we take pride in the level of customer service we provide. And in this instance, we clearly dropped the ball.
We'll be reaching out to you personally in the next 24 hours to touch base. We'd like to learn more about what happened and what we can do to make things right and ensure this does not happen again.
Very best,
[Your Name]
When you need to learn more about the situation:
In some cases, users may leave very little information about their experience. They may even just leave a one-star review but so nothing. This email template can be used to send to reviewers that did not leave enough information about their experience.
Hello [Name], I hope this email finds you well.
I'm [your name] and I work as [your job title] for [your business]. Thank you for taking the time to leave an honest review of your experience with our business.
At our company, we make customer service a priority, so we were surprised to read about your negative experience.
Would you mind emailing me at [insert business email] with more details about your experience? We'd love to learn more about what happened and see what we can do for you moving forward.
Thank you so much, and we look forward to your response. 
Very best,
[Name]
As a business, you can review your customer
Businesses are now fighting back against bad reviews, pointing the magnifying glass at consumers like a "Reverse Yelp". In the same way that consumers check up on businesses, businesses can do the same with consumers.
Mutual Rating Systems
Online sites such as Contractors Customers allow professionals to enter and search for reviews on customers, contractors, and other businesses. Many apps such as Uber and AirBnB have mutual rating systems for both businesses and consumers. Businesses can now leave reviews of the customer that will stay on their profile. If the customer gets a bad review, this can affect their ability to receive services in the future. 
These tools boost businesses' confidence because they can now know that they are working with a reliable customer. Customers and clients have to also demonstrate that they are good people to work with. Ultimately, this will save businesses a great amount of time, money, and aggravation. When businesses and their customers are on the same page, the experience will likely run much more smoothly.
Google Search Results
Reviewing consumers on these sites is an extension of what some businesses and professionals already do with Google search results. Like most employers looking to hire a new employee, businesses will look up potential clients on Google before signing a contract. This is to ensure the customer will be a good fit.
Like a credit or background check for purchasing a car or renting an apartment, your interactions with businesses will follow you. In today's online world, how you appear on Google affects all aspects of your everyday life.
Social Media Checks
Besides review sites, businesses and consumers interact a lot on social media these days. Businesses can now search for their clients on social media to see what their online presence is like. The things that you post online usually stay there unless taken down. This means that businesses can see customers' interactions with other businesses through status updates, comments, and posts.
Plus, businesses aren't taking disrespectful customers sitting down anymore. The saying "the customer is always right" doesn't apply when social media users can clearly see who was at fault.
We've all seen videos of rude customers screaming at a service worker over some minor inconvenience. People usually side with the employee, and can often find out who the customer in question is. If a customer has a history of negative interactions, it will follow them online.
What This Means for Consumers
With these review tools in place, the long-standing phrase "always tip your bartender" becomes all the more relevant and meaningful. Customers who tend to form good relationships with businesses won't see a significant change. The ones who are not difficult to work with can carry on "business as usual".
However, things will be different for consumers on a mission to take down a business's image. In the past, consumers enjoyed total anonymity when leaving reviews. This allowed them to exaggerate or report false claims with no repercussions. Their name and reputation would remain completely unharmed, but the same was not true for businesses.
Nowadays, consumers can no longer remain anonymous with fake usernames.  The interactions people have in the real world and offline trace back to their names somehow. Having an Airbnb profile, for example, means people can't get away with damaging the room or being rude to the host. Doing so means they won't be able to book future stays because of their own bad ratings.
Review sites are also now turning over IP addresses to identify individuals who leave fake or slanderous reviews.
In Closing: What to do With Bad Reviews
We are entering a new age where the customer is not always right. Commerce is a two-way street where businesses and consumers hold each other accountable. Ultimately, this should help businesses and customers build stronger relationships. Both parties will have a greater sense of trust, knowledge, and reliability.
Sometimes, bad reviews can be overwhelming for a business. Negative reviews can damage your reputation and lead to a significant loss of revenue. When this happens, you may need to seek out business reputation management services to restore your online image.
We are a reputation management company that helps to make you Look Good Online.