This post was most recently updated on June 7, 2023
How to Improve Your Online Reputation: Top 8 Strategies
For businesses and corporations, there's always room for improvement regarding online reputation. No matter what industry you're in, your online reputation matters. So, your marketing strategy should incorporate elements to improve your online reputation.
While most businesses have a website and social media channels, businesses that don't have an online presence are still at risk of portraying a negative reputation online. Ultimately, businesses have minimal control over what is said about them online.
A brand is subject to negative publicity or press at any point in time – because of this, online reputation must be managed and maintained on a consistent basis.
In this blog, we review eight strategies businesses can use to improve online reputation.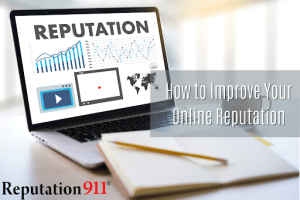 Why Online Reputation Is Critical in Today's World
Years ago, before the internet, reputation management was a simpler task. Now, many people use the internet daily to find information and buy products and services. With the number of frequently visited websites, social media platforms, blogs, and review sites, it's more important than ever to manage and improve your online reputation. These online resources have made it easier for people to share their thoughts and experiences related to your business. 
With the growing number of websites and platforms and the frequency with which users visit them, there's no question that online reputation is important for businesses. More business owners are investing more time in improving their reputation online—particularly by hiring in-house marketers or agencies to manage SEO, social media, public relations, and other activities to help with online reputation management.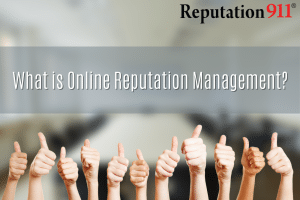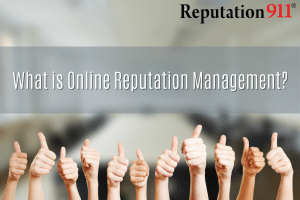 8 Proactive Strategies to Improve Your Reputation Online
To stay on top of your reputation, companies must be proactive about online reputation management. Here are eight strategies to help answer the question of how you can improve your online reputation.
1. Monitor your online reputation
Your brand's online presence is everything. When it comes to managing your online reputation, you'll want to monitor reviews and feedback on a regular basis. With so many websites online for people to provide customer feedback, you'll want to make sure you consistently monitor reviews, social media comments, and the press. If your business doesn't have many reviews, it's a good idea to encourage happy customers to write reviews of your business and boost your credibility!
You can automate the monitoring process using automated tools. These tools use search results to notify you when someone mentions your brand, which includes third-party review websites, reviews on popular platforms like Google and Yelp, and more. Consider using Google Alerts, Rankur, and other tools that can help you track, monitor, and improve your personal online reputation.
2. Address negative feedback in a timely manner
In an ideal world, everyone's experience with your business would be a positive one. However, this is unfortunately not always the case. Unhappy customers are more likely to leave a review online, and it's important for your business to respond to reviews quickly.
There are several review sites that can affect your reputation online. Some review sites are widely popular, like Google My Business, or Yelp, while others are niche to an industry, like "The Knot" in the wedding industry. Negative reviews can persist across a broad range of websites, and it's critical to manage reviews and comments.
If a negative review is not responded to or addressed promptly, it can hurt your business. While some negative reviews may happen, you can help your business by addressing these reviews in a friendly, apologetic manner or admitting fault when appropriate.
Related: learn more about online review management services.
3. Create engaging content
A great way to improve online reputation is to create content that captures your audience's attention. The importance of having a content strategy that works for your audience will help guide what types of content to publish to engage your audience. Post your content to your social media accounts, blogs, and any other outlets your potential customers might be reading.
Great content can be educational, engaging, emotional, or insightful—however, it depends on your audience. Publishing quality content that consistently connects with your audience will increase reputation and trust.
4. Leverage Public Relations
Utilizing public relations is a tactic to help bring your brand favorable press coverage online. By engaging in both PR and branding, brands can use various methods to attract media interest to develop positive expectations for consumers and stakeholders.
Companies that form relationships with publicists, journalists, and bloggers will help succeed in public relations. They will help create a positive reputation with stakeholders and consumers. Your business might also see a spike in word-of-mouth referrals!
5. Encourage customers to add great reviews
Positive reviews are very important to have – particularly if you happen to get a negative review. The number of 5-star reviews will help to offset the negative review. If consumers or clients are satisfied with services or products purchased, businesses should encourage them to add a review.
There are many websites and online platforms to add reviews, but the most powerful reviews will likely be on the website or Google My Business page. Determine where your consumers go to read reviews and make sure you have reviews for those websites.
An important step towards increasing your reputation is to also encourage customers to leave a review right after the transaction is done and the customer experience is high, in hopes of receiving glowing reviews.
Related: learn more about best practices for online review management
6. Promote User-Generated Content
Another great strategy for businesses to improve their online reputation is publishing user-generated content (UGC). The main benefit of sharing user-created content is that it's a way to further engage with your audience and biggest followers.
Sharing user-generated content across various social networks can also bring social proof and build trust online. This can also serve as a type of media monitoring, which will help you understand your business's social sentiments and brand image, too.
7. Demonstrate Company Values Online
Don't just say, but do! Your values should outline the shape of your brand and how you do business. They are the beliefs and principles that influence how you do business. Follow your company values and display them online. 
Improving online reputation means you have to improve your online presence, too. Go where your competitors aren't. You never know exactly how all of your customers find you—some may use different websites than others to find information about you and your company online. 
Get listed on as many websites and platforms as possible to account for all users. Be sure to monitor reviews on these websites. Use search engines to research your competitors and see what sentiments they share online. How can you position yourself differently and, more importantly, better than them?
In Closing
With the amount of online activity among consumers these days, your brand's online reputation is important to manage. With the strategies listed above, we hope you can improve and maintain your online reputation. 
Reputation911 offers business reputation management support. If you need support, contact us today to schedule a free consultation.
We are a reputation management company that helps to make you Look Good Online.