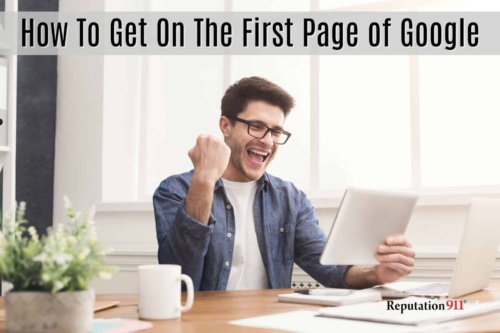 This post was most recently updated on August 10, 2023.
Ranking on the first page of Google search results helps people find your business before they find others. In order to rank on the first page of Google search results, you need to understand how Google search ranking works. Writing high-quality content is the key to outperforming your online competition. In this blog post, we'll explore how to create content that will improve your brand's online search results for good! 
Is It Worth to Be on the First Page of Google?
When people click on your business's website, you get more sales. In order to get people to click on your website, they need to find you in search engine results. Think about the last time you searched for something on Google. Odds are, you clicked on a link that was on the first page of the search results.
Many people don't go beyond the first page of Google search results, and there are statistics to support this. On average, the first five results on a Google search receive 67.60% of all clicks for a search term. The first result alone receives 31.24% of all clicks. Landing on the first page of Google could mean the difference between profit, or falling short of a monthly mark.
For small businesses and entrepreneurs, being on Google's first page will extend your reach. The more reach you have, the more customers you are able to acquire.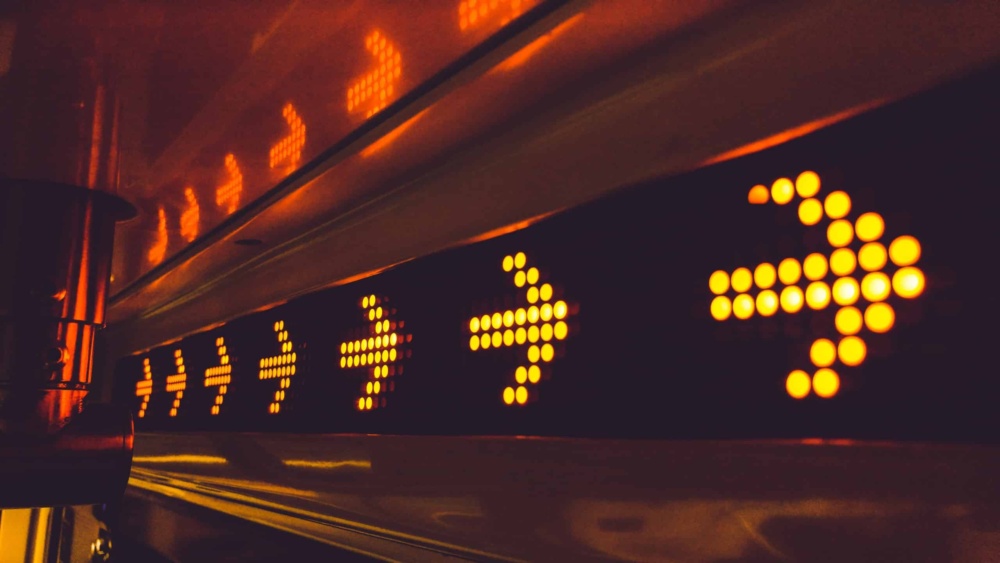 Getting Organic Traffic on Google
Google ads are certainly one way to extend your reach online. We're not saying to never use ads on Google, however, you need to also focus on your organic Google rankings. Customers are much more likely to click on organic search results compared to paid ads. There are a few reasons for this:
Customers trust an unbiased opinion, which makes them less likely to click on a sponsored result.
Google's algorithm ranks results based on relevancy, which acts as an unbiased opinion.
Brands pay a lot of money to land in the top spots on Google. Because of this, people know that these results may not be the most relevant to them.
If a brand is in a top position without paying to be there, it means the content is high quality. People understand this, so they are more likely to click on that result.
In this way, sponsored results can almost act like a bandaid to fix a lack of organic traffic. However, strengthening your organic results means that your content is high-quality and relevant to your target audience. In the long run, it is best to focus on this strategy and use Google ads as support.
What Percentage of Google Searches Go Past the First Page?
First-page organic search results are where the money's at. Once users see the first page of Google search results, they usually have no need to go to page two. That in itself should be reason enough to put a high priority on paying attention to their Google search ranking.
To understand those numbers, you have to know what percentage of searches go past the first page of Google. A whopping 91% of users will not click past page 1. Yes, that is correct. On average, 9 out of every 10 potential customers will get all the answers they need without clicking past page 1. If your business is on page two, it's just not your lucky day.
How Do I Improve My Google Ranking?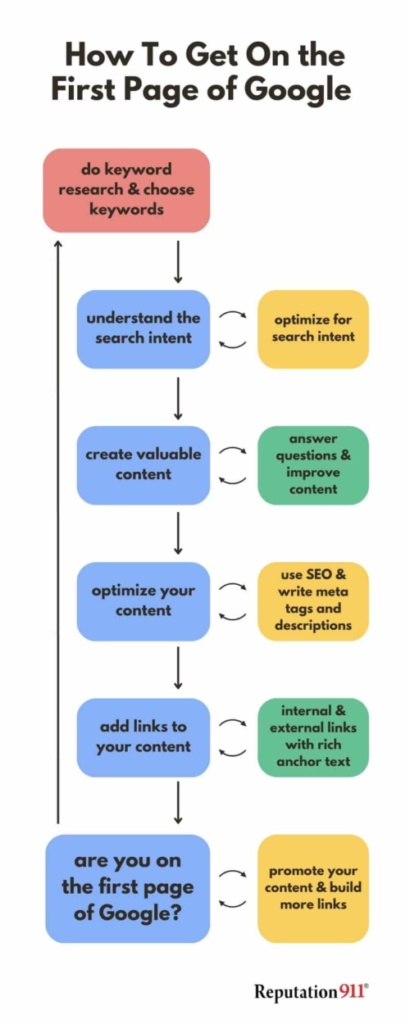 Now that you understand the importance of Google's first page, let's figure out how to improve those search results! In order to improve your website visibility on Google, you need to pay attention to these key areas:
The quality of your content
The optimization of your content
Target keyword rankings
The process seems simple enough when you lay it out like that, but it's not always easy. Understanding how everything works takes research, time, and trial and error. Improving your Google ranking is an ongoing process, but a worthwhile one!
1. Create Higher-Quality Content
Your content should be quality over quantity, always. Create informative, engaging, and easy-to-understand content that engages the average reader. In order to do this you need to:
Understand what your audience is interested in by doing target audience research.
Understand what they have questions about so you know what they would be typing into Google.
When you create content, address the topics that your audience is most interested in.
By doing this, you will create content that is relevant to your audience, which Google loves. Plus, search engine results pages may promote your content in a Featured Snippet. These show a direct answer to a searcher's query at the top-ranking position of organic results. If your content directly answers a search query, Google may display it as a top result.
2. Optimize Your Content
Search engine optimization (SEO) is the process of getting more website traffic from search engines like Google. Using SEO strategies will drastically improve the ranking of your content. We'll get into more SEO strategies below, but here are some quick tips:
Create content that is easy to understand, engaging, and digestible.
In addition to optimizing blog posts, you can use technical SEO to improve your website's performance.
Consider how a user would experience your website, and make it as enjoyable as possible. User experience is a huge factor in Google search rankings.
Write alternative text for images on your website and in your blog posts. Alt text describes what is in the image so that screen readers can understand the image. This is important for both accessibility and SEO because you can include keywords in the alt text.
Compress large images and files to improve page speed, making sure all elements load quickly for users' convenience.
Make sure people using mobile devices can access your content. Most people are using smartphones these days, so it is vital that your website is mobile-friendly. This means you should be checking how your content appears on mobile search rather than just desktop search.
Write high-quality meta descriptions and meta titles so that Google understands what is on the page.
Utilize link building in your content, such as linking to high-authority websites or getting backlinks. Make sure to use rich anchor text when putting links into your text.
3. Increase Your Keywords
A keyword is any word or phrase that people enter into the Google search bar. Keywords are arguably the most important factor when it comes to improving your Google search ranking. People want the results to be relevant to what they typed into the search bar so they can find answers quickly. Using targeted, relevant keywords helps Google understand that the content you're offering is insightful, educational, and helpful.
Here are some tips for using keywords:
Utilize your target keywords in all of the content you write so that Google can understand its relevancy.
When you use keywords, do so intentionally. Avoid keyword stuffing, which is the overuse of a given keyword in your content in order to manipulate Google ranking. Doing this will actually make your content rank lower in results.
Use a combination of both short and long-tail keywords in your content.
When doing keyword research, find words and phrases that have a high search volume and low ranking difficulty. This means that a lot of people are searching for that keywords, but not a lot of relevant content exists yet. Your content can then fill in the gap.
4. Align Page Content and Search Intent
Relevancy is a big factor in Google's algorithm. When someone searches for something, Google wants to show relevant search results. This helps users find the answers and information they are looking for. Put yourself in the mind of a user and think about what they want from their Google search.
If you are a business, there are three main types of search intent you can use. These will depend on where a user is in the marketing funnel:
Informational/Educational: This is when a user is becoming aware of your brand. The goal here is to use your content to teach the user about what they are searching for. Setting up your website as an authority on the subject will keep people coming back.
Comparative/Navigational: This is when a user is considering using your product or service. They may be comparing different products and services to find the best one.
Transactional: At this point, users are ready to convert and make a purchase. Optimize your product pages so users can find them.
5. Optimize Your Title Tag
Every page has a title tag or a meta tag that displays in Google searches. A title tag that includes a keyword will be an important ranking factor. In addition, a title tag can help your search result stand out from other search results, increasing clicks to your website.
5. Promote Your Content to Get Backlinks
Quality content can help your website get more links from other websites, aka backlinks. Google uses this as a way to determine a website's authority. When your website is credible and trustworthy, you will rank higher on Google.
Promoting your content can help reach your audience and put your content in a position to increase backlinks. Use social media and email campaigns to promote your content.
6. Google My Business
If you are a local business, create a Google My Business profile. This is a great way to get on the first page of Google results and reach your local audience. Optimizing your Google My Business will make sure that more people see your listing. This helps you appear more often on map results when users search for products or services in your area.
Conclusion
Improving your Google ranking is a long-term process that requires trial and error. With the help of these six content writing tips, you will improve your Google search ranking in no time. Ranking highly on Google will also help you safeguard your business reputation.
If you need help getting your positive content to rank in search results, our expert team is here for you. We offer personalized plans for businesses as well as personal reputation management services. Get in touch for a free consultation today.
We are a reputation management company that helps to make you Look Good Online.