How to Improve Your Google Search Ranking
Getting your website or business to rank higher in Google search results and other search engines requires a well-rounded SEO strategy involving quality and relevant content, guided keyword research, credible and authoritative link building, and absolutely no shortcuts.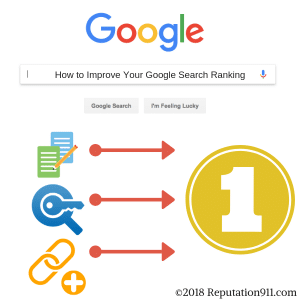 Trying to improve your page to rank at the top of Google search results can feel like a daunting and improbable task.
For years, businesses and individuals have been looking for new ways to "beat the system" to surge their results right to the top, seemingly at the push of a button.
However, as the sayings go, Rome wasn't built in a day and good things take time.
We're not here to reveal any mysterious or well-kept secrets about the inner workings of Google's search algorithm or ranking system… In fact, Google has always made its intentions quite clear when it comes to search. They have even publicly provided some general guidelines about "How Search Works" and openly promote their mission to "organize the world's information and make it universally accessible and useful".
So instead of trying to break through Google's algorithms and "crack the code", it is much more advisable to work alongside their guidelines and mission while staying focused on what is most important: the user.
Algorithms from Google have changed extensively over the years, but one thing has always remained the same ― delivering useful and relevant results to the user. Google strives to maximize access to information to help users find the best products and services, educate themselves on specific topics, and connect with others all around the world.
While it will take more than the push of a button to achieve consistent and high quality results, there are some simple strategies and factors that contribute to a website's ranking, authority, and overall user-friendliness.
Content is King
"Content is King" has become a widely-used phrase throughout the SEO, reputation management, and online marketing industries, originally cited from an essay by Bill Gates where he states, "Content is where I expect much of the real money will be made on the Internet, just as it was in broadcasting".
The best way to attract a user to your site is to provide them with informative, relevant, and easy to read content that provides a direct answer to their search query. Identify a topic that your target audience might search for and create the appropriate content to match their needs.
Recently, Google has put a higher value and emphasis on delivering content and answers to search queries in faster, more immediate formats with featured snippets and Google autocomplete. This means your content doesn't always have to be the longest and most expansive, it simply has to provide the sought after information. So instead of creating unnecessary filler to build up your word count, focus more on building an easy and direct path to the question at hand, whether that takes 5000 words or 5 short sentences.
Long and short form content both have their benefits for search engine optimization. Knowing how to present your content to readers and web crawlers alike is one the biggest factors in improving your google search ranking.
Keywords
When a lot of people think about content, they often think keywords, keywords, keywords. Keywords are a great way to grab a reader's attention and are certainly noticed and picked up by web crawlers. However, if keywords are used incorrectly, keywords can actually penalize your site and decrease its likeliness of ranking.
In the past few sentences, the word "keyword" is used six times. Overusing a specific word or phrase in your content, titles, meta titles, alt tags, etc. is often seen as spam and will make your content more difficult to read and understand.
While specific target words are important, they must be used correctly and sparingly so as not to overwhelm the user and hinder the quality and readability of the content.
Allow your keywords to fit in naturally throughout your site and content. You will not want to dilute your page authority and value of your targeted topics by throwing all of your different keywords on the same page. You can certainly have pages on your site that generalize what your company or brand is all about, but don't except this page to rank for all of the different search areas you are targeting. Instead, utilize this page to build authority in other ways like providing additional information to the reader and building links to other themed pages.
While you don't want to highlight too many topics on the same page, it is favorable to incorporate related topics and associated words to support your keyword while also targeting a larger connected concept. Since Google now bases rankings more on user intent rather than exact match keywords, these related topics and phrases will demonstrate the relevance and careful optimization of your page.
Not all related and associated words will help to improve your google rankings. This is where the importance of thorough and comprehensive keyword research comes in.
Keyword Research
Understanding how and when to use keywords is one thing but which keywords should you be using to reach the biggest audience and the right audience most effectively?
Researching different words, phrases, and variations of those words and phrases is essential to any content marketing strategy or SEO endeavor. With the help of keyword research tools from MOZ and other SEO experts, you can gather in-depth information and analysis including:
Popular keywords searched by your audience – What your audience is typing into Google

Related topics and associated keywords and phrases

How to prioritize keywords

Monthly search volume data

Where people are searching from locally and globally

How much traffic each keyword receives

Difficulty of ranking for one word or phrase vs. another (competition/high or low demand)

Estimated click-through rate
With this information, you will have a better understanding of who your audience is and a better picture of what they are looking for, allowing you to create content geared specifically toward their greatest needs and interests.
Using the right keywords combined with quality content will make it more likely for users to click through to your site, increasing organic search traffic and boosting your site's credibility and authority.
Internal & External Link Building
Another great way to gain credibility and authority for your site is through link building.
There are plenty of articles across the web emphasizing the importance of building as many links to your site as possible. While it is true that more links to your site will increase your site's domain authority, they need to be the right type of links. As with content and keywords, everything you link or are linked to needs to be relevant, natural, and useful. High quality external links from other sites and sources will validate the popularity and trustworthiness of your site. If a well trusted, high authority site is linking to your page, you are in great shape. If you are buying links or receiving links from random sites that do not relate directly to your content, you are more than likely to get penalized and drop dramatically in search rankings.
It takes time and effort to establish a strong link building network, but these resources will be extremely valuable to increasing the value and authority of your site in the long run.
In addition to external links, your internal links hold a strong value and importance to your site's optimization. Creating strong internal links with relevant anchor text will help users navigate your site more easily and find the content they are looking for.
These are just a few of the biggest and most important SEO and ranking strategies to help improve the visibility of your website or business page. There are tons of ways to slowly add small tweaks and advancements to your site, but it is essential to begin with a solid base.
When looking to improve your Google search ranking, it can be helpful to use the knowledge and resources of an industry expert that can work with you to develop the best SEO strategy to suit your needs. No matter what strategy you decide to take on, remember ― if it is good for the user, it is great for Google.
About us
We are a Online Reputation and Privacy Management Company that helps our clients Restore, Promote, and Protect their online image.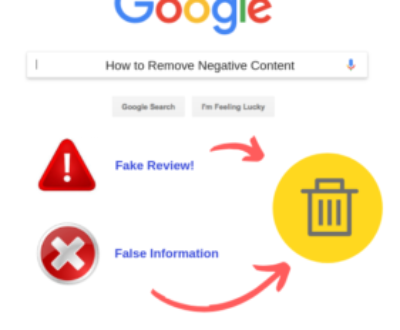 Whether you are a business, brand, or individual, it is essential to…