10 Personal Branding Tips for Executives
Last Updated on April 24, 2023
The Power of Executive Branding: How to Stand Out in 2023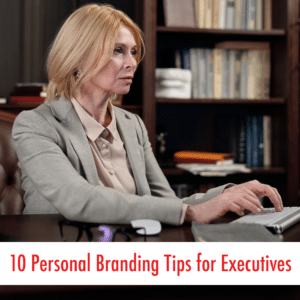 As an executive, creating and maintaining a personal brand that accurately reflects your goals and values is essential. Your brand is how you present yourself to the world and is used to communicate your skills and abilities to achieve success. It is the impression you leave behind when interacting with others and is used to differentiate you from your peers and competition.
A strong personal brand can be your most powerful asset. It can help you develop a professional network, build trust, stand out from the competition, and attract opportunities. Developing a strong personal brand as an executive requires a solid understanding of yourself and how you want to be perceived.
Executive Job Search and Personal Branding
The pandemic affected recruiting in 2023. With massive layoffs in the tech industry, job search is becoming more competitive than others – and the same can be said for executives. 
Regardless of your reason for moving or changing companies as an executive, the executive search is competitive, and you need a strong personal brand before you start your search.
If you find that you move through the interviewing process, and it suddenly goes silent, it may be because of what people are finding about you online. 
Executive Personal Branding Truths
These concepts are important to understand before your executive job search and hiring process. 
Your name is critical. An executive's name is so important regarding online search. Make sure people don't tarnish your name online with negative news articles or false information that can appear in search results. 
You are a business. Executives should approach their personal brand as if they are a business. 
You represent companies and brands. CEOs and executives need to represent the businesses they lead in a positive light at all times (learn more about brand reputation).
Be prepared if a crisis happens. People make mistakes.

Personal crisis reputation

management is essential when a mistake is made. Executives should have a crisis plan and be as prepared as possible. 
Executive Personal Branding Tips
Here are ten tips to help create and maintain powerful personal branding for executives.
Know yourself

Develop a brand identity

Create a personal website

Build your network

Create content

Take part in webinars

Promote yourself on social media

Leverage PR opportunities

Network at Events

Book Speaking Engagements
1. Know Yourself
Personal branding starts with you, the executive – this means being aware of your core values, goals, and skills. Take time to reflect on what you are passionate about and what you excel at. Knowing yourself will help you define your brand identity and the message you want to communicate.
Knowing yourself also requires being open to feedback and criticism. A deeper understanding of who you are will help you identify areas of improvement and make it easier to adjust and tailor your brand to meet your goals.
2. Develop A Brand Identity
Developing professional personal branding for executives involves defining how they want to be seen and the message they want to communicate. Think about what makes them unique and what differentiates them from the competition.
Ask yourself what values they bring to the table and what skills they possess that can make them successful. Once they have a clear idea of their unique value proposition, create a brand identity that accurately reflects it.
3. Create Personal Website
Once you have developed a personal brand, the next step an executive should take is to create a website. Creating a website is a significant step for CEOs and executives to take control of their online brand. When people search for someone's name on Google, a personal website will come up first, particularly if your domain is also your name. Keep your portfolio, write an executive bio and resume up to date to show potential employers your skills and accomplishments.
4. Build Your Network
Building a strong professional network is essential for creating a powerful personal brand. Connect with professionals in your industry, join relevant groups, and attend industry events. Share your expertise, participate in discussions, and create valuable content. Use social media platforms to stay connected and reach out to influencers in your field. By doing this, you will be able to keep current on industry trends and build relationships with key individuals.
5. Create Content
As an executive, showcasing your skills to demonstrate your expertise is essential. These days, many different forms of content can be published online. Share your knowledge and experiences by publishing articles, videos, and podcasts. 
6. Take Part in Webinars
Participate in online events and webinars. Executives that help lead webinars get the opportunity to showcase their skills, while promoting your website and social media profiles. 
7. Promote Yourself On Social Media
Promoting yourself is a crucial part of building a strong personal brand. Use social media platforms to share your accomplishments, post updates, and engage with your network. LinkedIn, in particular, is a great way to promote yourself, and the content you write, to connect with recruiters and other professionals online.
8. Leverage PR Opportunities
Reach out to journalists, industry influencers, and potential employers to share your industry expertise. In addition, you can also use platforms like HARO (Help A Reporter Out) to connect with journalists who are looking for subject matter experts to contribute to their articles.
9. Network at Events
Participate in local events, join professional organizations, and attend conferences to promote yourself and your brand.
10. Book Speaking Engagements
Whether it's a conference or an industry event, CEOs have the opportunity to speak to others. It's a fabulous way to promote your personal brand as an executive, and build authority and trust within your industry.
Executive Reputation Services From Experts
As a CEO, your reputation is worth investing in. Here at Reputation911, our trained professionals provide executive reputation management, utilizing resources to prevent, manage and repair any crisis. We work both internally and externally to manage your personal reputation. Learn more about our services online or contact us for more information.
We are a reputation management company that helps to make you Look Good Online.