Last Updated on February 22, 2023
A CEO's reputation can affect the bottom line performance of a company. The role of a CEO is so pivotal, and because of that, their personal image should be very closely monitored. With just one small mishap, a CEO can ignite negative publicity and could put an organization under fire.
In this article, we review the importance of reputation management for CEOs, strategies to improve reputation, and how to avoid mistakes that will damage reputation.

The Importance of CEO Reputation
Why is CEO reputation so important? With the amount of responsibility given to CEOs, business leaders are closely monitored and scrutinized for even the smallest mishaps. CEO reputation is widely considered a key factor in shareholder value. It plays a significant role in the perception of the company – both from internal and external audiences.
Given how much a CEO's reputation weighs on the perception of a company, a focus on the reputation of a CEO will help with a company's performance. A reputable CEO will greatly improve a company's chance of thriving. A positive reputation for a CEO will also help them earn trust and respect for their thought leadership, too.
In this article, we review CEO reputation management strategies, and how to maintain reputation as an executive.
Strategies for CEOs to Improve & Maintain Reputation
A CEO's reputation is an important part of a company's success. A CEO's reputation is wide-ranging. Here are some strategies that CEOs can take to improve their online reputation:
Strategy 1: Own your online searches
When people search for your name online, be sure to monitor the websites that appear. It's important to use search results to present you in the best possible light. For whatever reason, a result that could negatively affect your brand as CEO appears, there are methods to suppress negative search results.
Strategy 2: Engage with employees
CEOs that engage with their employees can significantly improve their reputation in-house. Showing your face around the office goes a long way with employees. Get more face-to-face time with employees, and engage on LinkedIn or Twitter. Encourage employees to speak up and share their ideas. Discuss company challenges with employees openly, and empower employees with recognition and rewards.
Strategy 3: Use social media to your advantage
Many CEOs will say they are too busy to be on social media. Social media usage among business executives is underwhelming. In fact, only 39% of fortune 500 CEOs have any social presence. It's safe to say that CEOs are missing out on the benefits social media usage brings.
When it comes to CEO reputation management, social media is an opportunity to present themselves and their company in a positive light. Consider sharing posts about the company, projects worked on, new hires, and press or news. Social media usage among CEOs is also a great way to humanize your company, putting a face and name behind the brand. You can also connect with your stakeholders on social media. Not only can you engage with employees with social media, but you can also engage with other stakeholders like board members. 
Strategy 4: Be ethical 
Creating an ethical company culture starts from the top. CEOs and business leaders should set very high standards of being ethical in a work environment. CEO should not just communicate ethical standards to staff and employees, but they should also exude them. Leading by example, CEOs can ensure a highly ethical culture and ethical decision-making from employees.
How CEOs Can Manage Their Reputation
Monitoring your reputation provides CEOs with a sense of how they stand among employees, customers, and clients, and other stakeholders. By closing monitoring, you have the ability to be proactive in improving your reputation. Here are a few tips on how CEOs can monitor their online reputation on an ongoing basis.
#1 Use Google Alerts
Google Alerts allows you can track keywords, and web pages, newspaper articles, blogs, white papers, and studies related to the keywords recently published online. Using Google Alerts, you get daily updates on new content related to searches you track sent directly to your email. You can pick and choose the search terms to target associated with the name of an executive.
#2 Monitor Search Results
The internet is a double edge sword. While you are able to present yourself in the best possible light, the internet allows anyone to write or say anything they want – whether its true or false.
Monitoring the web pages that appear in Google searches about yourself can help you get out in front of a search result that may damage your reputation as a business leader. Depending on the website and the content written about you, it may be possible to remove negative content online.
#3 Use Google AutoComplete to Track Searches 
It's a good idea to understand what people are looking for when they search for your name online. Google's autocomplete feature allows you to see what specifically people are searching for related to your name. Just type in your name to Google's search bar and see what phrases get automatically filled in after.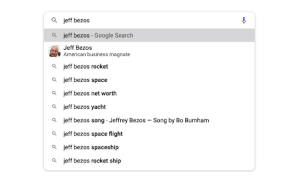 #4 Monitor review websites
Nowadays, some websites allow employees to review the outlook of a CEO. Sites like Glassdoor let employees to leave reviews of the CEO. Be sure to monitor your reviews – not only do they affect CEO reputation, but you can also get feedback to better understand what they need to improve. Be sure to read all reviews, and take action against any fake or misleading reviews on Glassdoor.
#5 Keep up With Social media 
For CEOs that actively using social media to engage with their contacts and followers, be sure to provide prompt responses. When you get a notification on your social media, don't ignore or delay a response to a comment, post, or photo that mentions you. It's important to engage with that person by responding back in a timely manner. 
When CEO Reputation Goes Bad
A CEO's role looms large for a companies outlook. If your reputation as CEO takes a hit, so does the company's reputation. This makes it harder to be respected as a thought leader, but also as a global executive. With a poor reputation of a CEO, you put the corporate reputation at risk for the following:
Bad press and public relations

Stock drops

Negative consumer perception 

Diminished ability to hire new talented employees

Significant financial losses
How CEOs Can Avoid a Bad Reputation
Just because you are chief executive officer doesn't mean mistakes cannot be made – after all, you are human, and mistakes can happen. However, making the same mistakes repeatedly can put you at reputational risk for how others view you. This can not only damage your reputation as a business leader, but it can fracture the performance of the company you run. 
Here are the most damaging mistakes to CEO reputation that should avoid being repeatedly made:
Being the smartest in the room

Quickly dismissing the ideas of others

Talking too much and not listening enough

Being too busy to make time for other people

Growing a company too fast

Create an awesome executive biography online

Solely focusing on revenue and your bottom-line
CEOs and Public Relations Crises
Good CEOs need to do everything in their power to avoid public relations disasters. If you happen to be involved in a public relations crisis as a CEO, you will need to take the necessary steps to resolve the crisis. You can read more on how to manage a business reputation crisis, and how to handle media coverage, negative media, and public relations crises.
Getting a Professional to Manage CEO Reputation
CEO reputation is so critical to a company's success – and yet, managing your reputation is one of the many things in a long list of duties and responsibilities to worry about. That's why hiring an online reputation management company can help you get back to what you need to do. We're here to help you manage your reputation, so you can run your business.
We are a reputation management company that helps to make you Look Good Online.