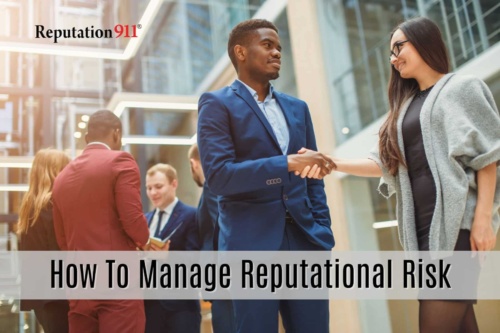 Reputational risk refers to the harm that can occur to a company's image and reputation. This is due to negative events, actions, or how people see the brand. Managing this risk is crucial in today's fast-paced and connected world. It helps businesses maintain trust with stakeholders, ensure long-term success, and avoid the negative consequences of a ruined reputation.
Why is Reputational Risk Important?
It's crucial to manage and address reputational risks. When a reputation is harmed, it leads to consequences such as:
Large financial losses

Lack of customer trust

Unable to attract new customers or employees
With the rise of digital technology, negative news spreads rapidly and reaches many people. This makes it crucial for businesses to manage the reputational risks they face in a proactive way.
A strong reputation helps companies withstand challenges and gain a competitive edge. Here is what a good reputation provides:
Increased customer loyalty

Ability to attract top talent for your business

Positive relationships with stakeholders
Examples of Reputational Risk
It's crucial to understand the different types of reputational risks that businesses may encounter. Knowing about the risks will help you effectively manage and mitigate them.
Let's look at some common types of reputational risks that can affect how a company is seen:
Negative Reviews and Press
In today's internet age, a single negative review or negative press article can harm a company's reputation in no time. With the power of social media and online review platforms, disgruntled customers can voice their complaints to a large audience.
This can cause significant reputational damage. To maintain a positive brand image, it's important to respond to reputational risks quickly. This is done by actively monitoring and addressing bad reviews and press in a timely manner.
Data Breaches
Companies are increasingly relying on technology and tracking customer data. Because of this, data breaches have become a huge reputational risk for businesses.
Data breaches can lead to customer mistrust, damaged relationships, and negative publicity. To decrease the risk of data breaches, it is vital to use strong internal controls and robust data security measures.
Operation Risk
Operation failures can significantly impact a company's reputation. Examples of these risks can include:
Supply chain disruptions

Product recalls

Service outages

Equipment failures

Human error

Staffing issues

Environmental events
Since many of these risks are beyond your control, having a risk management plan is crucial. That way, you can minimize the impact of operation risks. Customers expect reliable and consistent experiences, and any failure in delivering on those expectations can lead to reputational damage.
Social Responsibility Issues
In today's socially conscious environment, customers care more and more about a company's commitment to social responsibility. Any perceived failures in these areas can result in reputation damage:
Eco-friendliness

Ethical sourcing and fair trade

Fair labor practices and employee well-being

Community engagement

Diversity and inclusion

Corporate governance and transparency

Responsible marketing and advertising
Companies can enhance their reputations by emphasizing social responsibility. It isn't enough to just talk about it, you must integrate it into your core business practices.
Competitor Actions
The actions of competitors can pose reputational risks to businesses. When competing companies engage in unethical practices, it can negatively impact the entire industry. This can be a result of misleading advertising or getting involved in public controversy.
To mitigate reputational risk caused by competitor actions, companies can take the following steps:
Maintain strong ethical standards

Focus on openness and transparency

Prioritize customer service
6 Effective Strategies to Manage Reputational Risk
How can businesses manage their reputational risk? Follow these six strategies, and keep reading to learn more about each.
Develop a crisis management plan

Monitor your online presence

Encourage transparency

Prioritize ethics and compliance

Train employees on reputational risk management

Foster strong relationships with stakeholders
1. Develop a crisis management plan
Establish a comprehensive business crisis management plan. This will outline how your organization will respond to potential threats and crises. This plan should include:
Designated spokespersons

Communication strategies

Contingency plans for various scenarios
Review the plan regularly to make sure it is still effective. Update the plan as necessary.
Conducting crisis simulations, drills, and risk assessments can help your organization prepare for unexpected events. Overall, this will minimize the potential impact on your reputation.
2. Monitor your online presence
Through online presence management, businesses can regularly review your business's online presence. This includes social media platforms, review sites, and news outlets. One of the best things you can do is to identify and address negative feedback head-on
Engage in reputation risk management best practices by:
Responding to negative comments promptly

Being professional at all times

Being sensitive to the issue at hand

Leveraging good feedback to maintain a positive brand image
3. Encourage transparency
Many companies shy away from being transparent, thinking that being secretive will help their reputation. However, being open and honest goes a long way toward building your credibility.
Create a culture of transparency in your business by:
Being open with stakeholders about your company's goals, strategies, and progress

Encouraging employees to voice their concerns

Creating open channels for communication

Demonstrating accountability

Being responsive to stakeholder feedback
4. Prioritize ethics and compliance
Ensure your company maintains a solid ethical foundation and complies with laws and regulations. Misconduct and illegal activities are huge reputational risks. Demonstrate a commitment to ethical business practices to reduce the likelihood of reputation damage.
Here are a few ways you can do this:
Implement clear

corporate ethics policies

Provide regular training

Establish a system for reporting and addressing ethical concerns
Practicing integrity can safeguard your reputation. It will also help attract and retain customers, employees, and investors.
5. Train employees on reputational risk management
Educating your employees about the importance of reputation is vital. Here are a few tips to help you do this:
Give them the tools and guidance they need to identify and report potential risks

Offer training sessions and workshops

Teach them best practices in communication, social media, and customer interaction

Empower employees to act as ambassadors for your brand to promote a positive image and prevent reputation damage
6. Foster strong relationships with stakeholders
Build positive relationships with key stakeholders, such as:
Customers

Employees

Investors

Suppliers
Engaging with these groups and addressing their concerns can help mitigate risks and maintain your company's credibility. 
Regularly solicit stakeholder feedback, and demonstrate your commitment to addressing their needs. Nurturing these relationships will create a network of advocates that can protect your reputation in times of crisis.


In Closing: Managing Reputational Risk
By managing reputational risks, businesses can avoid the negative effects of a damaged reputation. By using these strategies, businesses can create a set of protocols to mitigate risks.
Business reputation is an important part of any organization to navigate through the complexities of your online presence. Set up an initial consultation with Reputation911 to learn more about business reputation management services, and how to mitigate reputational risk.
We are a reputation management company that helps to make you Look Good Online.