Free Online Reputation Monitoring Tools
This page was most recently updated on August 7, 2023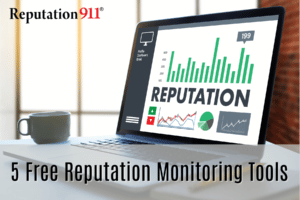 Monitoring your online reputation with these easy tips can greatly improve your online reputation. Maintaining a good reputation score can help you in both your personal life and professional career. Here's how to get started with these free online reputation management tools!
Why Should I Check My Online Reputation?
It's a good idea to check what people are saying about you, your brand, or your company online. It's important to know people's perceptions in order to better tailor your messaging and interactions with customers or even prospective employers online. There is nothing worse than engaging in a "tone-deaf" way or not being able to "read the room" online.
How Can I Monitor My Online Reputation?
Your brand's reputation comes from how you are represented online. This can come from what you post, including tweets and comments to reviews and news sites. Everything posted in association with your name comes together to create your online reputation, and it affects how people view you online.
However, things that other people post online about you are also considered in the mix. These can be articles that mention your name, images other people posted, online reviews, or social media posts that tag your profiles. These posts can have a huge impact on your personal and professional life. 
Online Reputation Definition
Just like your actions in the real world have consequences, so too do your online actions. Any kind of online content about you online can impact how other people perceive you or your business. What happens online does not necessarily stay online, and it has real-world consequences.
Your online reputation revolves around how others perceive you online, not by how you view yourself. Monitoring and maintaining control over your online reputation can offer security and privacy for your name online. 
Search Engine Reputation Management
If people, including potential clients and customers, want to know more about you, they will most likely search for you on Google. Whatever comes up on the search engine results page has an impact on your reputation and business. This could include anything that you or others have written about you, including negative reviews.
Posting positive content that is optimized for search engine results and associated with your name can help to suppress the negative content. Most people only check the first, and maybe the second page of Google. The more good content you post, the more likely it is that negative content will be pushed back in search results.
What Is A Good Personal Reputation Score?
Whether you have a positive or negative online reputation comes down to your reputation score. Do a social media audit on yourself and note what type of content you post online. 
Public profiles offer endless data to the masses about who we are, what we do, what we know, who we know, etc. We often forget that not setting our profiles to private offers that information to anyone online. What does your score reveal about you? 
Improving Your Reputation Score
Monitoring your online reputation becomes much easier once you fully understand where your online presence comes from. 
What type of results do you see when you Google your name? Social media profiles, website pages, blogs, articles, videos, and images all come together to create your online presence. 
Whether that content is positive or negative comes down to the type of content. Are you perceived as a likable and trustworthy person based on your online material, or is there a reason to question your accountability? 
Free & Easy Reputation Monitoring Tools
Use these free tools to help you monitor your online reputation and clean up your online search results. 
Maintaining a positive online reputation ensures that when your name is Googled by your boss, coworkers, college professors, teachers, and networking connections – they find the reassurance they need to trust you as a professional individual with the background to prove it.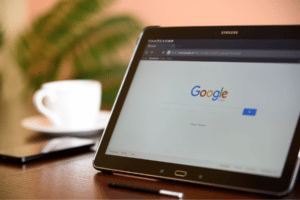 Google Search 
Google is your best friend. Type your name, business, or brand into the search bar. Google works for you by hunting the internet for any results that match your search query, in this case, your own name.
Anything that is associated with your name will be filtered directly to you. Take note of your results.
Google Alerts 
You can also sign up for Google alerts sent directly to your email. By creating a Google alert, you will receive a notification when your name or brand mentions are posted, no matter where it is. This allows you to easily monitor who is mentioning your name.

Twitter
Twitter is valued as both a popular social media platform and a current news source. If you manage a brand or company, you can easily monitor what people are saying about you by following relevant hashtags. Browse through trending topics to see what others care about most and how you can leverage that information for your brand. Twitter gives users a direct line to brands and influencers and gives you the chance to build your social media presence!
Privacy Settings
An overlooked yet efficient way to monitor your reputation is to turn your privacy setting on across your social media platforms. Doing so gives you control over who sees your profile and follows your pages. 
Social Mentions 
Keeping tabs on your social mentions is also an easy and effective way to monitor your online reputation. Who you are associated with, and what they say about you are always taken into consideration when calculating your online reputation score. This can also help you improve your influencer and digital marketing abilities by seeing who is interested in your content.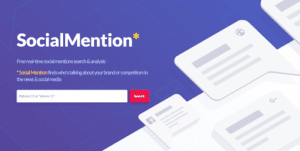 With a free search ORM tool like SocialMention.com, you can easily find all the sources that reference your name with a quick search in real time. 
Conscious Posting 
Always think before you post online. If you wouldn't want your coworkers, boss, employees, coworkers, professors, or even your kids to see it, do yourself a favor and hit delete before it finds a forever home on the internet. Your digital footprint is not always easy to erase.
It is a good idea to check your online reputation at least once a month. As a brand or business owner, this might become a weekly or bi-weekly task. Knowing what people think of you is a powerful tool that you can leverage in your messaging. With these free tools, you'll be building your reputation in no time.
Hire A Reputation Management Expert
Avoid future problems by monitoring your online reputation now. If you have any questions about personal reputation management, reach out to the experts at Reputation911.