5 Free and Easy Reputation Monitoring Tools to Use Now
Monitoring your online presence with these easy tips can greatly improve your online reputation. Maintaining a positive online reputation can help you in both your personal life and professional career. Here's how to get started with these free online reputation management tools!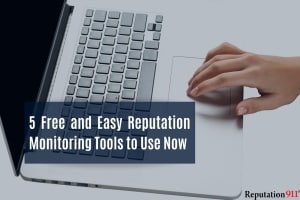 Your online reputation comes from how you are represented online. This can come from the things you post online, from tweets and comments, to review sites and news sites. Everything posted online in association with your name comes together to create your online reputation, or how you are viewed online. 
However, things that other people post online about you are also considered into the mix. This can be articles that mentions your name, images other people posted, or social media posts that tag your profiles. 
Your online reputation revolves around how you are perceived by others online, not by how you view yourself. Monitoring and maintaining control over your online reputation  can offer security and privacy for your name online. 
How do I check my online presence?
Monitoring your online reputation becomes much easier once you fully understand where your online presence comes from. 
Google your own name, what type of results do you see? Social media profiles, website pages, blogs, articles, videos, images – it all comes together to create your online presence. 
Whether that content is positive or negative comes down to the type of content there is. Are you perceived as a likeable and trustworthy person based on the material you have online, or is there reason to question your accountability? 
Whether you have a positive or negative online reputation comes down to your reputation score. Do a social media audit on yourself and take note of what type of content your post online. 
Public profiles offer endless data to the masses about who we are, what we do, what we know, who we know, etc. We often forget that not setting our profiles to private offers that information to anyone online. What does your reputation score say about you? 
Free & Easy Reputation Monitoring Tools
Use these free tools to help you monitor your own personal online reputation, and clean up your online search results for good. 
Maintaining a positive online reputation ensures that when your name is Googled by your boss, coworkers, college professors, teachers, networking connections – they find the reassurance they need to trust you as a professional individual with the background to prove it. 
Google Search 
Google is your best friend. Try typing your name, business, or brand into the search bar. Google world for you by hunting the internet for any results that match your search query, in this case your own name. Anything that is associated with your name will be filtered directly to you. Take note of your results! 
Google Alerts 
You can also sign up for Google alerts sent directly to your email. By creating a Google alert, you will have the option to receive notification when your name or brand mentions are posted, no matter where it is. This allows you to easily monitor who is mentioning your name.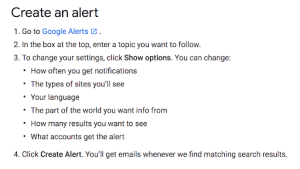 Privacy Settings
An overlooked yet efficient way to monitor your reputation is to turn your privacy setting on across your social media platforms. Doing so allows you to monitor who sees your profile, and who you allow to follow your pages. 
Social Mentions 
Keeping tabs on your social mentions is also an easy and effective way to monitor your online reputation. Who you are associated with, and what they say about you is always taken into consideration when calculating your reputation score. This can also help you improve your chances of influencer marketing by seeing who is interested in your content.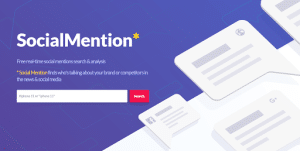 With a free search ORM tool like SocialMention.com you can easily find all the sources that reference your name with a quick search in real time. 
Conscious Posting 
A good rule of thumb when it comes to practicing internet safety and reputation management best practices, thinking before you post is always the way to go. If you would want your coworkers, boss, employees, coworkers, professors, or even your kids to see, do yourself a favor and hit delete before it finds a forever home one the internet.