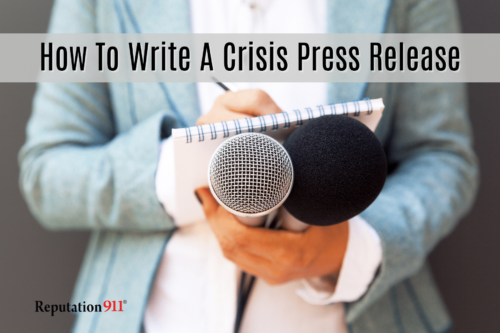 When mistakes happen, businesses should be fully prepared to address the situation. Do not wait until your organization is already in a crisis of negative publicity before developing a crisis communication plan.
In times of crisis, businesses should drop everything to focus on addressing the mistake to their customers and those who were affected. One of the best ways to swiftly and effectively address a crisis is to publish a press release. 
What is the Purpose of a Crisis Communication Press Release?
A crisis communication press release (or crisis statement) is used by organizations to communicate with their target audience, stakeholders, and the general public about the happenings of a crisis. It is a way for an organization to respond to the crisis publicly and let the public know they are aware of the issue.
How to Create a Crisis Press Release
Follow these tips to effectively handle a business crisis and communicate through a crisis press release.
Move Quickly
You want to move quickly to craft a response, so do not hesitate to begin writing a press release draft. Many crises are time-sensitive matters, and the sooner a press release is published, the better off your organization will handle the crisis. 
The very beginning of a crisis is when you should issue a holding statement. This is a ready-made template that allows you to publicly the problem soon after the crisis occurred. You should have a few of these templates prepared in advance to cover yourself in a variety of crises so you can publish the basic facts of a situation as soon as possible. Doing so will buy you more time to look investigate the crisis further.
Be Thoughtful
While you'll want to move quickly in the process, you also want to take the time to craft a well-thought-out statement. Creating a response that is thoughtful, sensitive to the crisis, and expresses empathy toward everyone that was affected by it goes a long way.
Plan What to Write
Knowing what exactly to put in a press release is complicated. Every crisis is different, and as a result, may call for a different message. Here are a few questions for you to think about as you craft your response. 
Is Your Organization at Fault?
There are times when a crisis is completely out of anyone's control, such as a natural disaster (or a global pandemic). Even when no one is at fault in a crisis, it's important to communicate with all stakeholders (including customers, employees, shareholders, suppliers, etc) to try and mitigate the damage as much as possible.
If your organization is at fault, you should take responsibility for what transpired. Be as transparent as possible without defensiveness. 
Who Was Impacted?
When drafting your press release, you need to address those who were affected as a result of the mishap. Think about who was primarily affected by the crisis, how they were affected, and how you can prevent this from happening to others who were not directly affected.
How Is Your Organization Responding?
Now that you've taken responsibility, it's time to take action. As an organization, list the actions you are going to take (or have already taken) to right the wrongs you've caused. It is crucial here to make sure that the actions you list are realistic and achievable. Do not promise anything that you can't follow through with because this will destroy any trust in your organization.
Why Can Your Organization Be Trusted Again?
It's not enough just to tell them how you're going to fix the mistake – you have to assure your customers and stakeholders that it will never happen again. Lay out the steps you plan to take to ensure that this crisis will never occur. Make sure the steps are clear, specific, and actionable.
Creating Your Press Release
Here's how to best format your crisis press release so that all the content is easily consumed. 
Headline:

Your headline should provide a concise summary of the press release so readers know what it is about at first glance. 

Overview of The Crisis:

The first paragraph should provide a brief overview of the crisis with some essential details before you expand on the situation.

Crisis Response:

Another crucial piece of information that should be included in the body of your press release is your response to the crisis.

Summary:

The final paragraph of the crisis press release should summarize everything previously stated, and end with a call to action.

Contact Info:

At the end of your press release, include the contact information of your company and PR person (whether in-house or agency), such as an email address and phone number.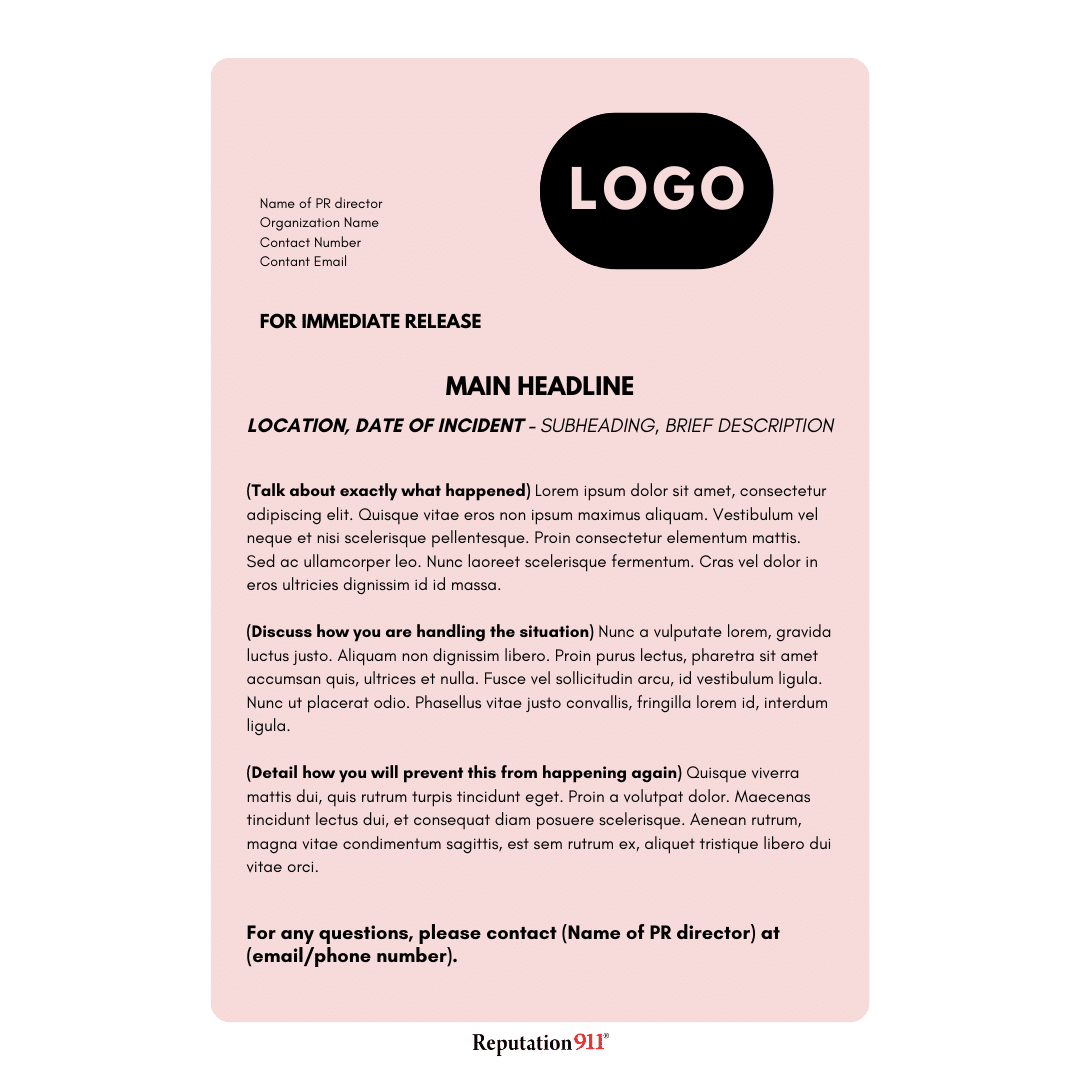 Distributing Your Press Release
After finalizing the version of your press release, you need to distribute it to reach your audience. There are a few ways to do this:
Press release distribution services such as EIN Presswire

Send to various media outlets from a contact list you have built

Any social media channels you may have
Crisis Press Release Examples (Templates)
Example 1: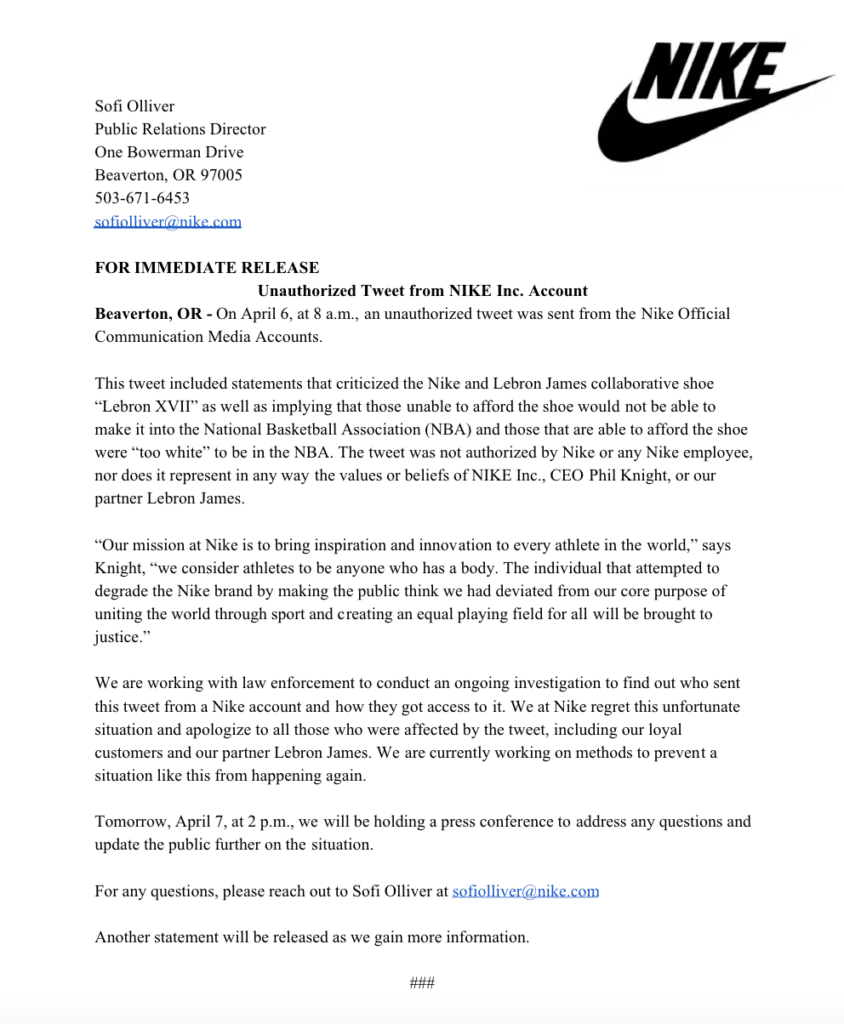 Why It's A Good Example
It succinctly summarizes the crisis at the top of the press release

It gives specific details about what exactly took place

It provides the reader with Nike's mission statement and how this act goes against it

It explains the actions taken as a result, and what they are doing to continue addressing the situation

It explains that Nike is taking steps to prevent future incidents

It gives details about a timely press conference and contact details
Example 2: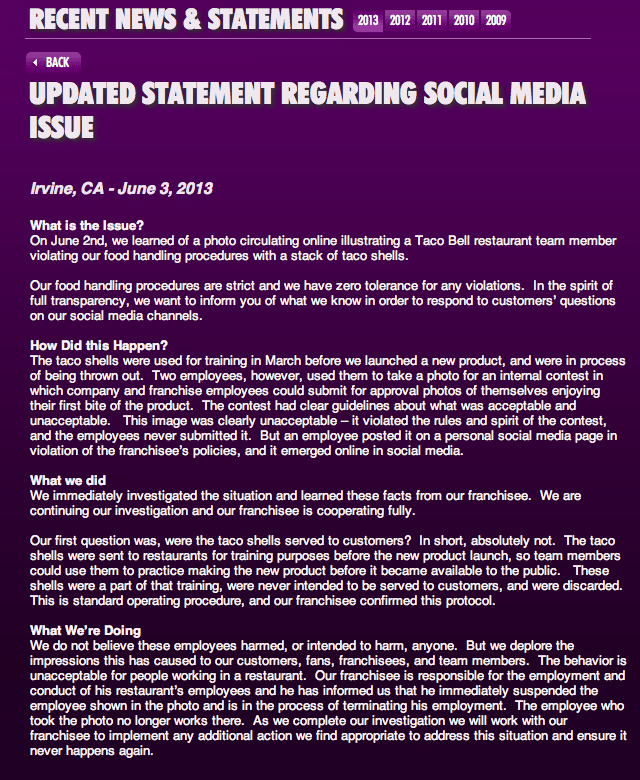 Why It's A Good Example
It explains how exactly the situation happened and lists all of the facts

It shows an awareness of how this situation has had an impact

It describes how the situation goes against their customer service and food safety policies

It provides details on how the crisis was addressed internally

It reassures the reader of how Taco Bell took action, and what they are doing to continue addressing the situation to make sure it doesn't happen in the future
Closing
A well-written and thoughtful press release is a crucial part of any crisis management plan. Follow these top tips to write a crisis communication press release and effectively address the situation at hand.
If your organization is going through a reputation crisis, the expert team at Reputation911 is here to help. Contact us today for a free consultation.

We are a reputation management company that helps to make you Look Good Online.