Online Reputation Management for Automotive Businesses
This post was most recently updated on September 11, 2020
Google knows that people are influenced more by customer reviews than marketing and add promotions. Harness the power of social media and engage your customers in real time to resolve disputes and protect your Automotive business from negative reviews with the help of Automotive Internet Reputation Management!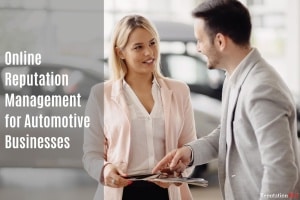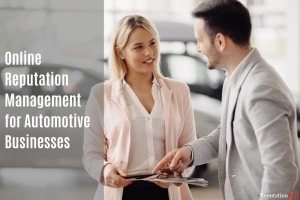 Auto Reputation Management for Dealerships
The online reputation of businesses is often an overlooked category of marketing and advertising. Unlike other marketing and advertising services, Online Reputation Management offers proven organic search results to dealership owners, instead of creating a money pit without any results to actually help your business instead of hurt it. 
Automotive Internet Reputation Management
Automotive Online Reputation Management is the process of monitoring and managing your automotive company's online presence.
This can involve suppressing negative content, investigating false information, promoting your business online, improving your business's search results and Google ranking, and maintaining your overall business's reputation for good. 
Why Automotive Reputation Management Is Important
Positive online reviews, negative online reviews, business listings, business social media profiles – it's all considered when a new customer decides whether or not to invest in your sales and service.
When someone wants to buy a car, they don't just choose the average joe. Odds are if someone is investing their hard earned money into a long term investment, they're going to want to work with someone who has a trusted online reputation. 
This means good reviews, positive business listings, and a well kept social media presence. 
The difference between you and your competition is where you show up  in your Google search results. The better your online presence, the better your chances are of landing in a top ranking, organically. Investors are much more likely to choose organic search results over paid advertisements. 
How SEO Can Help Your Car Dealership's Overall Sales 
One of the most important ways your business can out-beat competition, improve organic search results, create a stronger brand image, and drastically improve sales is with SEO. 
Search Engine Optimization Services for Car Dealerships 
SEO, or Search Engine Optimization, is the process of optimizing the content of your website, social media profiles, and other sources of online content, to be found online organically, and without spending unnecessary amounts of money on advertising that isn't getting your business the conversions it needs to succeed. 
You might have noticed you have a beautiful website, but it's just not getting found online.
SEO includes the optimization of the content of your website, including images, text, links, videos, and more. That allows Google to recognize the relevancy of your website and other online profiles as helpful, insightful, and useful for those who should invest in your services. 
Improving Car Dealership Reviews
Just like SEO can help improve organic search results for your website, online reviews are also an organic approach to improving sales for your automotive business, all while boosting your brand image at the same time. 
By cleaning up your review sites and improving your business's online reputation, you have the ability to gain more positive reviews, and suppress, or lessen the negative effects, of false or negative reviews your company might have. Even the most successful companies can get a bad review from time to time, but you don't have to allow it to make you lose business. 
Get more star ratings, reach more potential customers, and create the brand image your automotive business needs to be a winner in the automotive industry with Business Reputation Management!
We are a reputation management company that helps to make you Look Good Online.