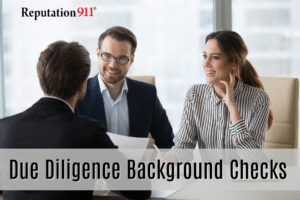 Before making any kind of hiring decision, many companies utilize a vetting process for employment. This should be done to mitigate the risks that come with hiring the wrong person. However, the traditional employee screening process can only uncover so much. Read on to learn more about the due diligence process for background checks.
About Due Diligence Background Checks (2023)
Due diligence reports on prospective job candidates can be more costly than traditional checks. However, a bad hire can cost you greatly in the long run. It can damage your company's reputation, expose you to theft or fraud, and could potentially make your workplace unsafe.
Performing due diligence background checks as part of the hiring process will pay dividends in the long run. Some of the benefits include:
Hire the most qualified candidate for the role

Improve workplace productivity

Foster a positive workplace culture

Reduce employee turnover rates

Protect your company's reputation

Increase workplace safety and security

Prevent lawsuits or legal issues

Meet legal regulations (depending on your industry)

Reduce liability insurance costs
What Is A Due Diligence Report In Background Checks?
A due diligence report on a candidate will give a more in-depth look into their history than traditional checks. When investing in a high-level candidate, it is even more important to do a thorough check of their entire history. That way, you can make a well-informed hiring decision.
What Are Red Flags In Due Diligence?
A red flag report in due diligence checks will highlight any issues that could damage your company's reputation. It will also point out inconsistencies in what the candidate has claimed or potential legal issues. Even high-level candidates exaggerate information on their resumes or cover letters. In fact, this study claims that over half of Americans have lied at least once on their resumes.
Some of the most common resume lies include:
Fabricated or inaccurate references

Exaggeration of skills

False or enhanced qualifications

Exaggeration of specific job titles or responsibilities they held

Dates of employment at a company

Claiming they worked for a company they did not work for
The Difference Between Due Diligence and Traditional Background Checks
There are some key differences between traditional and due diligence background checks.
A traditional background check is a basic search into a person's history to verify their information. This will also help to decide if the candidate is a good fit and reveal major red flags. It won't cover everything about a candidate, but it can include:
Verification of education and licensure

Verification of employment history and reference checks

Tracing their social security number for identity verification

Searching national, state, and county databases for criminal records

Conducting a Motor Vehicle Record report

Credit reports

Drug screenings
A due diligence background check seeks to find all possible information about a person's history to identify potential risks. In addition to traditional checks, it can also include:
Searching national, state, and county civil records for evidence of litigation

Using internet search tools (open-source intelligence) to find information about the candidate, such as social media usage,

online presence

, and

negative images

Adverse media screening to find negative press in national newspapers, television news, blogs, etc

Identifying sanctions or a person who is politically exposed to reduce the risk of bribery and corruption

Searching international records

Diving deep into previous financial history

Searching for anything in the candidate's past that could put your company and

reputation

at risk
How To Vet Candidates in 2023 Using Due Diligence Checks
Mitigating Risk
Before you start the hiring process, you can take steps to mitigate potential risks by:
Writing a compelling and accurate job description to attract high-quality candidates

Developing a comprehensive and consistent employee screening policy

Opting for video or face-to-face interviews before doing a further round of phone interviews

Performing a due diligence background check before offering candidates the position

Utilizing resume scanning software and third-party background check services

Conduct a social media background check reviewing content and photos.

Consider regular rescreening to flag up future risks
Employment Screening vs Background check
The terms employment screening and background check are often used interchangeably. However, employment screening typically refers to an initial check to make sure a candidate is right for the role. A thorough background check should be done further along in the process.
Pre-Employment Screening
The pre-employment screening process can be used to assess a candidate's suitability for the role. If a candidate has exaggerated their skills in their resume, you can determine their skill level by:
Having candidates complete a practical assessment test

Asking them specific questions about their previous experience during the interview

Speak to the candidate's previous employers and references to get an idea of their character
Recruiting Talent Management
If you want to maintain a high-performing and productive workforce, it is important to have the right talent management team. This will create a company environment that attracts and maintains top talent. Having a skilled HR department at your company is vital. It can also be beneficial to outsource certain tasks, such as due diligence background checks, to experts.
Closing: Using Due Diligence Background Checks
Using due diligence background checks in the hiring process is essential. Protect your company's reputation and avoid disaster by making a fully informed hiring decision.
The expert team at Reputation911 is here to support you with all of your reputation needs. We offer full-service personal and business reputation management services. Contact us to schedule a free reputation consultation.
We are a reputation management company that helps to make you Look Good Online.