How to Clean Up Your Online Reputation
In today's online world we live in, your online presence could keep you from landing that dream job, acquiring that new customer, or even finding your soul mate. If you have ever Googled yourself, the results can be quite shocking and sometimes extremely damaging.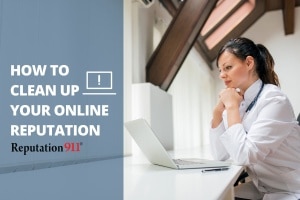 Without reputation management, the skeletons in your closet will become the forefront of Google searches. Everyone has the ability to post content online, whether real or fake, positive or negative.
Blog posts, social media platforms, and review sites are just some of the weapons of choice where prospective employers and customers may find undesired information. They will scan the top pages of Google, browsing for any information that would promote or deter them from investing in you.
Why Your Online Search Results Matter: 
Information found on you does not have to be negative to hurt. Surprisingly, it can be the small petty posts that do the most damage. Maybe the review was posted months ago, so you think it will have little effect on present-day matters, but the longer a review or post remains on the internet, the stronger the links may become. Eventually, the post will gather more links, and Google will recognize the information as accurate, giving that post more authority.
When an individual is thinking of investing their time or money in you, your search results need to project the quality and value of you or your product.
"Can I Delete Search Results That I Don't Want From Google?" 
Negative or unwanted information may not always be able to be removed from the internet. The negative information needs to be suppressed with something positive. If you post enough strong and accurate information, the entries you wish to suppress will move further away from the top results. Sounds easy enough, just post a plethora of positive information about yourself right? Wrong, this is a poor use of your time and resources.
How to Clean Up Your Online Reputation
There are several key steps to follow in order to fully fix and repair your online reputation. Most cases involve a system in which you remove negative content first, and follow removal actions with negative search result suppression. 
In order to suppress content that is unable to be removed fully for your Google search results, you must implement the creation of new personal web profiles to outsource information directly to Google, in turn, "pushing down" or "burying" the negative and unwanted content. 
The key is to incorporate your personal information in a way that highlights the truthfulness and trustworthiness of your own personal brand to improve your online search results and filter more positive content to search engines. 
Social media networking can also be a helpful tool to promote content like a personal website, blogs, articles or other social media accounts. Cleaning up and monitoring your reputation takes a solid plan and course of action. Making the wrong move could actually make things worse. 
Why Hire a Professional?
Not only will your work look like spam to Google but without the proper strategy, you could actually reinforce the unwanted post or links more. Just as your business needs a desirable physical location, the website's location needs to be where the most traffic is generated.
The content you put on these sites is equally as important. Your profiles and bios need to look professional and polished.
Reputation911 provides
online reputation management services
for both businesses and individuals. We can help clean up your online reputation.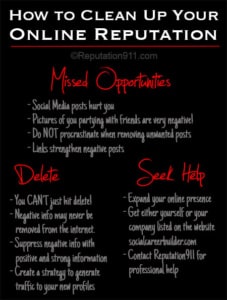 How Professional Reputation Management Can Help:
Maybe what's written about you is a bee sting in the grand scheme of it all; it's a painful nuisance more than anything else. You can dull the pain with some home remedies; make yourself a couple different social media sites reflecting what you want people to see and give it some time. Try to expand your online presence with positive achievements that you have accomplished.
If your online reputation is really messy, a band-aid is not going to suffice. You need to get some real help and fast. Reputation911 has helped a wide range of people clean up their online reputation by building their personal and professional brand.
From professional content writers to website designers to social media specialists, Reputation911's engineering team will increase your social currency giving you instant visibility and credibility with people who are searching for you online.
About us
We are a Online Reputation and Privacy Management Company that helps our clients Restore, Promote, and Protect their online image.