Ever wonder why you didn't get the interview or job?  Your online reputation could be holding back your career. 
Should I Care About My Online Reputation?
The truth of the matter is, that your online reputation matters. Whether you are trying to find a new job, change careers, get accepted into college, get a date, find new friends, or advance your career, your online reputation could be a determining factor. 
Google is one of the most popular search engines on the market. If someone wants to get more information on you, odds are they will go directly to Google. 
When someone searches your name online, your first page of Google search results is where they will get their answers. Those search results are created by links, directing the user to the best articles, websites, blog posts, and social media results that, in this case, are helping describe you. 
Whether your search results represent you in a positive or negative light, depends on what type of content, links, images, and videos are associated with your name. 
Google can either be your best friend or your worst enemy in search engines. If a hiring manager does a quick search on your name and finds images, comments, and links to content that makes you appear to be anything but professional, it could seriously impact your next opportunity and stand between you and success.
Your Online Reputation Will Speak Before Your Interview 
Over 83% of companies check your online reputation, and over half of them admit to not hiring a candidate due to what they find. Your online reputation has the ability to make or break your success in any industry. When it comes to your job search, Career Reputation Management could be the key to landing your next interview and finally getting the job of your dreams.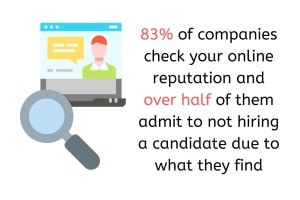 With the world turning to more online usage in the world of business in 2020, perfecting your online profile is more important than ever before when trying to get your next job. Creating a professional online profile with the use of websites, social media accounts, blogs, and other forms of content can put your online reputation back in your hands and help you land your dream job.
Our Career Reputation Services
Why should someone invest in their online reputation? Gain a competitive advantage with our My Online Reputation name one of the most innovative Career Reputation Management tools in the business.
By taking the appropriate actions, Reputation911′s online reputation team will help you raise your online reputation score by deleting the negatives and building on the positives helping you create your own professional profile.
Here's What Can Be Done To Improve Career Reputation:
Delete Harmful Photos and Videos
Unprofessional, provocative, or defamatory images and videos posted online can be detrimental to your career or ability to find a new job.
Finding and deleting negative content online, including photos and videos online related to your name can be a time-consuming task. Still, it is important to remove every piece of content that is hurting your online reputation in order to build a better one.
Here at Reputation911, we can pinpoint, search and delete all images and videos that are currently or could potentially hurt your online image.
Address Unused and Forgotten Accounts
We can search and delete all old accounts that may be sitting idle in cyberspace waiting for an employer or stranger to find them. Whether a dating profile or an unused account linked to a questionable source, used and forgotten accounts may raise a red flag in the eyes of a new employer.
Manage Social Media Profiles
Social media can be a slippery slope for online reputation management. Privacy settings, account safety, and content management are all part of a customized approach for your Career Reputation Management plan. 
Learn how to optimize your professional profiles on executive sites like LinkedIn to help find new opportunities in 2023.
We ensure your hiring manager, boss, coworkers, or employees only see a positive image of you across all social media accounts. 
Improve Google Search Results 
If improving your entire first page of Google search results is your goal, look no further than Reputation911. We have successfully cleaned the entire first and second pages of search results for hundreds of clients across all industries. Learn more about how we can help you improve your online reputation today. 
Learn More About Our Services
At Reputation911, we provide many types of personal reputation management services, including career reputation management. To learn more about reputation management services, pricing, and more, contact us online. Our team wants to help you land the job of your dreams.