This post was most recently updated on April 21, 2023
The internet has become everyone's go-to source for nearly all types of information. So what happens when you find false or misleading news articles about yourself or your business online? False, inaccurate, or misleading information online is not only detrimental to internet users seeking reliable information online but also to your business or personal reputation.
In this article, we take you through the process of finding and removing false or inaccurate information from the internet, including reviews, news articles, and links from appearing on Google and other search engines.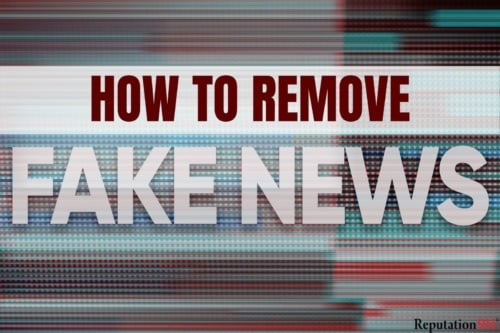 What Classifies as Fake News?
Fake news sites are made to trick the average reader into thinking the news is relevant, truthful, and reliable. Online news articles with false, inaccurate, or misleading information can go undetected, but with proper knowledge, one can look further into just how unreliable the source actually is.
Professionals and industry leaders have defined the term to include any information that is deemed:
Low quality

Misleading

Offensive

False

Incomplete

Sexually Explicit 
How to Detect False News Articles Online
A prime example of a fake news website is theonion.com which is notorious for sharing content that is specially made to trick audiences into thinking the news article is covering legitimate news.
Ironically, The Onion's tagline is "America's finest news source." However, with a little more research, anyone can learn that the source is in fact fake and made to trick their audience, rendering their content as a form of free speech. 
Continuously fact-checking your sources is an easy way to make sure the source you're receiving your news from is reliable. Here is a full list of fake news sites to watch out for.
Why Is Fake News a Problem? 
When people are led to believe that false news is real, it becomes a huge problem. Google and Facebook are two of the most popular sites on the internet, offering an overload of information to the masses every day. Fake news stories will likely find you at some point, whether you're looking for them or not.
How Does News Become Viral? 
Fake news articles online are often created with the intention of going viral online by providing highly clickable content. Controversial topics paired with eye-catching designs and images are what make fake news appealing to the masses.


When a negative news story goes viral, it can be extremely harmful and misleading to the masses. The more people see the story, the quicker the unreliable and inaccurate information spreads.
Major online platforms like Facebook and Google are taking action to eliminate fake news and keep your search results filled with high-quality, relevant, up-to-date, and accurate information.
Impact of Fake News on Business
When someone types your name or your business into Google, you want your result pages filled with reliable information and accurate, positive content. What happens when unreliable and harmful content and links are found on your first page of Google search results instead?
Unsolicited sources can create fake news and misleading or false information about your brand or business without your consent. When fake news begins to show up in your Google search results and social networking sites it can have a huge negative impact on the success of your brand or business. 
Thankfully, there are key steps you can take to remove articles from Google completely to help restore your reputation for good. 
How to Remove Fake Reviews
When a potential customer Googles your business, what happens if the first thing they see is a list of 1-star negative reviews? You lose business before you even have the opportunity to introduce yourself. 
A list of 1-star reviews from fake accounts is not that uncommon. Fake Google reviews can happen to any business, and thankfully there are ways for business owners to take control of their online reputation and report a review that violates Google's policies against prohibited content.
Google has these policies in place to protect users and happy customers. Prohibited content from Google includes material deemed spam, fraudulent, offensive, explicit, fake, or illegal. 
To report abuse and flag the review, all you have to do is find your business listing on Google maps for a full list of reviews. Locate the harmful and fraudulent negative online review, and flag it as spam by clicking the flag icon, or the dots on the upper right-hand corner of the fake review. This sends an alert directly to Google to remove the review that violates their policies.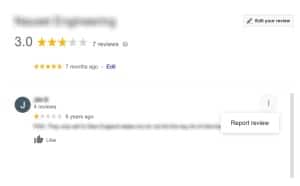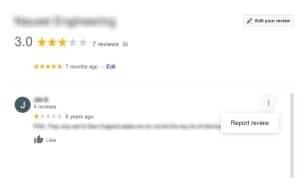 Google is an important review platform for any business, and monitoring reviews, whether positive or negative, is an easy form of customer service. Whether positive or negative, take the time to respond to the review to show potential customers you are an attentive business that cares about its customers.
4 Steps to removing false news articles from Google search results 
Monitoring search results to remove negative links is a key component of online reputation management. To remove articles, negative content, and negative links that contain fake or inaccurate information in search results, you can follow these steps:
Step 1: Google Yourself 
Over 17 billion people use Google every day. When someone has a question, they're going to head straight to a search engine like Google to get their answer.
Google is essentially an online directory. When someone types your name or business into the search bar, any article, post, blog, website, or social media account containing your name and personal information will get sent directly to your search results.
By Googling yourself, you can see exactly what a new client or customer would potentially see. The more people that see the fake news article, the higher it will end up in your search results. Since fake news usually circulates quickly, it will probably be easy to find by landing on your first page of search results.
Step 2: Send a removal request to Google
Thankfully, the makers of Google understand that fake news has become a growing issue for users. Under certain circumstances, they can remove negative news articles with false information from the internet.
If an article violates Google's policies, you're able to send a removal request. Google is not the violator, the publisher of the fake news is the violator. By sending a removal request, Google will be notified and identify the publisher for more information. 
By sending removal requests, you're asking Google to take action in removing online search results that violate their policies. If the information posted online violates Google's policies, the information will be removed and  the removal process will be completed. 
Step 3: Ask The publisher to remove the content 
If Google denies your request, you also have the ability to confront the publisher directly. The publisher is the hosting website that is responsible for publishing defamatory or slanderous content. 
Click the link to the news article with the false information published and find the contact information of the publisher. 
Responding directly in a calm, professional manner will help your case, and hopefully, get the publisher's attention for the right reasons. 
By contacting the publisher by email, you're able to send supporting evidence, as well as leave a paper trail in case further legal action is needed. 
Step 4: Suppress negative press with false information
If you are unable to remove articles from the internet, you always have the option to suppress the negative search results. In order to fully suppress negative search results, you must create optimized websites, social media profiles, blogs, and more.
This is where hiring a professional reputation management company that specializes in suppression service comes in handy. Handling a sensitive situation that has impaired your online reputation takes care and special attention to the details.
It's best to find a reputation management team that is trained in search engine optimization skills and techniques designed to remove negative search results, promote your brand, and repair your online reputation long-term.
Work with a Reputation Expert to Remove Fake News
Removing false or inaccurate information from Google and websites online is only part of the many reputation management services we offer at Reputation 911. We help manage the reputation of businesses and individuals. Contact us today to get a free confidential consultation.
We are a reputation management company that helps to make you Look Good Online.