How to Clean Up Your Online Profile
This post was most recently updated on May 6, 2022.
These days, Google knows you better than you know you. Many people are deciding to either private their online accounts or delete their online profiles altogether. Learn how to clean up your online presence so that you are portrayed in a positive light every time someone searches your name.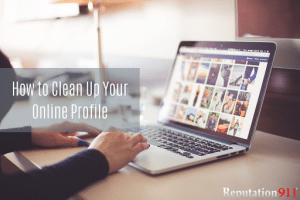 Why is it Important to Clean Up Your Online Presence?
The internet has become a space for endless types of information. Google is the single most popular search engine around the world. It helps people sort through the most relevant information to find the best answers to their questions. 
So, what happens when their questions involve your name?
Hiring managers, college admissions, and even prospective significant others can easily find more information about you with a quick Google search. This means that every piece of information posted online makes up your digital footprint. Your online identity will then be categorized into search engine results based on the relevancy of your digital footprint. It's important to have a clean online presence and a positive image so no potential opportunities slip by you and your success in life.
How can I clean my name online?
In order to clean up your name online, you have to clean up your online presence as a whole. This means cleaning up your Google search results and doing a full social media cleanup. 
By Googling your name you are able to see the unbiased search results populate that are associated with your name. By removing bad links, unflattering images, and untrustworthy material, you naturally clean up your internet presence as a result. 
Social media is often a source of information that goes unnoticed by the owner. Unknowingly, users offer sensitive information to an open audience like contact information, emails, phone numbers, addresses, and other sensitive information. Be sure to scrub your online presence of negative social media content to improve your reputation online.
Other times, images, videos, tweets, posts, and mentions can have a negative effect on your name online. Public profiles are fair game to anyone else who has the ability to search and view your profile, and that includes everything. If you clean up your web presence, it will surely have a positive impact on your online search results.
Make Sure Your Name Stays Safe Online
Online reputation management programs help you analyze your online profile. These programs give you a full report with a free reputation score to help you understand how you can improve your image online. You might consider a reputation management program to help clean up your reputation online if you're a busy individual or aren't sure where to start.
By taking the appropriate actions based on your unique situation, you can boost your online reputation score. We aim to mitigate negative information and showcase positive stories about you.  
You might want to start by googling your name and seeing what pops up. You can create free Google Alerts with your name as the keyword, and Google will send you email notifications every time your keyword is mentioned online. If you want to clean up your online presence, this is a great starting point to find immediate red flags you need to take care of.
Here are 7 tips on how to clean your online profile:
1. Online Dating Profiles – Manage your online dating image by deleting old dating profiles and conversations that may be hurting your personal reputation score and making current profiles private or invisible to search engines.  
2. Facebook Accounts – Delete or deactivate your Facebook profiles and manage your privacy options. Only allow access to friends and family that you add and approve manually.
3. Delete Old Accounts – Delete forgotten accounts to make sure an employer or stranger doesn't find inaccurate information about you.
4. Blog Posts – Searching and removing any negative or inflammatory mentions of you in a blog or microblog post.
5. Video and Photo Sharing Sites – Searching and removing racy photos and/or inappropriate video content that you did not wish to have posted.
6. Social Networking Sites – Social media dos and don'ts provide healthy best practices. These include deleting and/or managing privacy options for all site profiles you may have online.
7. Private Personal Information – Deleting and protecting your private information like your home address, email address, income, marital status, etc.
Ultimately, these measures may not be enough to completely wipe your online presence and your brand in the way you want to be seen on Google. Information that you removed long ago from your online profiles will live on in Google's cache and will show up in search results whenever someone Googles your name. The best way to remove this undesirable content is to find companies that clean up your online presence before deleting everything.
Can you reset your online identity?
Some people might think the easiest thing to do is to delete all their social media profiles, remove all their content online and start fresh. Although it might seem like the best choice in the moment, it's best to reconsider all your options.
If you delete all your social media accounts right away, it might be difficult to secure your usernames. Depending on how common your name is, someone else might take your username before you have time to get it back.
Instead of a profile reset, it might be a better idea to clean up your name online. Check your archived posts for questionable content, delete bad post comments, and remove any tags of your profile in unflattering photos or posts.
Companies That Clean Up Your Online Presence
Social media clean-ups can take a lot of time and patience. We understand that not everyone has the time to tackle their online image on their own, so why not hire professionals to take care of it for you?
If you need help cleaning up your online profile, you can learn more about our personal reputation management services.
About us
We are a Online Reputation and Privacy Management Company that helps our clients Restore, Promote, and Protect their online image.