How to Clean Up Your Online Profile & Improve Search Results
This post was most recently updated on June 16, 2020
Your online image arrives before you do these days and makes an incredible first impression to employers, dating partners, business partners and anyone else who knows how to turn on a computer or use a mobile device. Learn how to clean up your online reputation so that you are portrayed in a positive and professional light when someone searches your name.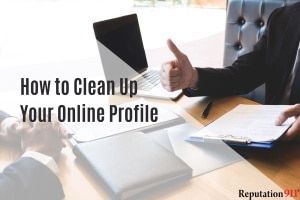 Why is it Important to Clean Up Your Online Presence?
Welcome to the digital age where your online reputation comes first in job searches and other personal and professional encounters!
The internet has become a space for endless types of information. Google is the single most popular search engine that helps people sort through that information to find the best answers. So, what happens when their questions involve you?
Hiring managers, college acceptance boards, even prospective significant others can easily find all the answers they need with a quick Google search. That means every piece of information posted online that makes up your digital footprint and online identity will be categorized into search engine results based on relevancy.
How Is An Online Profile Created?
All of your social media accounts, Facebook, Twitter, Instagram, etc. is all fair game when it comes to creating your online profile. Web sites, forums, blogs, articles, web links, images, videos – it's all included when taking your online personal brand into account. 
To make matters worse, your online image is often created by others who might tag you in inappropriate photos, post about you on Facebook or review you or your business on Yelp all in an effort to tarnish your online image. If you don't take control of your online search results, it will lie dangerously in the hands of others, leaving you more susceptible to a reputation crisis.
How can I clean my name online?
In order to clean up your name online, you have to clean up your online presence as a whole. This means cleaning up your Google search results and doing a full social media cleanup. 
By Googling your name you are able to see the unbiased search results populate that are associated with your name. By removing bad links, unflattering images, and untrustworthy material, you naturally clean up your internet presence as a result. 
Social media is often a source of information that goes unnoticed by the owner. Unknowingly, users offer sensitive information to an open audience like contact information, emails, phone numbers, addresses and other sensitive information.
Other times, images, videos, tweets, posts, and mentions can even have a negative effect on your name online. Public profiles are fair game to anyone else who has the ability to search and view your profile, and that includes everything.  
Create a Professional Social Media Presence 
Taking the time to create a professional profile that is set to the public can positively affect your online presence. This is especially helpful for job seekers and entrepreneurs looking to network more efficiently online. 
Keeping your personal profile set to private, and your professional profile set to public, guarantees that anyone searching your profile, finds content that is designed to support your positive online brand. 
Making Sure Your Name Stays Safe Online
Personal reputation management programs will help you analyze your online profile, giving you a full report with a free online reputation score just like employers and insurance companies are now using to rank and judge while considering your applications.
By taking the appropriate actions based on your unique situation you can raise your online reputation score by deleting the negatives and building on the positives.  
Here are 7 Tips on how to clean up your online profile.
1. Online Dating Profiles – Managed your online dating image by deleting old dating profiles and conversations that may be hurting your personal reputation score and making current profiles private or invisible to search engines.  
2. Facebook Accounts – Deleting or deactivating your Facebook profiles or managing privacy options, only allowing access to friends and family that you add and approve.
3. Find My Old Accounts – Searching and deleting all old accounts that may be sitting idle in cyberspace waiting for an employer or stranger to find that don't accurately portray the person or business you are today.
4. Blog Posts – Searching and removing any negative or inflammatory mentions of you in a blog or micro blog post.
5. Video and Photo Sharing Sites – Searching and removing racy photos and/or inappropriate video content that you did not wish to have posted.
6. Professional Social Networking Sites – Social media dos and don'ts can easily be avoided by following healthy best practice which include deleting and/or managing privacy options for old or new sites you may have online.
7. Private Personal  Information – Deleting and protecting your private information like your home address, email address, income, marital status, etc.
Many times, these measures may not be enough to completely clean up your online profile and portray your brand or persona in the way you want to be seen on Google. Information that you long ago removed from your online profiles will live on in Google's cache, and will show up in search results whenever someone Googles your name. The best way to remove this undesirable content is to find companies that clean up your online presence.
About us
We are a Online Reputation and Privacy Management Company that helps our clients Restore, Promote, and Protect their online image.