How to Change Your Google Search Results
This post was most recently updated on Sept 14, 2021
How to Change Google Search Results
The internet provides an opportunity to give web users information within seconds of searching. Unfortunately, that information is not always factual. Anyone online can publish anything for the public to see. If that content is about you, and the content is false, inaccurate, and damaging to your reputation, you will want to take action against it. 
If you don't like the search engine result pages coming up from your name, there is a way to change the Google search results. Follow these steps to change the Google search results for when you type your name into Google or other search engines.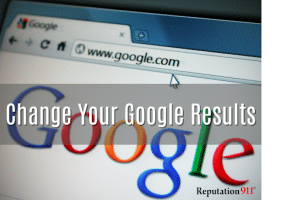 Online Search Results and Your Reputation
Negative search results can affect your life. With the number of people using search engines and the frequency they are used, people will likely search for your name at one point or another. Whether you're dating, applying for a job, or trying to get into a school or program, people may be searching for your name – and if they find information that is damaging to your reputation, it can hurt your chances of getting what you want.
Changing your Google search results can help you push down results with negative or unfavorable content. With a little bit of search engine optimization, here are some steps on how to change your search results.
Steps to Change Your Search Results
To change or update Google search results for your name, you can use the following steps:
Step 1: View Current Search Results
Use "incognito mode" in Google Chrome to see true search results not tied to your Google account.

Be sure to check Google search results, Google image, videos, and news tabs.

Identify any search results related to your name that are detrimental to your personal reputation.
Step 2: Fix What You Can Control
Once you've identified the search results detrimental to your personal brand, see what you can do to remove the results yourself. 
Social media results 
Often, social media posts and images can find their way on Google search results. You may find that an unflattering image from several years ago can still exist online. Removing social media results from search results is a pretty straightforward process. You can either remove the content or untag yourself.
Step 3: Create New Content
You can create new content as a way to suppress negative search results. Suppressing content can help be a help endeavor to show content that puts you in a better light while pushing down the negative or damaging search results. 
Create a Personal Website
If you own a personal website, make sure your website is optimized to appear first on Google. If you don't have a personal website, consider creating one for yourself – even if it's a simple one-page site. 
Content on Other Websites
Writing or creating content on other websites can further help push down search results you don't want displayed on Google. Here are a few ideas to consider:
Add social media profiles

– make sure you are on LinkedIn and Twitter, and even consider more niche social media platforms like Pinterest and YouTube.

Create personal profiles or pages

 – create a Wikipedia page, or find a website related to a hobby of yours and create a profile page, if the website allows for it.

Guest Posts

– Offer to write guest blog posts on another website – these can often rank well in a Google search for your name.
It's important to keep in mind that it takes some time for Google to rank new content. Give it a few weeks before you see the new content appear in Google search results.
Step 4: Contact Webmasters 
Ask the owners of the website to remove the content. In some cases, you may be able to reach out to a webmaster and ask them to remove the content that does not present you in the best light or reveals too much or inaccurate personal data.
Step 5: Contact Google Support
If you cannot contact the website owner to remove content or they are unwilling to remove the content, you can try reaching out to Google support. Here's how you can do that:
Hire a professional to remove the negative content
Removing content with negative personal information from Google search engine results and outdated content is possible, but it can be difficult for an untrained beginner.
Reputation management companies take your online reputation seriously, employing a team of trained professionals to change the Google search results for your name. If needed, they can also use suppression by crafting content driven by the most effective SEO and optimization efforts to get you the results you need to succeed. 
Hiring an online reputation management professional to change Google search results and put your online reputation back in your hands. If you're ready to land a new job, sign the new client, and score that first date, then let's get you started with a free reputation management consultation!
About us
We are a Online Reputation and Privacy Management Company that helps our clients Restore, Promote, and Protect their online image.