The Dos and Don'ts of Social Media
Part 9: 
Social Media Mistakes to Avoid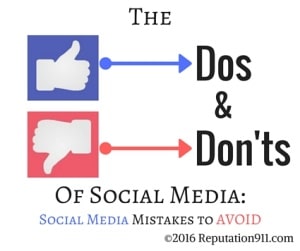 Some say that any publicity is good publicity. However, for many up-and-coming businesses and professionals trying to promote their brand and establish a positive online presence, that is often not the case.
Protecting your online reputation starts with a sound knowledge of internet privacy and appropriate, professional behaviors online.
Every day you hear news of someone who has damaged their reputation thanks to a silly mistake on social media.
Today most employers, schools, and universities are checking up on their employees and students on social media. Many are even using social media to make important hiring and admission decisions to find the most professional, highest quality candidates.
To get ahead of the game, take control of your online reputation by following these simple social media guidelines:
DO:
Set Privacy Settings
First and foremost, it is important to understand the different privacy settings offered by social media sites and when and how to use them.
For a business or professional account, you will likely want to make your posts and profile public so that you can easily promote your brand and engage with others in your industry.
For a personal account, it is encouraged to set certain privacy settings so that only friends, family, and people you approve can see your posts and information.
*Reputation911 Recommendation* In some cases, it is best to keep your personal profiles completely separate from your professional profiles, using separate emails to register for each type of site. While sharing some personal information is fine and can even be beneficial, you do not want to risk an unprofessional post slipping through or having a personal post be misinterpreted in a negative light on your professional reputation.
Think Before You Post
Even if your social media profiles are set to private, remember that everything on the Internet is permanent and has the possibility of being shared publicly.
Everybody on the Internet has the ability to save, print, or screengrab anything they find online. While there are ways to request removal of certain posts, images, or articles the damage has already begun once they see the light of day on the world wide web.
Before posting anything online, there a few things to keep in mind before hitting submit:
How will other people react?
Think about how other people will feel and react to your post. This means everyone from friends, family, employers, and the entire world. A certain post might be funny to your friend group but if your grandmother or boss happened to come across it, would it still  be funny to them?
Is your post controversial?
Will your post spark an undesirable argument in the comments section? A post that encourages good conversation and debate is one thing but a post leading to senseless fighting and nonsense is not a good way to attract people to your brand.
Be selective of who you follow & approve as a follower
Many people believe that following a large number of accounts and having a huge follower count can increase their social media presence and help them stand out online.
However, these numbers are practically useless if you are not engaging with the right audience and community.
Following or being followed by fake spam accounts can be detrimental to your online reputation. These accounts often post fake articles that can hold viruses or ways to hack into your account.
You should even be careful about your own friends that are following you on social media. If you know someone who is likely to post something you don't want to associate yourself with professionally, it may be better to keep your friendship strictly offline.
Being tagged in one inappropriate photo or post can be enough to hinder your online reputation.
Double Check for Spelling & Grammar Mistakes
While this may seem like a minor issue, especially when sending an informal tweet or message, it is still important to check spelling and grammar to make sure the message you are trying to send is getting across correctly. If your posts constantly consist of poor grammar and spelling mistakes employers, peers, and other online users will see this as careless and lazy.
Another reason to double check your post before sending is to ensure nothing you wrote was changed unknowingly by autocorrect. There are tons of sites dedicated to displaying autocorrect mishaps and misunderstandings that can completely turn an ordinary conversation upside down and leave you wishing you took that extra second to double check.
DON'T
Involve Yourself in a Fight or Argument on Social Media
As mentioned above, senseless fighting and arguing online leaves an unattractive mark on your brand. While many people are entertained by these arguments and enjoy following them, they are following them for the wrong reasons. A potential employer will not be entertained and impressed by these behaviors on social media. Before jumping into a senseless argument online, think about other ways you can express yourself in a professional and well thought out manner.
Misuse Hashtags or Trending Topics
Incorporating trending topics and hashtags in your posts can be a great way to get noticed online, however you must first do your research. Before including a certain topic, hashtag or keyword in your post, be sure you understand why that particular topic is trending in the first place. If the hashtag is related to a negative or unfortunate event, you will not want to use it to try to promote your brand or make a joke.
In the past we have seen big brands make this mistake, sometimes intentionally and other times unknowingly:
Avoid Social Media All Together
Having no online presence can be even more harmful than making one of the above mentioned mistakes. Most people use the Internet to find information, resources, and people they need for a service, product, career opportunity, etc. If your information is not out there for them to find, they will simply move on to someone else.
Social media gives us the power to project our voices to wide spread audiences giving us increased opportunities to succeed, but also increased chances to slip and fall. These chances of failure should not hold you back from sharing your thoughts and promoting your brand online.
Professionals like the team at Reputation911 are here to help educate individuals and businesses about protecting themselves online and developing a strong, positive online reputation. To learn more about our reputation services, check out our website or contact us today: https://reputation911.com/contact-us/.
About us
We are a Online Reputation and Privacy Management Company that helps our clients Restore, Promote, and Protect their online image.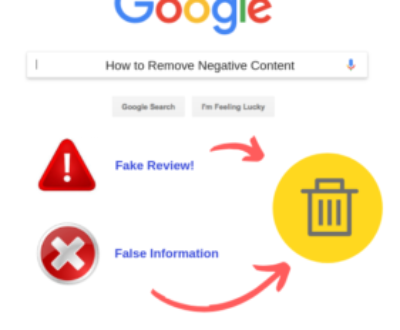 Whether you are a business, brand, or individual, it is essential to…