This post has been most recently updated on March 29, 2023.
If you're a frequent internet user, you might've heard about something called the "Wayback Machine." While it might sound like something you'd expect to see in a film like "Back to the Future," the Wayback Machine is simply an archive for web pages on the internet.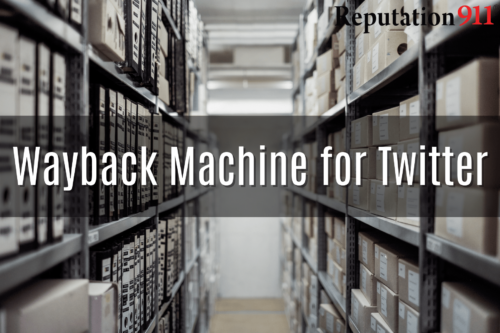 It's a free service provided by the nonprofit Internet Archive, whose mission is to provide Universal Access to All Knowledge. The site archives web, books, audio, video, images, and even software found across the web. Like Wikipedia, the Internet Archive allows users with a free account to upload media, and bots, volunteers, and paid employees help manage the site. You can access the service by website or app.
Amongst other uses and benefits, some Internet sleuths have discovered that you can use the Wayback Machine as a way to find old or deleted tweets from Twitter. If you've ever been curious to discover what the Wayback Machine has archived about you or someone else, keep reading to learn how to use the Wayback Machine!
Does the Wayback Machine Work on Twitter?
Yes! The Wayback Machine does work for Twitter and other social media platforms. The search engine doesn't screenshot individual tweets, but it will show you all screenshots taken of the most popular Twitter pages by date.
The kicker is, you need to know the URL of the profile you're looking up. Wayback Machine is a search engine, so if you feed it the right URL you're searching for, it will show you the results of all archived content and posts from that profile. 
This helps find tweets that may have been deleted by their creator, discover misinformation, and find evidence of less-than-ideal tweets, likes, or comments that may impact your reputation.
Can Wayback Machine Show Deleted Tweets?
As long as you know the URL of the Twitter profile, you're researching and the approximate date range of the tweets you're looking for, Wayback Machine can show you archived deleted tweets.
It's important to know that not all deleted tweets may be archived. If a Twitter user quickly deleted a tweet before it had the chance to be on the archived site, then it may not appear in the Wayback Machine.
Some internet users are quick to screenshot scandalous tweets, so if the Wayback Machine doesn't work for you, other fans, stan, or commentary social media accounts may have the evidence you may be looking for.
Is Wayback Machine Free?
The Internet Archive offers the Wayback Machine as a free service for users. The site accepts donations to help fund its mission, but donations are unnecessary. Most services on the site are free, but there is an option to sign up for an Archive subscription if that service better suits your needs.
How to Use the Wayback Machine:
The Wayback Machine works by archiving screenshots of popular Twitter pages. To use the Wayback Machine for Twitter, follow these three steps:
Step 1: Look up the Twitter User Profile
One of the drawbacks of using this service is that it cannot show you the vast array of screenshots it has archived throughout history. You cannot search for specific tweets but rather the individual profiles who authored the tweet.
Instead, the search engine works by identifying the Twitter Profile via URL and will then give you access to all the archives of that specific profile.

Step 2: Select A Date Range
Next, you're going to want to input a date range for the historical records you're looking for. You can narrow it down to screenshots from that day, month, and year. This helps the search engine narrow the results to only the most relevant to your request.


Step 3: View Results
Lastly, you'll be able to see screenshots taken from that Twitter profile as they were seen on that exact day. Although you won't be able to scroll as if you were on a live web page, you'll be able to see the historical screenshots of the top tweets from that profile on that day.
Take note! If the Twitter profile you're interested in doesn't have a large enough following or engagements, then Wayback Machine might not have any archives for it yet.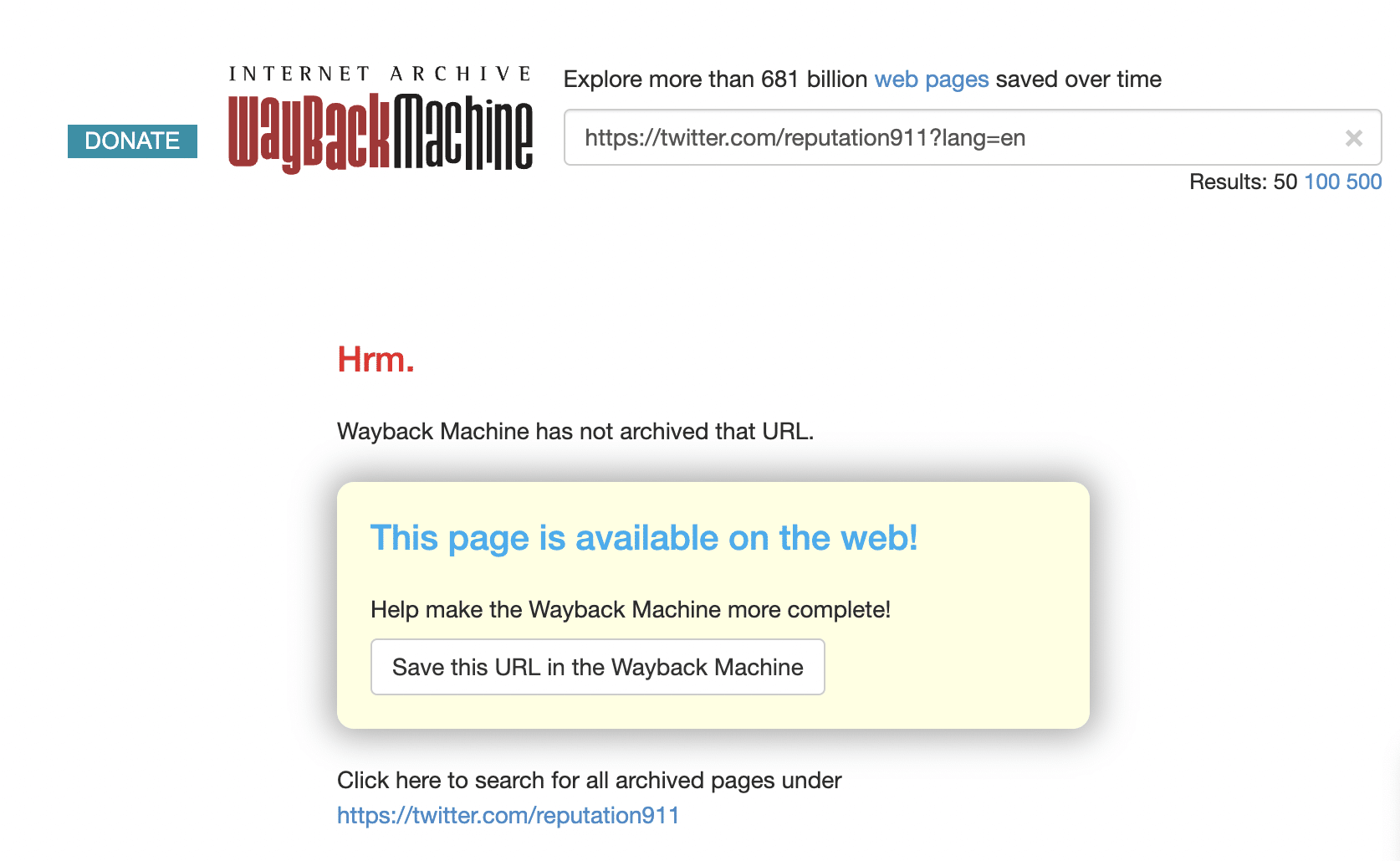 What Your Results Might Say About Your Reputation
Unfortunately, once it's published, there's no guarantee it won't stay there forever when it comes to content on the internet. So, it's always best to remember the do's and don'ts of social media, and always think twice before posting new content online.
It's always a good idea to Google yourself to see what content others can find about you when you search for yourself online. There are ways to remove personal information from Google from other sites that you can try on your own. If that doesn't work, you can submit a DMCA takedown or copyright infringements.
If you used the Wayback Machine and think you could use some online reputation help, let a professional reputation management company help you. A reputation company can help with personal reputation management and set you or your business up for success.
We are a reputation management company that helps to make you Look Good Online.