Last Updated on March 7, 2023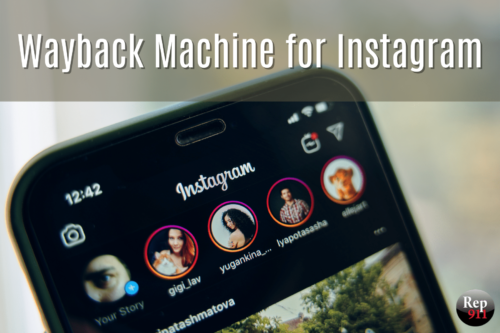 The Internet Archive's Wayback Machine can be used for more than just wondering what juicy tweets may have been deleted by your favorite public figures. The archive works just as well for other social media sites, like Instagram for example.
Can You Use Wayback Machine for Instagram?
A common question people ask is "does the Wayback Machine work for Instagram? While not fool-proof, the archive can sometimes be used for the social media platform Instagram.
The search archive isn't perfect, and sometimes the Instagram login page prevents the Wayback Machine from showing you the historical screenshots it has recorded. This often depends on the latest updates to the Instagram platform and if the updates give permission to archiving software.
Using the Wayback Machine for Instagram can help you discover lost posts from years past and help reputation managers reconcile any content that might be affecting your reputation.
Are There Wayback Machine Alternatives for Instagram?
Because this program doesn't always work for Instagram, there is an alternative archive available. Archive.ph is a website designed to replicate the Internet Archive, and may be a better alternative depending on your web browser. Plus, it has a Chrome extension if you find yourself needing to use historical web archives frequently.
If you're unable to use the archive for your preferred Instagram account, you might be able to use the Wayback Machine for Twitter instead.
How to Use Wayback Machine for Instagram:
The program relies on users to input a few criteria before showing any results. To use the Wayback Machine for Instagram, follow these three steps:
Step 1: Look up the Instagram Profile
You must provide the URL of the Instagram page you're trying to see screenshots of. This helps the Wayback Machine narrow your results and show you the top screenshots of that user's page.
It's best to use Instagram profiles that have the blue dot next to their handle—this means that they are a verified account. Verified accounts are used as the official accounts of public figures.

Step 2: Pick A Date Range
Once the program has found the profile you'd like archives of, the next step is to input a specific date. This will allow you to find archives taken from an exact point in time.


Step 3: See Results
With the right date range selected, you'll have access to all historical archives of that Instagram page at that time.
Wayback Machine Not Working for Instagram
Sadly, the program does not always work when it comes to Instagram content. The good news is that there are other free archive alternatives that you can use, like Archive.ph. 
It's always a good idea to Google yourself to see what content others can find about you when you search for yourself online. There are ways to remove personal information from Google from other sites that you can try to do on your own. And of course, if that doesn't work, you can submit a DMCA takedown for copyright infringements.
Perhaps you found something archived that you don't believe is an accurate reflection of yourself—let a professional reputation management company help you out. A reputation company can help with personal reputation management and set you or your business up for success.
We are a reputation management company that helps to make you Look Good Online.