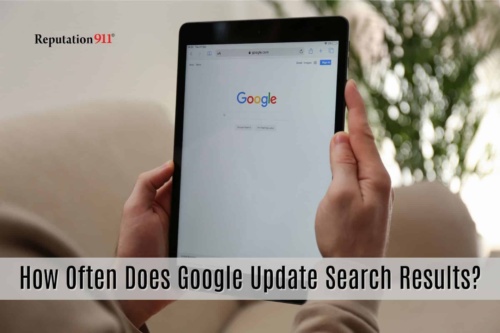 You just made an update to your website – maybe you created a new article or updated an existing article, but you don't see the change reflected in Google. How often does Google update search results?
Google will update your content in its search results – however, it may take more time than you think. This article reviews ways to speed up this process so you can see your updated content in Google search results quicker.
How Frequently Will Google Update Search Results?
The short answer is that Google updates its search results constantly. Google crawls and indexes websites and web pages all the time. Most search engine experts estimate Google changes its search algorithm around 500 to 600 times each year. That's nearly one or two times daily.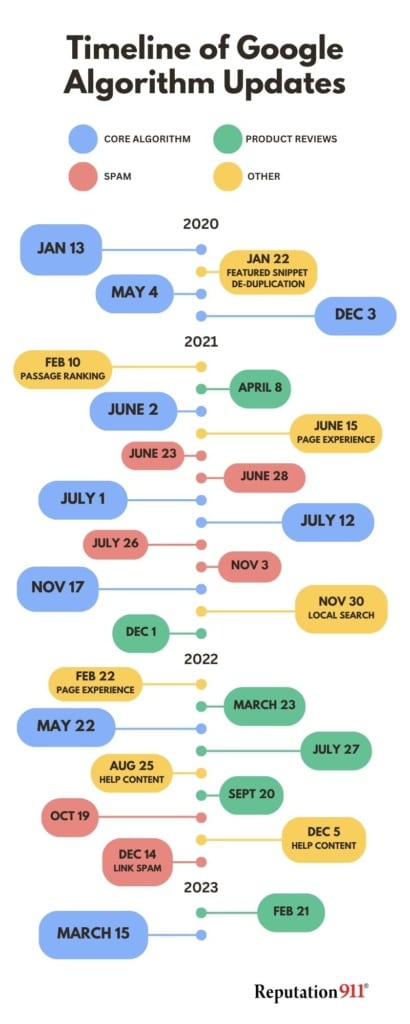 Google Algorithm Updates
Google updates its algorithm to improve the quality and relevance of search results for users. The frequency of algorithm updates can vary. Check out the infographic to see all of the major updates and Google algorithm update history in the last three years.
Crawling & Indexing
Google uses crawling and indexing to discover new or updated content. Understanding how Google finds, crawls, and indexes web pages will help you get your website to rank on search engine results pages quickly.
When Google

crawls

your site, this means that it is following hyperlinks to discover any new content.

When Google

indexes

your site, this means Google has stored it in a vast database of websites.
Google discovers new web pages by crawling the web. It then adds those pages to its index using a web spider called Googlebot.
How Often Does Google Crawl and Index a Website?
Crawl rates and index times vary from site to site, for several reasons. On average, Google's crawl time typically ranges from a couple of days to up to 4 weeks.
How to Know If Google Indexed Your Site
Go to a new tab in Google, and perform a site: search for your website (or web page). For example, you could type in "site:reputation911.com"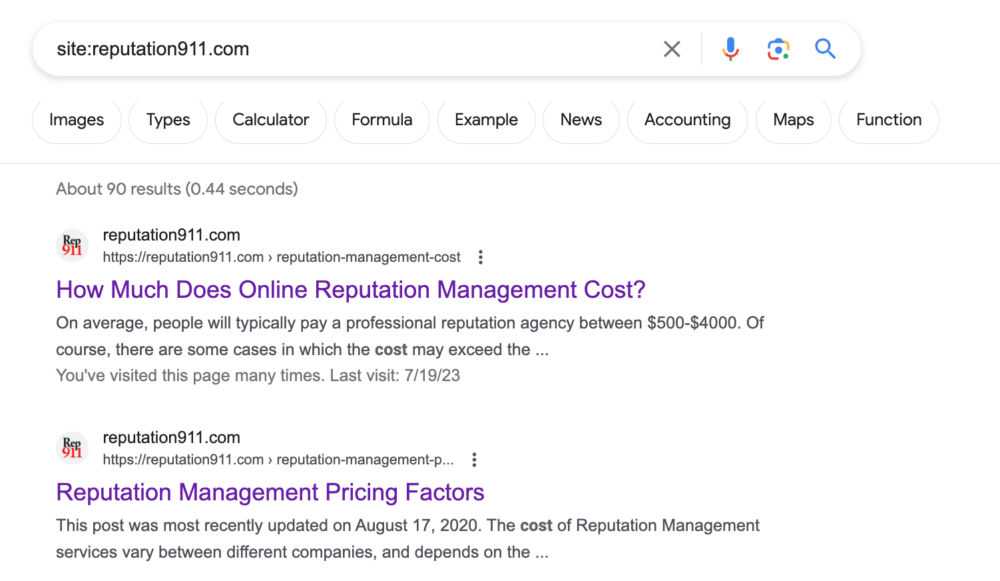 You can also use Google Search Console's Coverage report to discover the index status of a specific page.
6 Tips to Get Content Ranked Higher More Quickly
There are several factors that contribute to quicker crawling and indexing on Google. If you have a new web page or blog published, but can't find it in Google, follow these steps to increase domain authority.
1. Google Search Console 
The indexability of your website is its ability to appear in a Google search. Googlebot must crawl your website in order to index it in search results.
Make sure to generate or update an XML sitemap.

Submit your XML sitemap to Google Search Console.

Type your URL into the top bar of your Google Search Console property.
If Google has not indexed your site, press "request indexing".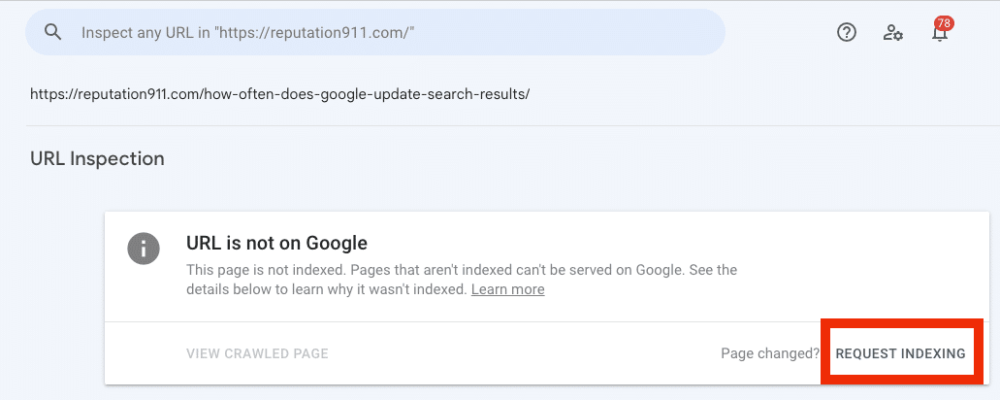 2. Keyword Optimization
A keyword is a target phrase that you use on a page of your website. It should relate to the topic of your page, while also matching what users are searching for online.
Choose the right keywords.

When optimizing for a web page on your website, make sure the keywords you're targeting are relevant to your website. 

Check monthly search volume.

You can also check how frequently people are searching for your keywords on a monthly basis (aka "keyword search volume"). There are many paid tools that SEO professionals and web owners rely on to get this data. Ubersuggest is a

free keyword research tool

that you can use to get a sense of search volume.

Optimize your page.

Use the keyword(s) you determine relevant to your content. Use the keyword on the following parts of your web page:

Title Tag

Meta Description

URL

Header and subheaders

Page copy (use them throughout the page or post, to use them in each section)
3. Internal Linking 
An internal link is a link on your website that goes to another page on your site. By contrast, an external link is a link on your website that leads to a page on someone else's website.
When you publish a blog post or page on your website, you should find other pages or blogs that mention the same topic. Where appropriate, add a link to the other pages and blogs using rich anchor text.
Adding internal links from other blog articles will help Google crawl the website more easily.  Once crawled, Google can index your site faster so that your new page or post will appear in Google searches. 
4. Address Technical Errors
Technical website errors on your site may affect Google's ability to crawl and index your website.
Using Google Search Console, you can regularly monitor your website for crawl errors. Fix any crawl errors and broken links to ensure smooth crawling. Check for the following crawl errors:
Broken links

404 errors

Server errors
In addition, here are a few other technical issues to address to improve crawling and indexing:
Optimize page speed

Check mobile-friendliness

Duplicate content issues

Thin content 

SSL/HTTPS 
5. Online Promotion
Promoting your new page can help it get more online views and engagement! By promoting your web page, you can speed up the indexing process.
Social media:

Promote the post on your social media accounts. sing relevant hashtags will boost your visibility on the platform. 

Email:

Consider adding the post to an email blast or e-newsletter.

Outreach:

Consider contacting social media influencers, accounts, and people via email to send them content.

Paid ads:

Consider utilizing platforms like Facebook or Instagram to pay for ads. Choose the audience 

Press:

Contact PR professionals who are interested in covering the article or story. 
6. Backlinks 
Finally, the last step is to get other websites to link back to your post.
Backlinks are links from external websites that point to a page on your website. When other reputable websites reference your page with a backlink, it can help Google crawl and index new pages. 
How to get backlinks
Promote your content.

Online promotion helps increase online visibility. More visibility puts your web page in a position for others to see it and backlink to it.

Write quality content.

The content of a post or page should be helpful, engaging, interesting, and valuable to users. Quality content will provide web admins of other websites with a reason to link to the article.

Make it stand out.

Try to make your content stand out from the rest. Consider adding unique and engaging visuals, data, infographics, videos, or information. that people will only find on your site.
Closing Out: Getting Google to Update Your Content in Search Results
Ensuring Google promptly updates your website is important for maintaining online visibility and attracting organic traffic. By following these tips, you can speed up the indexing process and enhance the credibility and authority of your website. 
Navigating the Google algorithm on your own can be confusing. If you need expert help to get your content to rank in search results, our team is here to help. We offer personalized business reputation and personal reputation management services to make you look good online. Schedule your free consultation with us today.
We are a reputation management company that helps to make you Look Good Online.