Last Updated on February 22, 2023
Improving your online reputation takes time. What may have started as just one simple negative review can spiral into multiple complaints if not addressed in a sympathetic and timely manner.
Instead of handling negative reputations, some individuals and businesses struggle with creating an online reputation altogether, which in return makes it harder to convert leads into customers on the web.
Thankfully, there are tried and true ways you can improve your online reputation that won't break the bank or hurt your bottom line. In short, here's how to create (and maintain) a good online reputation.
Engage customers
Listen to your team
Respond to negative reviews
Direct traffic away from negativity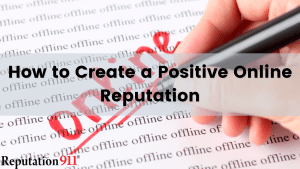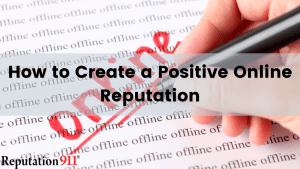 1. Engage your customers
Engaging your customers shows them you care about their experience with your business or brand. If you sell products online, email your customers a few days after they receive their goods and ask them how they like the product or to leave a review. 
Social media platforms are a great way to engage with your audience and customers. You can ask polls for their opinions on potential product launches, trend ideas, and more. People like to voice their opinions, and they like it even more when their opinions are listened to.
2. Listen to your team
It's vital to not only listen to your customers, but your team as well. They want to succeed just as much as you do, so having the right structures of support in place is important for setting your team up for success. 
By communicating with your employees you can discover any pain points that may arise and address them. By following through on your conversations with coworkers, you're likely going to have a positive workplace culture that will likely show itself in your online reviews for workplaces like LinkedIn, Indeed, and Glassdoor.
3. Respond to negative reviews
It might seem counterintuitive, but in some scenarios responding to negative feedback in a polite and courteous manner will do your reputation some good. This is especially true if the negative review is on one of your owned media sites or social media accounts. 
If the review is left on an external site (think: news article), it might be best not to engage with it. By responding, it might signal to Google that the comments are increasingly relevant for the search result and adversely affect your reputation efforts.
4. Direct traffic away from the negativity
If your audience is voicing their concerns about you online, it may quickly become quite visible to potential customers and audience members. Negative comments are never desirable, but the good news is that there are a few things you can do to direct traffic away from the negativity and onto other content you'd rather have your audience see.
One way to do this is to start a blog that includes the keywords you'd like to show up for in Google search results. Strong search engine keywords to start with would be your business or brand name, the services you offer that you'd like to promote, and any other positive aspects you'd like to highlight.
When you start a blog you can have some level of control over how your brand is viewed online. It's a great idea to do some social listening on social media (reading comments, viewing relevant hashtags, etc.) to see what kind of content is related to your brand or business reputation.
What makes for a good online reputation?
While building a positive online reputation is important, it's even more important to know why you should want to have a good reputation online.
Having a positive online presence helps build trust and authenticity between your brand or business and your audience. People tend to write reviews or contact customer service when they're dissatisfied, so staying in touch with your customer service team and reading your online reviews are great places to start when determining what your reputation is online.
How do you maintain a good online reputation?
So you've taken the aforementioned steps to build your online reputation, and now you want to know how to maintain it.
In order to manage your reputation, you'll have to stay responsive to what people are saying about you online. That means continuously reading and responding to reviews, positive and negative, and taking the time to understand what your consumer wants.
Create systems where you can maintain regular feedback from your team on suggestions for improvements or trends in pain points that need to be addressed. Staying responsive, listening to your audience on social media, and offering great customer service are the best ways to maintain a good online reputation.
What are the benefits of having a positive digital reputation?
There are many benefits to having a good online reputation. The biggest reason it's worth having a positive reputation online is that it can lead to more sales! Business owners with more positive reviews and favorable reputations tend to do better than their competitors.
People trust word-of-mouth recommendations over other forms of marketing, so the more people who share their positive opinions of your company then the more likely future customers will spend their money on your offerings. Afterall, a study by Podium found that 58% of consumers are willing to pay more for services with positive reviews.
Conclusion
Companies with good online reputations tend to do more business than companies with negative or unknown reputations. It's much easier to create a positive online reputation when you're not trying to fend off negativity, so remember to start working on your reputation early on in your brand or business development.
If you're struggling to handle your online reputation or need help changing your Google search results, be sure to contact a PR and reputation management company that specializes in this area to do the work for you. Online reputation management can be time consuming, so let the professionals handle it for you!
We are a reputation management company that helps to make you Look Good Online.