Why Hotel Reputation Management Is so Important in 2020
This post was most recently updated on July 20, 2020
The challenges of 2020 have completely changed business procedures across the board, especially those offering travel services. Hotel reputation management is more important than ever before given current circumstances in regards to travel.
Reputation Management for Hotels can give you peace of mind knowing your best efforts are going toward regaining stability of your business in times of change.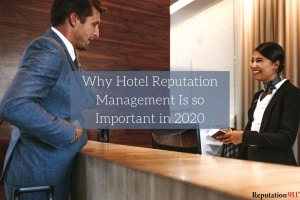 Increase positive reviews and gain valuable insight on where your business is gaining the most traffic so you can create a targeted approach to increase sales. 
Eliminate Negative Reviews
Too many negative reviews are always a bad sign for businesses. Fake reviews and defamatory reviews are not only bad for business, but can be directly addressed in order to improve your online reputation. 
Taking time to flag fake or arbitrary Google reviews that go against Google's prohibited and restricted content policies can put your business back on its feet. Eliminating bad reviews with the help of reputation management allows both new and old visitors to trust your business as a whole. This can also be a good practice for improving customer service. 
Increase Positive Reviews
After eliminating negative reviews, it's time to get people talking about how much they enjoy booking with your company. Increasing positive reviews are incredibly important for hotel businesses.
According to Expedia, nearly 70% of all Americans begin planning their trip by doing an internet search. Don't you want their first impression of your business to be filled with positive reviews from previous happy visitors?
Gain Valuable Insights
Improve sales efforts, customer engagement and customer satisfaction with the help of insights on your hotel's web traffic. Find out where your visitors are coming from, and how they're finding your website online. 
By understanding where and how your target audience is finding your business, you're able to focus on the most important areas of your business's sales. 
Spending a large amount of money on your advertising and marketing becomes a thing of the past with business reputation management for hotels. 
Increase Customer Bookings by Promoting Your Hotel's Online Presence
In today's competitive world of travel, what people see about you online, now affects your bottom line. Top referring sites will no longer turn into bookings if your hotel has negative online reviews and ratings. Hotels now need to analyze where their customers are searching for them as well as what they are seeing when they find them.
Top 3 Questions Customers Ask When Booking Hotels
What is the best hotel booking site to use?
Booking Websites have really increased over the past 10 years with ease of use and mobile applications, making it easier for customers to find the right hotel at the right price. Here is an example of a Booking Website for Hotels listing the top sites and ones you should check and monitor your reputation on. 
Why does Google maps show a hotel but the hotel search does not?
Search engines like Google have found new ways to bring more traffic and search results to hotels. Searching Google Maps may give you different results as they now include other map-based search systems that have 3rd party reviews and ratings linked to them to compete with the above mentioned booking sites.   
What is the most reliable hotel booking site?
Included here is Tripadvisor which is one of the largest in the category, but also other sites such as About Hotels/Inns/Resorts , yelp.com, vinivi.com and the multitude of review sites on the market. Here is a list of the best hotel review sites in the world according to Forbes. 
Did you know, one happy customer can bring as many as 9 new referrals? It pays to take care of your online presence, and with the help of reputation management you can get your hotel back in business and ready for new business, no matter what direction they come from. 
We are a reputation management company that helps to make you Look Good Online.