Wikipedia Reputation Management: What You Need to Know
Wikipedia is one of the most used websites in the world. For businesses and individuals that have Wikipedia pages, it's a great opportunity to display the brand online. However, as much as it is an opportunity, Wikipedia is a double edge sword – as much as it's an opportunity, the information on Wikipedia could also contain information that could be detrimental to the business or brand. Wikipedia is free and can be edited by anyone in the world. In this post, we outline how Wikipedia works, how to set up and create pages, how to edit pages, and other considerations about Wikipedia and how it plays into one's reputation.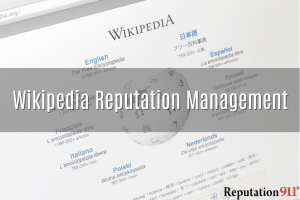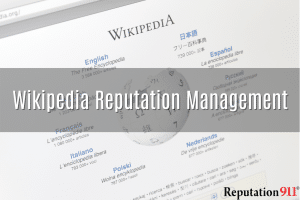 What is Wikipedia?
At this point, many people are familiar with Wikipedia and how it works. Launched in 2001, Wikipedia is an encyclopedia that can be accessed for free, and edited by anyone around the world. It is the largest and most used online encyclopedia in the world. Articles on Wikipedia can be written and updated by anyone, and maintained by a community of volunteer contributors through a model of open collaboration.
How Wikipedia Works
Because anyone can edit an article, Wikipedia follows a strict set of guidelines. While Wikipedia articles can be edited by anyone, moderators can remove recent edits, and revert the page back to its original state if Wikipedia rules and guidelines are not followed.
Wikipedia Policies and Guidelines
For all Wikipedia articles, here are the policies and guidelines that new editors should know: 
Neutral point of view

– Wikipedia aims to present articles that have an impartial tone, while documenting and explaining major points of view, giving due weight for their prominence. For businesses and people who wish to monitor and update their Wikipedia page, this is important to keep in mind. 

Verifiability

– Wikipedia wants pages with content that is verifiable. This means that articles contain citations to back up the content included in the article, when appropriate. These citations should be from highly trusted, authoritative sources.

No original research

– Wikipedia does not publish original thought or research. Content on Wikipedia must be attributable to a reliable, published source. 
The Importance of Managing Reputation on Wikipedia:
There's no question that Wikipedia has become a go-to website for information on the web. It is one of the most visited websites in the world. For businesses and individuals, creating a Wikipedia presents a huge opportunity to increase brand awareness online.
Wikipedia by the numbers
How frequently do people use Wikipedia? In 2020, here are the numbers of how frequently Wikipedia is used (English only):
6,291,760 articles published 

41,470,629 registered users

94,313,066,229 pageviews 

275,685,973 page views per day
Wikipedia Reputation Management
Getting on Wikipedia and maintaining your page is actually more tricky than you'd think, especially as a new Wikipedia user. With the specific editing guidelines that need to be followed, and moderators enforcing the guidelines, it can be both time-consuming and difficult to create and edit a page to get the content on a Wikipedia page exactly how you want it.
Creating a Wikipedia page

Editing a Wikipedia page

Monitoring a Wikipedia page
Creating a Wikipedia Page
To create a new Wikipedia page, follow these steps:
1. To register an account with Wikipedia, start by visiting the website, then, click on the "Create an Account". You will need to use an email address to create the account.


2. Complete ten or more edits to existing Wikipedia articles under your new account.
3. After you have completed ten edits and your Wikipedia account has been active for four days, you will automatically receive auto-confirmed user status in your Wikipedia account. You are now able to create articles with your registered account.
To create a new Wikipedia page, it may be best to hire a Wikipedia consultant to help you navigate this process.
Editing a Wikipedia page
It's important to note that you don't have to register an account, instead, Wikipedia will default to your IP address (also known as an "IP user"). To make an edit, follow these steps:
1. Go to the Wikipedia article you want to update.
2. Click on the "edit source" button.


3. Create the changes you wish to make on the Wikipedia article.
4. Click "Show Preview" to see how the edits look prior to publishing.

5. If everything looks good, click "Publish Changes"
6. Leave a brief, high-level summary of the changes made to the page to assist future editors and other Wikipedia users interested.
Monitoring a Wikipedia Page
There are changes made to Wikipedia pages all the time. Due to the frequency of edits made, it's important to monitor updates made to pages. Updates made could damage the reputation of a person, business, or organization. It's important to note, you do not need to be logged in to see these changes.
1. Go to the Wikipedia page you're concerned about
2. Click the "view history" tab at the top of the page (next to "edit source").

3. You will see a page that lists all the revisions, with circles next to each. For each version of the page, you want to view and compare, click the circle, and you will see the blue circle for each.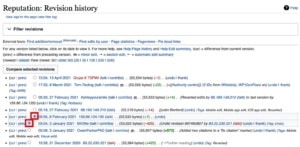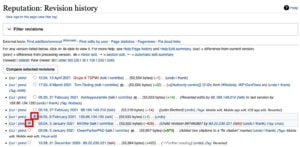 4. Then click "compared selected revisions" at the top (and bottom) of the page.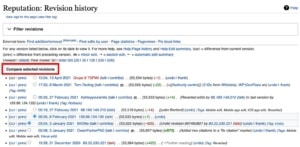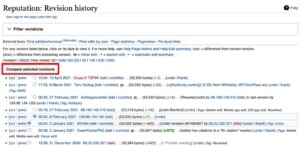 5. You will see a comparison of updates made at each date and user.
Do you need help managing your reputation on Wikipedia?
Wikipedia is a massive site and it's tough to know whether Wikipedia is negatively affecting your reputation. Reputation911 can help with any reputation you may or may not know is happening to your brand. We provide a full suite of reputation management services, including Wikipedia reputation management. Contact us today for a free confidential consultation.
About us
We are a Online Reputation and Privacy Management Company that helps our clients Restore, Promote, and Protect their online image.