Last Updated on March 13, 2023
Boosting your personal online reputation score requires building trust and value towards your online presence. Having more positive search results than negative ones will improve your reputation score. Thus, search engines will rank positive results first, creating a positive online reputation.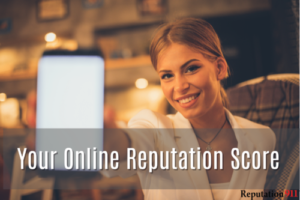 Whether business or personal, what you post online is a direct reflection of who you are. This engagement creates a digital footprint that is easily found by a quick Google search. Over time, that footprint accumulates–Facebook, Twitter, LinkedIn, Yelp; images, comments, retweets, and posts. Your online reputation score is measurable, and multiple factors come into play when understanding how to improve it.
Understanding Your Online Reputation Score: 
Let's start with the basics; what does "reputation" actually mean? According to the Merriam-Webster Dictionary, reputation is the "overall quality or character as seen or judged by people in general." Keyword: judged. 
The public can easily make assumptions about a company, service, person or product online solely based on their online reputation. Keep reading to learn four easy steps you can take to ensure your reputation online is a true reflection of you.
Calculating your online reputation score:
Reputation score gives a measurable value to one's overall online presence. This score is based on key factors that influence the strengths and weaknesses of your brand. Learn more in our article, "What is a Reputation Score."
Understanding your personal online reputation score can be quite difficult. Reputation score has nothing to do with how you perceive yourself or your business. Rather, it is based solely on what people discover about you through search. 
You might be wondering, "how can I clean up my online presence?" First, you must understand what a reputation score is made up of.
If you do a simple Google search on yourself or your business, what are your search results? What type of impression will viewers get when searching your personal brand? Are they positive or negative? These all factor into your reputation score.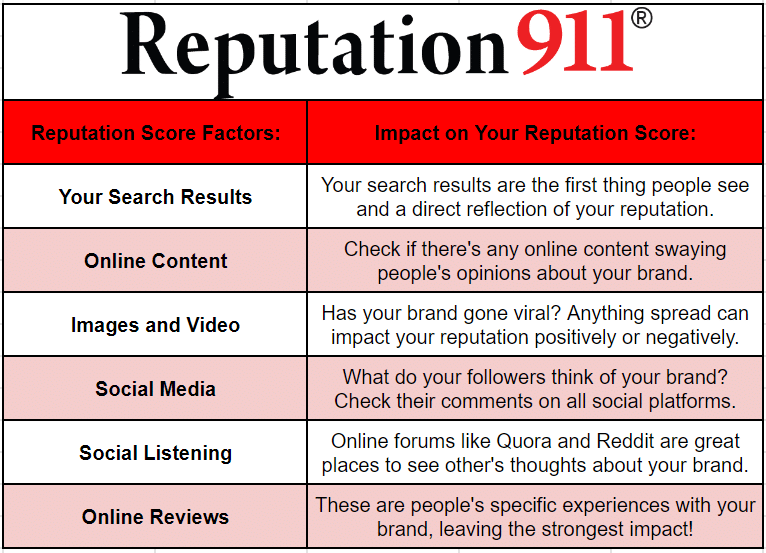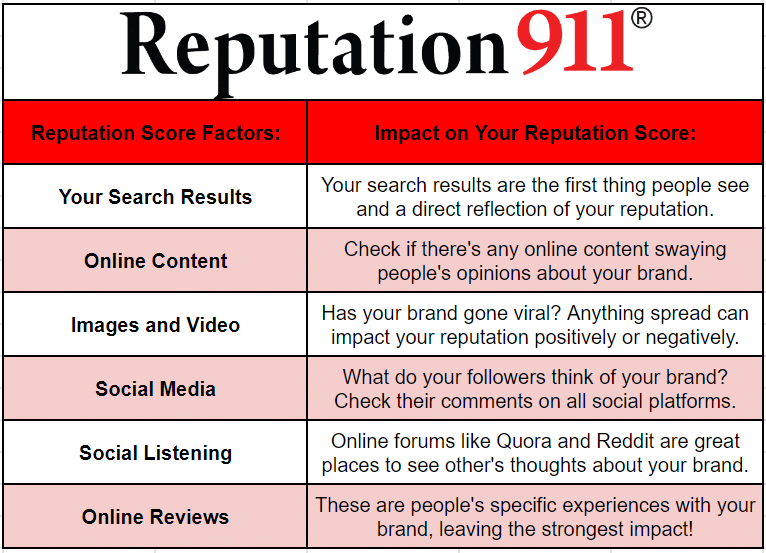 Factors to consider when calculating your reputation score:
Search results/links

Content/articles

Images and video

Online forums

Online reviews
These activities help build trust in your individual brand and increase your perceived value. Over time, your name and desired search terms will begin to rank higher.
How to Monitor & Manage Your Online Reputation Score
If your search results are undesirable, there are steps you can follow to take back control of your online reputation. Ultimately, this will help clean up your online profile and increase your online reputation score. 
There are two different approaches when monitoring and managing your online reputation and results associated with your name. You can either remove negative online search results or suppress them. 
1. Removal of negative search results: 
Removing negative online content from search results should be your first course of action. If you can, deleting them completely will be an easy step towards a better reputation score. Keep in mind that sometimes gaining access to bad news articles or reviews can be difficult. 
Businesses may be able to report negative reviews online under certain circumstances (such as leaving an employee's name or address).
2. Suppression of negative search results: 
Suppression of negative search results can be equally as effective. When negative information is suppressed it needs to be replaced with something positive. Promoting existing content or creating new profiles and accounts is a great way to do this.
Sourcing new, fresh content will help your suppression efforts. It does this by pushing negative search results further and further away from the first page of Google search results, and onto the second page of Google. 
3. Keys to successful suppression efforts:
Promote up positive content, images, and links 

Create new content and news articles 

Build backlinks to new articles

Regularly update new, fresh content associated with your search term
4. Use tools to actively monitor online reputation
There are many free and paid tools that can help you monitor your reputation on the internet and help you earn a good reputation score.
Google Alerts – A free Google product that allows you to track your desired keywords, such as your name. Google Alerts will then email you every time your name is mentioned online.
SEMrush – An all-in-one paid platform that large and small agencies use to manage clients' reputations online.
BuzzSumo – This platform gives you the Internet's most trending top stories, a great place to start for content topic ideas and monitor your online reputation.
HootSuite – HootSuite utilizes social media and review tracking to understand your brand's presence across the web. You can understand your reputation better when you understand what people associate with your business.
Social Mention – A free search engine that you can plug your name or brand terms into to see what people are saying online. Easy peasy.
SentiOne – SentiOne is an AI-powered social listening and chatbot program used by large consumer goods brands. This program is great at searching online content for brand sentiments shared across the web.
Reputology – Wondering if one bad review can lead to a bad reputation score? Reputology helps businesses monitor reviews so you know when to respond and what to say.
ReviewPush – Similar to Reputology, ReviewPush helps manage multiple business listings and their reviews.
5. Know when to hire a professional:
Negative search results and fake news can become too big of a problem to solve on your own. Or, maybe you need help establishing an online presence for your brand and business.
Either way, hiring a skilled reputation management company could be your door to a brighter future. A professional management service can ease the burden of worrying about your brand online, allowing you to focus your attention elsewhere.
For Individuals, negative or outdated search results can skew the perception of others. It can even come in between your relationships, college admissions, job opportunities, new customers, and more.
For businesses, increasing your online reputation score will help you reach customers searching for you through Google search. Improving your online profile not only helps you establish an online presence, but it also helps you attract new customers. 
Reputation911 employs a team of reputation management professionals who are highly trained in effective SEO, journalism and social media techniques. Reputation911's team will increase your social currency and credibility to improve your online reputation score.
We are a reputation management company that helps to make you Look Good Online.