What is Brand Reputation?
This post was most recently updated on May 12, 2022
Brand reputation is one of the most crucial elements of success for any company or organization. In this post, you will learn the importance of brand recognition among consumers and company stakeholders, strategies for improving brand reputation, and some examples of not-so-great reputations.
At Reputation 911, we provide professional brand reputation management services. Keep reading to learn about brand reputation, including strategies and more.
Brand Reputation, Defined
What is Brand Reputation, Exactly?
Brand reputation refers to others' perceptions of a particular company or organization. A favorable brand reputation means consumers trust your company and feel good about purchasing your goods or services.
Companies and organizations with unfavorable brand reputations will cause consumers to distrust your company and be hesitant about buying your products or services.
Brand reputation can also be applied to individuals and their personal brands.
The Undeniable Importance of Brand Reputation Management
Brand reputation management is critical to the success and outlook of a brand. If reputation is jeopardized in a competitive field, you may lose business to business competitors. 
Brand reputation is essential for businesses regardless of the size or how well-established they are in the market. Building a reputation among your stakeholders can take time and effort. Large, established businesses will want to maintain or protect their reputation. For small businesses that are still growing, building a brand reputation means becoming more established in an industry. For larger companies, consistent monitoring of your reputation will be important for the success of your business.
Effects of Great Reputation 
There are so many ways brands can reap the rewards of an excellent brand reputation management: 
Increase sales

Improve organization morale

Improve public relations

Build loyalty

Increase referrals

Increase follow-up purchases

Build a social media following

Increase website traffic
The level of reputation a brand brings has far-reaching implications for a business, and ultimately, they are tied into an organization's performance, measured in their bottom line.
Reputation & Brand Stakeholders:
You may not think it, but brand reputation management is important to all stakeholders – not just your customers. The truth is, reputation has far-reaching effects that affect every stakeholder in an organization. Here's how brand reputation affects each type of stakeholder. 
Consumers 
What do consumers think when they associate with your brand? Revenue and reputation are tied together, and as the primary source of revenue, what consumers think of your brand matters. An excellent brand reputation among consumers is essential for the financial longevity of your business.
Employees 
What do employees think about a company? While employees are an extension of brand perception, their thoughts about the brand can affect their work satisfaction and productivity. 
Business Partners
Whether a vendor, association, blogger, or influencer, building a reputation with business partners has its benefits. When partnering with other organizations, a positive online reputation makes it easier to partner with other businesses, which improves an organization's performance.
Board of Directors 
Board members know when a brand's reputation suffers, so does company performance. The Board of directors will take a top-down approach to manage a brand to maintain its reputation – everything from hiring a CEO to developing a governance structure for the organization. 
Investors 
Reputation can play a massive role in the decision-making for investors to invest in a company. Building and monitoring brand reputation can go a long way in improving investor relations. 
Brand Reputation Strategies
Branding is such a powerful tool for businesses, and because of this, a brand should never stop improving its reputation among stakeholders. These days, brands need to have a unified online and offline presence to succeed in business. 
How can companies and organizations improve their online reputation? Here are a few ideas to consider.
Strategy 1: Understand Your Customer
Do some consumer research about what they think of your brand. Consider creating or updating buyer personas. Buyer personas are semi-fictional representations of your ideal customers based on data and research from your customer base. Knowing your personas will help you understand their preferences and pain points, which can help build a positive brand reputation.
Strategy 2: Run Marketing Campaigns
Whether you're rebranding, launching a new brand, or looking to reinforce your company's values, marketing, particularly online, is an effective way to get your message across. With online marketing channels like social advertising, Google ads, and content marketing, it's easier to target your market.

Strategy 3: Engage in Social Responsibility 
Launching a social responsibility campaign will help improve your reputation. Giving back to communities and supporting social causes is an excellent way for a company to build its reputation among consumers. Consider finding a charity or organization to support a cause that aligns with your consumer base.
Strategy 4: Monitor Your Brand Regularly
As part of brand reputation management, monitoring is an important piece of the reputation management process. Consider monitoring your brand online to respond to any issues quickly. Use tools to monitor your brand. Social listening tools will help monitor negative comments about your brand on social media. Google Alerts is a tool that allows you to track news mentions within Google search results.
Strategy 5: Provide Excellent Customer Service
Customer service is the perfect opportunity to right the ship by turning a negative experience into a positive one. Having a well-trained customer support team that reflects your company's core values will help you stand out from competitors.  
Strategy 6: Be Proactive for Negative Reviews
Many consumers use social media sites, apps, and websites to research the best product or service that allows customers to review a company in the digital age. Negative reviews may occur, and businesses need to address them head-on in a positive light when they do. Respond to negative online reviews quickly and promptly. 
Strategy 7: Launch Rebrand
For businesses struggling to connect with customers, consider a rebrand. Instead of losing credibility with your old brand, an updated aesthetic and internal alignment of company values can help you rebuild and manage your brand reputation.
Brand Reputation Mistakes (with Examples)
With brand reputation management, you can clean up any mistakes and blunders. While companies used to shape their brand reputation with ease using traditional advertising and public relations, it is much harder to keep others from damaging your brand without online reputation management in today's world. 
Thanks to social media's rise, companies find that one mistake will destroy their brand in seconds. Here are just three examples of brands that took a hit because of social media:
Example 1: Kenneth Cole, Fashion Designer
Cole tweeted about the 2011 Egyptian riots in an attempt to promote his new line and came under fire for insensitivity: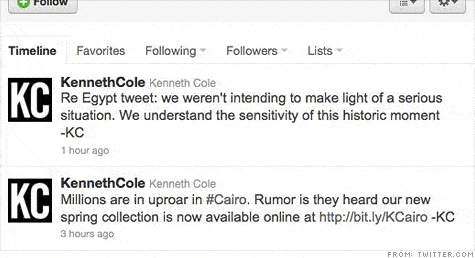 The tweet was removed, and a lengthy apology was posted on Facebook, but that wasn't enough to fix Kenneth Cole's brand reputation. A spoof Twitter account @KennethColePR and a #KennethColeTweeting hashtag forever links the brand to the incident.
Example 2: Domino's, Pizza Chain
A group of bored Domino's employees uploaded to Youtube a series of videos in which they played with food ingredients they claimed were going into meals ordered by customers. The videos went viral, quickly picking up more than one million views, and the employees involved were faced with felony charges. Executives hoped the controversy would die down and did little to manage the brand and communicate what steps Domino's was taking to rectify the matter over Twitter. That led followers to question whether Domino's was doing anything, furthering consumer distrust and a ruined brand reputation.
Example 3: Marvin Austin, UNC Football Player
Austin tweeted a photo of a receipt from the Cheesecake Factory in Washington, DC, where he had racked up a $143 bill.
When members of the local media questioned why he was in Washington and how he could pay for the trip, UNC officials declined to comment. Their silence spurred an NCAA investigation that uncovered 9 NCAA violations, including evidence of improper benefits being provided by agents, academic fraud, and a first-ever "failure to monitor social media" charge against the University of North Carolina's athletic department. The controversy led to player suspensions, pink slips for the head coach and associated head coach, a resignation from the athletic director, and a one-year ban on postseason play.
The damage could have been minimized if the organizations had practiced strategic brand reputation management. Instead, each organization allowed damaging content about itself to be posted online and did not move quickly enough to control the conversation and minimize the damage.
As a result, a lack of brand reputation management led the businesses and individuals above to take a hit on their reputation. Kenneth Cole's customers viewed the brand as insensitive; pizza consumers viewed Domino's as a brand that allowed its employees to violate health codes. High school football players viewed UNC's football brand as a poorly run program.
Responding to a Brand Public Relations Crisis
When your brand reputation takes a public relations hit, you will want to address the issue. Have a plan outlined to address the problem that is plaguing your brand. While you typically want to address a crisis quickly with stakeholders, coming back from a public relations crisis is a process that takes time, with the end goal of rebuilding reputation. For more, you can read our blog on crisis management.
Take Control of Your Brand Reputation
You should not wait for your company to commit a social media faux pas before engaging in online reputation management. Using social media, message boards, and online review sites, your customers and employees might already be damaging your brand reputation. 
Brand Reputation Management from Reputation911
To take control of your brand reputation as soon as possible. Reach out to Reputation911 immediately for brand reputation management and monitoring.
We provide online reputation management and brand reputation assistance. Every second you wait to reach out to us allows more time for damaging info about your brand to spread online.
Learn more about reputation management services for businesses and brands. Contact us for a consultation.
About us
We are a Online Reputation and Privacy Management Company that helps our clients Restore, Promote, and Protect their online image.