What is Crisis Management?
Crisis Management is an essential process and strategy developed by a business or organization to maintain a positive image and reputation should an unexpected crisis occur where the company is viewed by the public in a negative light.
A business relies so much on its reputation and image to keep customers coming back and to bring in new customers, investors, employees, etc. Whether you own a giant global corporation or a small local shop, having a crisis management plan in place is crucial for the growth and future of your business.
In an Internet and social media based world where news and information is so readily available at our fingertips, a company's reputation can be destroyed in a matter of minutes.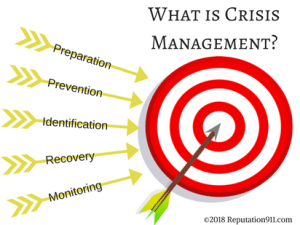 Businesses need to be more careful than ever about what they say and do online and even then they are not safe from negative press and potential disaster. In fact, information may be put out there by third parties that is completely false or exaggerated, yet it still holds the same daunting effect on the company's image and reputation.
While a business can be well equipped and prepared for most mistakes and mishaps, a media or PR crisis is nearly impossible to predict. A public relations crisis can involve a wide variety of unfortunate instances including:
Product recall

Social media mishap

Company or employee defamation

Attack from a competitor or disgruntled employee/customer

Negative press & news articles

Negative content related to your company goes viral
If a problem like this arises, things can spiral down quickly if a company does not react in the right way. For this reason, many companies and organizations make the decision to work with an experienced crisis management firm that can provide guidance and custom tailored strategies for the situation at hand.
Why Should You Hire a Crisis Communications Professional?
Hiring a crisis management team provides a non-biased, outside perspective that is not directly involved with the company's day to day operations. Emotions can run high in intense and sensitive situations. It can be challenging to keep personal feelings out of it, which can often amplify the situation and complicate things even more. Working with a crisis management team who has your best interests in mind will allow you to handle a crisis situation carefully, respectfully, and effectively in order to preserve your brand.
Crisis Management Planning and Best Practices
Every crisis situation is unique, meaning crisis communications and planning strategies will vary depending on the situation, its scale, and the parties involved. At the same time, there are some best practices to follow and keep in mind when preparing for a public relations crisis.
Understanding the Social Media Landscape
Social media has become increasingly popular and accessible, making it an important piece of business branding and marketing strategies. Engaging on social media can be great for business, however, even the slightest mishap can put your company under fire. Misusing a hashtag or having an employee accidentally tweet from the company account instead of their own can have disastrous effects on a brand's reputation. Taking precautions, researching hashtags and current events, and understanding how to effectively engage on social media can help prevent the onset of a crisis.
Set Up Alerts For Company Mentions
While you may be putting plenty of your own information out there, it is important to know what others are saying about your company or organization. Online tools such as Google Alerts, Hootsuite, and Sendible allow you to monitor specific keywords and phrases related to your brand and industry so that you know when something new comes out on a given topic. Whether the brand mention is positive or negative, being able to respond quickly makes your brand more approachable, respected, and trusted by consumers.
Be Proactive in Managing Your Online Reputation
Don't wait until a crisis strikes to start managing your online reputation. Take control of how you are perceived online by actively creating content through websites, social media posts, blogs, guest posts, press releases, and beyond. Promoting your positive content allows consumers and the general public to see your brand's true colors rather than focusing on the negative that may have come from one small mistake or an uncontrollable attack. If there is nothing out there about your company when a crisis occurs, the negative content will be all that everyone sees and knows about your business. However, if you have already established a positive online presence when a crisis occurs, there is a higher chance of people encountering the good content and taking it into consideration should they also encounter the bad.
Even when you think you have your bases covered, an online reputation crisis could be knocking at your door at any moment. By implementing these crisis management best practices and working with a crisis management firm, you will be better equipped to stop a small mishap from turning into a full blown crisis.
About us
We are a Online Reputation and Privacy Management Company that helps our clients Restore, Promote, and Protect their online image.