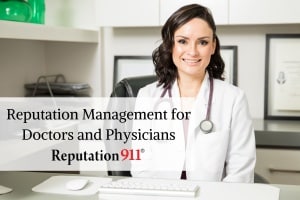 Online Reputation Management for Doctors and Physicians
Reputation Management is an important practice for doctors, practitioners, physicians, and dentists. As many as 90% of patients use online reviews to evaluate doctors and decide where to receive their healthcare
Reputation Management for doctors is especially crucial for those in the medical practice who understand the importance of their online presence. Google is the first place that many people go to when they have questions - especially questions about who they should trust. A large part of your healthcare marketing strategy should focus on improving your Google search results.
Why Are Online Reviews Important for Doctors? 
For doctors looking to improve their online reputation, reviews are just as important as word-of-mouth recommendations. Reviews are a huge factor in the decision process of potential patients.
When patients are unhappy or frustrated with their healthcare, they often turn to review sites to voice their opinion. Patient reviews have a strong impact on your medical practice. Positive online reviews will signal to potential patients that they can trust you. However, negative online reviews will cause them to steer clear.
The patient experience is a huge determining factor in gaining, as well as maintaining, a customer base. Information online about your business can either strengthen or hurt existing patient relationships.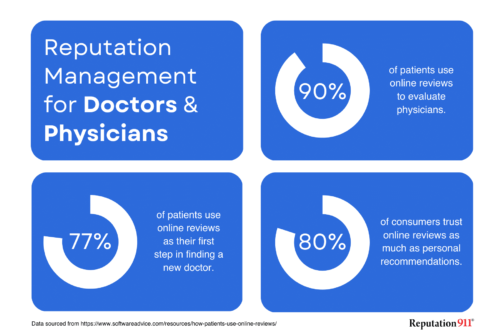 The Effects of Social Media 
Just like review sites, social media channels are the second most popular place for patients to voice their opinions online. For doctors and physicians, negative comments on social profiles are equally important sources of information for new patients. 
Due to the viral nature of social media, a negative review can quickly escalate into a reputation crisis. This could leave a lasting negative impression on your professional career. 
What Is The Best Site For Doctor Reviews?
In the past, there were a couple of ways for people to find a new doctor:
Personal recommendations from friends, family, or neighbors

Information from their insurance about in-network doctors

If their current doctor is retiring, they could be referred to a new physician by them directly
These methods are great and are definitely still used by patients. However, they don't always give the patient enough information to commit to a new physician. Nowadays, they can check online review sites to get a fuller picture of what their new doctor could be like.
Customers scour review sites before buying all kinds of products. The same is even more true before committing to something as important as their healthcare provider. For this reason, you want to make sure that you have a lot of positive reviews about your practice online.
There are countless review sites out there, but here are some to keep an eye on:
Google My Business

Yelp

WebMD

Facebook

Healthgrades
Reputation Management For Physicians: How Does it Work? 
Physician online reputation management is best done with the help of a professional. It is a secure way to improve your credibility online and improve your patient retention. Reputation management can also benefit doctors who are still early on in their careers. Active management will help you stand out in your field and make sure your career starts on a solid foundation.
With the use of search engines like Google, we are able to find out information about anything and everything. Reputation management involves taking control of your online image with the use of SEO or Search Engine Optimization practices. 
Our team of trained professionals will use custom reputation management techniques specifically for your goals and expectations. By crafting a content creation plan and exemplary branding strategy, your online reputation will be managed and restored. You will also have peace of mind knowing your reputation will be secure in the long term.
Monitor Your Practice Online 
Our online Reputation Management services help doctors increase positive patient reviews and grow a professional medical practice. 
Responding to reviews is an important aspect of attracting and maintaining your patient base. Patients trust online reviews because they are coming from honest people who offer valuable opinions. Having a deeper understanding of your patient's sentiments will help you and your practice grow and evolve. 
Improve Your Overall Patient Care 
We have helped numerous professionals in the medical field restore and manage their online reputation. Negative feedback and misleading information can be misconstrued and blown out of proportion when it comes to the internet. Gain control of your online reputation and get the insight you need for long-term success. 
Google Search Results
A huge part of your doctor reputation is about optimizing your business in Google. There are a number of SEO tactics that will suppress negative press coverage and highlight the positive in Google search results:
Build social media profiles and keep them updated with new content

Optimize your

Google My Business

profile

Respond to negative reviews

Set up Google Alerts to get an email alert when your name and business come up in search results

Encourage patients to leave reviews to increase your star rating

Keep your website updated with fresh and positive content

Use link-building to connect your various sites and social media profiles

Reputation911 Can Help Doctors
We can provide reputation management for doctors in a number of different ways, including:
Want to learn more about our reputation management services? We offer business reputation services for doctors, physicians, dentists, and other similar businesses. See how Reputation 911 can help you today.