How To Delete Reddit Accounts & Remove Personal Information
Last Updated on March 9, 2023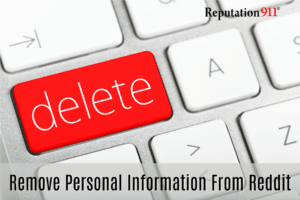 What to Know About Deleting Content From Reddit
Reddit ranks in the top ten most popular social media sites in the United States with over 50 million daily active users. What makes Reddit different from so many other social platforms is its focus on communities, also known as Subreddits, where people can have anonymous conversations about all kinds of topics.
All you need to sign up for an account is an email and username, which masks your true identity. This sense of anonymity makes people more open to sharing content they wouldn't post on other sites. However, your privacy can still be compromised. The good news is that there are steps you can take to remove information from Reddit.
Contents:
How To Delete Reddit Comments
Before you delete your account, you must first delete all of the posts and comments that you don't want to stay on the site. Posts and comments that aren't deleted will no longer be attributed to your username, but they will still remain on Reddit. You won't be able to remove them after you have deleted your account.
Login to the Reddit web page.
Find your username in the top-right corner and click the drop-down menu, then click on "Profile".
Click on "Posts" in the top-left.
Click on the three dots at the bottom of the post, then click "Delete".
Depending on how active you have been on the site, this can take a lot of time. Alternatively, you can try using the Nuke Reddit History Chrome Extension, though Reddit users have varying success with this and it doesn't always work.
How To Delete A Subreddit
If you have created a subreddit, you can not go back and delete it – it is on there forever. However, you can set the subreddit to private so that no one can join without the link and then leave it. Again, you should do this before you permanently delete your account.
Go to your subreddit and click "Mod Tools".
Find the menu on the left-hand side, scroll down and click "Community Settings".
Make sure you are on the community tab.
Scroll down to "Type Of Community" and set it to "Private". Then click "Save Changes".
Go back to the subreddit and click "View All Moderators".
At the top, click "Leave As Moderator".
In the popup, click "Leave".
How To Permanently Delete Reddit Account
Once you have deleted your Reddit history, you can now go ahead and permanently delete your account. Before you do this, know that there is no way to temporarily deactivate your account. Once you delete the account, it is deleted forever, and you will not be able to reactivate it again.
Login to your account.
Click on the drop-down menu on your profile and click "User Settings".
Scroll down and click "Delete Account".
You will see a pop-up where you can give optional feedback. Enter your username and password, check off the box, and click "Deactivate".
Click "Delete" again on the second popup to permanently delete your Reddit account.
How To See A Deleted Reddit Account
Normally when viewing deleted comments on Reddit, the posts that have been deleted will show up as [removed] or [deleted]. However, finding deleted Reddit data is actually possible! By using the Wayback Machine, you can view deleted Reddit posts and see the archived versions of deleted content.
Open the Wayback Machine and paste the URL of the deleted content into the search bar. Click "Browse History".
On the calendar, find the date that the deleted comment was made. Hover over the date and select the time. This will bring you to the deleted webpage.
Misinformation on Reddit
Reddit has taken steps to stop the spread of misinformation on the site. However, due to the structure of the platform, misinformation can spread rapidly. Since the site revolves around smaller subreddit communities, moderation is often left to Reddit users. You can't control what other people say about you online, but if someone is misusing your content, you can file a DMCA takedown notice.

In Closing
Deleting your data from the internet is never a simple task. If you want to improve your online reputation, the experts at Reputation911 are here to help. Contact us to schedule a free consultation.
We are a reputation management company that helps to make you Look Good Online.