How to Remove Negative Reviews
Businesses are always looking for ways to remove negative reviews.
Everyone understands the importance of online reviews (our past blog post about Business Reviews provides some helpful statistics about their importance) and so it is no surprise that when a businesses gets a negative reviews on sites like Google+ Local and Yelp they  need to take action to restore their online reputation. While there isn't a quick, one-step process to remove negative reviews, there are several options that business owners can explore.
Find out if the negative review is real or fake
Many negative online reviews end up being fake but how can you detect fake online reviews and what can you do once you find out ?
If a business can prove that the online reviews are false, like a doctor's office being able to show that they never had a patient by the name of the reviewer, or a restaurant owner being able to show that the IP address of the reviewer matches that of a nearby competitor, then contacting the review site directly might be the best way to remove negative reviews. If the business owner recognizes the name of the customer who left the review, they could even have a customer service representative contact them to try to rectify whatever problem they had in order to have the reviewer remove the negative review.
Reputation911 has developed an online review checker that can help you detect if your reviews are real or fake and is the first step to getting them removed or published on sites that are currently filtering them.  The negative online review checker is a free services from Reputation911 and can be used to check any suspicious review left on any review site.
Bury the Online Negative Review
While Reputation911 does not recommend this practice,  some business feel consumers only pay attention to the overall score or only the most recent online reviews that the business has received.  However our research has shown that customers go through and read every or most online reviews a business has received when they are making a buying decision.
Reputation911 review products such as My Online Reviews has proven and effective strategies for business owners to use to increase the number of reviews that are being written for their business and also remove the fake negative reviews.
With an increase in online reviews, businesses not only reduce the impact of the negative review, but also have piece of mine that they are protect from fake negative reviews that are left in the future.
Get Outside Help to Remove Negative Reviews
Given that 80% of individuals have chosen not to walk in to a specific business because of something they read about the business online, business owners must make sure to move quickly to remove negative reviews. Business owners, especially those who own small businesses, sometimes lack the time or resources to respond quickly enough.
Reputation911.com can help. Our review team specializes in recognizing fraudulent negative reviews and has a number of techniques to remove negative reviews. At the same time, our Engineering Team will work quickly to implement a system that works with your customers to increase the number of new reviews being written about your company.
Find out more about how Reputation911 can help you remove negative reviews to fix your online reputation by filling out the form on the right side of this page or by calling us at 866-MY-REP-911
About us
We are a Online Reputation and Privacy Management Company that helps our clients Restore, Promote, and Protect their online image.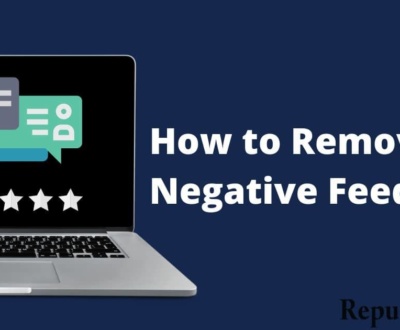 Negative feedback via links, reviews and news can be detrimental to the…