5 Tips to Help You Get a New Job in 2020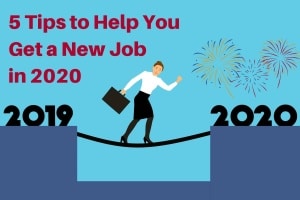 Job hunting can be a daunting task when you don't know where to start but you need a new job. From resumes and networking to cover letters and interviews, finding a new job can feel challenging and overwhelming, even for those highest on the corporate ladder.
Finding your next job can be simple and painless when you have a plan of action. Getting a new job doesn't have to be difficult – it can actually be an exciting and rewarding process when you have the right tools and attitude.
With these 5 tips to help you get a new job in 2020, you'll have the confidence you need to be successful in your search, and finally land that job you've dreamed of having all along. 
5 tips to help you get a new job in 2020 
1. Clean up your online reputation 
Cleaning up your online reputation should be your first course of action before even thinking of applying for any new job. When potential hiring managers search your name online, what will they find? It's an important question to ask yourself before applying for jobs. 

Google search results 
Try typing your own name into Google, the first page of results you see are most likely also going to be seen by a potential job prospector. The most recent and/or most popular profiles, links, articles and images will be some of your top search results. It's in your best interest to make sure those results are a positive and accurate reflection of your professional image. 
If some of your search results are not keen for your reputation, there are some simple hacks to help you clean up your online reputation. 

Social media 
Cleaning up your social media profiles is always a good place to start. Facebook, Instagram, and Twitter are 3 of the most popular social media platforms online. Removing any negative images or text that might be unfavorable to your online reputation is a simple way to boost your reputation score. 

Create a website 
You can also create your own website to use as an online resume and portfolio. This is a great way to add positive search results when Googling your name, and can help you create a clean and professional image of yourself online. 
Creating a website has never been easier with simple site builders like Wix, which walk you through the process with easy to follow instructions and guides. Incorporating your name into the URL well help direct your new, personal site to the first page of your Google search results. For more professional websites full-service digital marketing agencies can be used.
Think of your website as a brochure for hiring managers to look through. A professional headshot, a clean resume and links to your tidied-up social media accounts is all you need to make your website a great tool in helping you stand out in a positive light to new hiring managers. 
2. Perfect your resume 
That leads to step number 2 – perfecting your resume. What will set your resume apart from hundreds of other possible applicants? You have skills and experience that can set you apart from the rest, all you have to do is get it down in writing. Don't underestimate the power of a clean, concise, and purposeful resume.

Online resume builders
Compiling all of your skills and work experience into a single document might seem challenging, but there are plenty of online resume builders you can use to ease the process. Sites like My Perfect Resume walk you through the process in easy to understand steps with visuals along the way. You can choose from various templates, and work off of their industry-standard writing suggestions to help create the perfect resume that will highlight all of your best skills and 
attributes.You should also keep in mind that most larger companies use online systems to sort through applications, referred to as ATS, or Applicant Tracking Software. According to Forbes, 98% of fortune 500 companies use ATS. Thankfully, using online resume builders will help guide you to build a resume that best performs in your favor if run through ATS.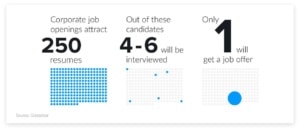 3. How to network effectively and get the interview
Linkedin can be a great way to find job openings and network with other professionals. Just like step number one, clean up your profile and make sure all of your work experience and credentials are up-to-date. You can update your experience following your brand new professional resume you created in step number two as well! See how it's all coming together?
If you created a website for yourself, sharing links to it on your Linkedin profile is not only a great way to increase your online reputation, but it can also be a great way to network and show other professionals your work and interest in taking the next step in your career. You might just end up impressing the right person on Linkedin!
4. How to keep your job search organized
Okay, now you're cooking with gas. Your online reputation is clean and you created a powerful resume, and you're using Linkedin to create professional connections. Now, it's time to start applying! 
If you're using employment-related search engines like Indeed and Linkedin, it's easy to lose track of which jobs you've applied to, when you applied and how you're going to follow-up. Keeping track of your applications will help you stay organized and level-headed during the job seeking process.
Create and keep track of small goals. For example, try applying to 3 new jobs a week. Keep track of what job you applied to and where, when you applied, and the contact information you would need to follow-up with their hiring department. Having a concrete visual and plan for yourself will keep you on track for success!
5. How to stand out from other candidates
This leads to the final, and arguably the most important step of finally help you get a new job in 2020. Always follow-up. By staying organized and keeping track of your applications, it's as simple as picking up the phone or sending an email to the hiring department or manager. Sending and email or giving a call a week to two weeks after you apply will put you on the hiring manager's radar. 

First follow-up step: send email
Make sure you follow-up is written in a polite and professional manner, and notify them of your name, when you applied and your interest in further discussing this new, exciting job opportunity. Sometimes it's just as overwhelming for you as it is for the person receiving hundreds of applications, but notifying them while addressing your experience, your professionalism and your initiation to start a conversation might just be exactly what they're looking for, and set you above the rest. 

Second follow-up step: make the call
Don't be afraid to pick up the phone and call the hiring manager directly. Just like your email, notifying the hiring manager of your application, your interest in the position, and that you would like to discuss the opportunity further, are 3 simple yet key points to make when calling a hiring manager to follow-up with you job application. The most important point of the conversation is to get your name to stand out from other applications. 
By using these 5 tips to help you get a new job in 2020, you'll be on a fast-track for success with confidence and ease, and finally land that new job you've been dreaming of!
About us
We are a Online Reputation and Privacy Management Company that helps our clients Restore, Promote, and Protect their online image.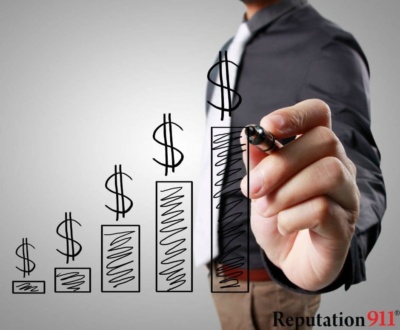 What is online reputation management? Online reputation management is the practice of…