Corporate Reputation Management: Everything to Know
This post was most recently updated on April 25, 2022
Corporate reputation management is a complex yet crucial matter for businesses to understand. Reputation is considered a large factor of business success, but not many know why it's so important and the far-reaching implications, and advantages it brings organizations.
In a world where the internet provides an opportunity to present their organizations in the best possible way, corporations with excellent reputations reap the benefits. In contrast, companies that push reputation management off to the side are putting their organization at risk. 
How can corporations take control of their reputation? In this article, we outline how corporate reputation works, why it's important in 2022 and beyond, and tips to consider on how to improve corporate reputation, brand perception, and image.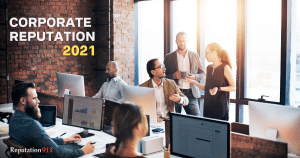 Corporate Reputation, Defined
Simply put, Corporate reputation is defined as the thoughts and opinions of an organization's internal and external stakeholders. The reputation of an organization can be based on what appears in search engine results, social media engagement and activity, news and press releases, and other online marketing channels. 
Why is Corporate Reputation Important?
In the age of COVID-19 and the digital pivot, corporate reputation is more important than ever, with more users now searching for information online. With an increase in online activity, it's critical to monitor activity that involves mentions of an organization. In addition to a company's owned digital presence, like a website and social media channels, many other online resources can affect your reputation for better or worse. This can include search results in Google (or other search engines), social media, press releases, and more. 
Benefits of Having a Great Corporate Reputation
The benefits of a great corporate reputation are far-reaching. While there are many benefits to improving corporate reputation, here are some of the most prevalent advantages:
Increase in customer or client loyalty

Stand out among competitors

Improve employee retention

More effective marketing and PR campaigns

Build better relationships with partners and vendors

Become more resilient in trying times

Improve financial performance 

Attract and hire talented employees
These are just the main advantages of having a strong corporate reputation. These are advantages that can strongly benefit organizations.
Factors of Corporate Reputation
As previously mentioned, corporate reputation is complex. There are several factors that account for a corporation's reputation -and some more than others, depending on the organization. These factors affect the image and perception of the brand stakeholders. No matter what the size, or industry of the corporation, these factors should be considered when looking to improve corporate reputation. Here are the top factors that affect an organization's reputation: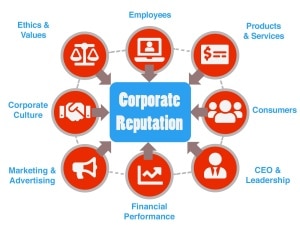 8 Factors that determine a company's reputation:
Company ethics and values

Products and services

Consumer relations

CEO & corporate leadership team

Employees

Corporate culture

Financial performance

Marketing and advertising
How company ethics and values influence corporate reputation 
Having strong values is a staple in building a great corporate reputation. Corporate values are a set of guiding principles and beliefs that an organization supports and carries out as a business. Corporations must be rooted internally in their values and communicate those values with external stakeholders.
Environmental responsibility:

In terms of ethics, corporations can improve their reputation with increased activity toward being environmentally responsible.

Supporting Social Causes:

Companies that genuinely care about social issues have proven to boost their reputation among stakeholders. 

Community Relations:

A corporate that gives back to the community is another element to improve reputation. Participating in charitable campaigns, philanthropy, and volunteering can promote a business' long-term strategy.
The impact reviews have on products and services 
At the core of any business are the products or services offered. Beyond generating revenue, it's the reason for an organization's existence. A consumer's reviews of the quality, reliability, and safety of a company's products and services can affect the reputation of that business. Beyond that, consumers want to find value in the product or service. If the products or services are not priced correctly, and consumers don't see the perceived value, this can certainly lead to negative perceptions of the business. These are all factors related to products and services sold that organizations must consider when evaluating their reputation among both external and internal stakeholders.
Consumer Relations is Key to a Good Reputation 
Consumer relations essentially mean how companies interact and engage with their consumers. To create a good online reputation, an organization should have a consumer-first approach when interacting with its customers. Consumers expect an organization to have a strong commitment to satisfaction – particularly regarding any mishaps or disagreements. Having a well-trained customer service team and reasonable policies that consumers are aware of goes a long way toward reputation. When corporations are prepared to address consumer issues or complaints that are handled correctly, their reputation is improved among consumers.
Why the CEO and Leadership Team's Reputation Matter
The CEO plays a large role in the success of any company. With the importance of a CEO, reputation is very important among many stakeholders. Because a CEO's role is so critical, a great reputation assures the company is in capable hands and has top-down organizational effects.
There are a plethora of online platforms and websites that allow employees and company stakeholders to provide insight and feedback on a CEO. Consider a website like Glassdoor, where employees not only review the company they work (or worked) at but also review the CEO. These sites can be damaging to a CEO's reputation and should be regularly monitored.
In addition to the CEO, the leadership team must also be well-respected and provide quality work to a company. A corporation's executive team must work with the CEO to meet the goals set. In large corporations, the executive team is responsible for managing large departments and is accountable for the department's performance. Because of their level of responsibilities and the number of employees managed, their reputation must be monitored as well.
How employees impact corporate reputation
Company employees represent your business. Employees play a key part in managing corporate reputation with the work they do. Keeping employees engaged will go a long way to improving a company's reputation. When employees are enthusiastic about their work, their team, and the corporation they work for, not only does productivity generally increase, but they will have more of a positive perception of the organization they work for. Company culture can play a big role in how engaged employees are with the company they work for. You will learn more about company culture in the next section.
How company culture can affect corporate reputation
Company culture and corporate reputation are closely linked. The effects of a welcoming and positive company culture go beyond improving employee perception, contributing to overall corporate reputation. Here are a few considerations regarding company culture that can improve corporate reputation.
Training and onboarding

– without a formal onboarding program, employees do not start on the right foot. There should be continual training opportunities throughout the duration of their positions.

The workplace environment

– the workplace environment is a part of company culture. An ideal workplace environment promotes positivity, diversity, and inclusion. When you have created an impactful workplace culture that employees are practicing, the environment of the workplace tends to be healthier and more productive. When this doesn't happen, you jeopardize corporate reputation.

Work-life balance

– offering good employee benefits like work-from-home flexibility, vacation time, and parental leave will help employees will help promote a good work-life balance. Also, consider cracking down on overworking employees (or employees choosing to overwork).

Career advancement opportunities

– many employees want to work at a place that offers career advancement opportunities. This will help fulfill employee satisfaction.

Respect for employee privacy

– when work ends, employees want to separate work life from personal life. 
The impact reputation has on financial performance
Financial results play a big part in corporate reputation. Profitability and revenue trends impact reputation among all corporate stakeholders, including the CEO and leadership team, board of directors, employees, and consumers. Simply put, financial performance success brings stability to a company, which boosts corporate reputation, whereas financial distress not only signals reputational damages but larger issues of debt that can threaten the longevity of the business.
Marketing and advertising can play a big part in reputation among your consumers and your target audience. Not only can marketing and advertising help businesses sell to attain new business, but they can also shape and shift perceptions of a brand. With so many marketing channels in today's age, you must consider all of them to maintain your reputation. Strategic marketing campaigns can change or reinforce the perceptions of an enterprise from external stakeholders.
How to Improve Corporate Reputation
With all the factors of corporate reputation known, it's time to take the steps necessary to improve a company's reputation. Changing your reputation does not happen overnight. It takes time, and consistency to improve the perception of a business. To get started, here are some important steps to take:
Audit your Reputation
A great starting point to improving your reputation is to audit the company. Doing an audit provides an opportunity to do a deep dive into your brand's reputation. By auditing your company, you can research and determine the effectiveness of your branding where your reputation falls short. This can also be important for removing content that can go negatively affect a corporation's reputation.
How does your reputation stack up against competitors?
One insight you can get out of the audit is to know how your business stacks up against your competitors. Knowing how you measure up against your closest competitors can help you understand where your corporate reputation is currently, and what you need to do to improve it. Whether they are local or national competitors, you'll identify where you're ahead or behind.
Are you meeting consumer and stakeholder expectations?
When you're dealing with consumers and brand stakeholders, corporations should be concerned with whether the brand is meeting their expectations. Consumers expect to get value out of your products or services – and when they are not, for whatever reason, they want their problems to be solved by the corporation. In the reputation audit, you'll want to get a clear understanding of customers' expectations, and comparing them with what the business can offer.
How is your company's online reputation?
Your online reputation spans many search engine searches, social media platforms, review websites, and other websites and blogs. Given the importance of online presence, corporations should extensively audit their online brand reputation. By doing this, you get a better sense of your digital reach and the impact of reputation that exist in the form of social mentions, PR, search results, and other forms of online media.
Build a Roadmap to improve corporate reputation
A corporate reputation roadmap is a planning technique that maps out tasks to supports strategic and long-term planning to meet your goals of improving your reputation. With insights from the audit, corporations should now have an understanding of where your reputation stands, and where you need to be. A roadmap is a plan of how to meet your reputation goals. Building a roadmap can help map out a plan of how to improve corporate reputation in a given amount of time. 
Where to find Reputation Management help
When it comes to corporate reputation management, some several departments and employees will take on tasks related to improving corporate reputation. Whether there is an internal department or person, or external agency or consultant, you'll want to work with the following members of an organization to improve reputation. 
SEO

Content marketing 

Reviews & testimonials (both on-site and off-site) 

Public relations

Social media

Customer service
7 Action Items a company can take to improve corporate reputation
Depending on what is found in your reputation audit, here are some common tasks to consider including in your roadmap to improve reputation:
Remove false or negative information from online search results, social media, or websites.

Push down negative or detrimental search results about your brand.

Respond or remove negative or false reviews.

Update content on your website and blog. 

Improve the quality of your customer service training.

Improve employee onboarding process.

Update employee work-life and culture policies.
Who's Responsible for Overseeing Reputation Management?
The tasks listed in your corporate reputation roadmap should not be pushed to the side. Maintaining and upholding a corporation's reputation is an ongoing collaborative effort by many parties, but who is responsible for overseeing the reputation of a company? While marketing and PR teams, customer service, and employees carry out and improve reputation, certain parties within a company are responsible for policing reputation.
#1 – HR Department
The HR department oversees employee and workplace responsibilities. Human resources help to protect the company's image while making sure a workplace environment is and remains pleasant. HR plays a critical role in managing employee relations, which can play a huge part in the perceptions of an employer. They are responsible for the people hired and making sure talented employees remain at the company, are engaged in their work, and enjoy the environment they work in.
#2 – CEO 
The impact of a CEO's decisions can affect a company's reputation. Because the CEO is responsible for setting the overall direction of the company, the decisions should take into account any changes in perception (good or bad) among internal and external stakeholders. 
#3 – Leadership 
Beyond the CEO, leadership is responsible for corporate reputation. The responsibilities of upholding corporate reputation are also passed down to leadership from the CEO. Department leaders have a large role in managing their departments and take responsibility for their performance. Depending on the corporate structure, there are typically C-level roles for departments, including marketing, operations, sales, and finance. Each of these departments works with both internal and external stakeholders, affecting reputation.
In Closing
There's no question that your corporate reputation plays a vital role in company performance and should not be overlooked. One small error and you could have a full-blown PR crisis that can damage your brand temporarily or permanently. Companies can benefit from taking a proactive approach to maintaining their reputation and creating a positive brand image for consumers and stakeholders.
To get started improving corporate reputation, consider hiring a reputation management company like Reputation911. We provide a variety of reputation management services to help corporations take control of their online reputation. Contact us for a free confidential consultation.
About us
We are a Online Reputation and Privacy Management Company that helps our clients Restore, Promote, and Protect their online image.