How Hiring Managers Assess Job Candidates
This post was most recently updated on April 28, 2020
How Employers Evaluate Job Candidates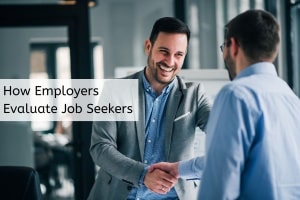 Hiring managers begin their screening of job applicants before ever meeting face to face. With the help of the internet, your online reputation can either help or hurt your ability to get the job of your dreams.
There are several ways to make sure your Google results highlight your best qualities and help you stand out from your competitors, for the right reasons.
Screening Job Candidates 
What is screening? The definition of screening process is…,
In a competitive job market, how do you get a leg up on the competition? Hiring decisions start getting made before you even have the opportunity to introduce yourself. According to a recent study by CareerBuilder, over 70% of hiring managers screen candidates based on their social media profiles, 57% of whom found content that caused them to not hire the potential job candidate.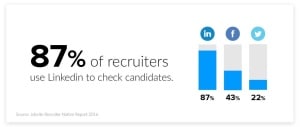 A study done by Forbes showed that almost 80% of all hiring managers begin their screening process of new candidates with a Google search. If you were to Google your name, do you know what you'd find?
How Do Employers Screen Candidates?
Here's how employers will screen their potential candidates for a job:
Resumes
Resume screening helps identify qualified candidates based on the resumes submitted. The information on each resume like education, experience and skill set relative to the job listing are used to select the most qualified candidates.
Cover Letters
Employers will also use cover letters to screen candidates. While cover letters expand on a job candidate's resume, it can also be a great way for hiring companies to evaluate a candidate's written communication, following directions, persuasiveness, and why they feel they are a good fit for the job.
References
Recruiter reference checks are not just a formality in the hiring process – it is a vital part of  screening candidates. References will be used in conjunction with resumes and cover letters to screen candidates.
How Companies Assess Job Applicants
Candidate assessment in the hiring process is defined as… this means…
Before starting your job search or hitting send on your online application, it's a good idea to consider how companies assess job applicants.
Here's how to get ahead of the game and control what hiring managers find online about you, and better prepare yourself for other surprising ways employers evaluate job seekers. 
Google Your Name 
Human resource departments go straight to Google to try to start understanding if a possible job candidate is actually a good fit for the position. 
Do a quick background check on yourself by Googling your name. What kind of information comes up on your first page of Google results? Odds are you'll find links to social media accounts, your LinkedIn profile, and other websites that mention your name. 
If you regularly monitor your online reputation, your Google results should hopefully be clean across the board. Unfortunately, some individuals unknowingly have bad links or press associated with their name. Others might have links to content that is personal and/or outdated. Do a quick cleanup of your search results to better your chances of landing the job. 
Look You Up On Social Media 
As noted above, over 70% of hiring managers start their hiring process by screening job seekers based on their social media profiles. Public profiles are fair game for human resources when it comes to screening candidates.
Employers want to be able to trust you as a valuable candidate, and social media gives them an honest representation of who you are. 
In order to manage your social media presence, start by going through the images, videos and comments on all of your social networks that might miss the mark or hurt your online reputation. Before posting anything online, it's a good idea to ask yourself if you'd want your current or future boss to see it too. 
Do a Video Interview 
Aside from online research, some employers utilize the web to conduct video interviews. Skype and Zoom interviews are becoming more and more prevalent, especially for freelance and remote workers. 
Although different from the in-person interview, online interviews are an easy and more timely way to get the hiring process in motion. Acing your first video interview may lead to the next interview that is in-person. There are loads of online interview tips to help you impress any hiring manager.
Conduct An Assessment 
In order to decide if a candidate will be a good fit for the position, hiring managers might also assign a preliminary skill assessment online. Skill-based assessments help give employers a better understanding of your background and abilities that would be applied to the position. 
Online skill-based assessments are usually 10-15 minute quick answer questions like multiple choice, fill in the blank, or timed writing. The assessments are just a quick way to eliminate any outliers that might not be well suited for the open position. 
The Importance of a Good Online Reputation When Applying for Jobs
The importance of a positive online reputation has never been more important. Before a hiring manager makes their decision to do an in-person interview, they will assess you in some way online. Taking time to improve your online reputation and cleanup your search results is well worth it. 
Improving your online reputation will help you in more ways than one:
Look more professional 

Stand out from the crowd

Showcase your talents 

Control your internet privacy
Career Reputation Management  
If you've found that your online reputation has been holding you back from job opportunities, professional Career Reputation Management is the answer you've been looking for. 
Professional reputation management services are a fantastic way to work one-on-one with someone who can truly transform your online search results and make you stand out from the crowd in the best way possible. 
Whether you are switching careers or just starting out in your field, improving your online reputation will allow you to put your best foot forward and impress any new employer. Get the online results you need to succeed today!
About us
We are a Online Reputation and Privacy Management Company that helps our clients Restore, Promote, and Protect their online image.