What is Online Presence Management?
Online presence management is defined as managing and increasing the visibility of a professional or personal brand online. This can be achieved through various tactics, including online advertising, professional networking, and social media management.
What Online Presence Management Includes
Online presence management involves monitoring brand reputation to stay relevant and be found online in a very competitive and saturated industry.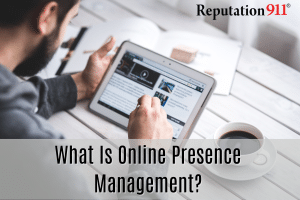 This typically includes:
Social media

– using platforms like LinkedIn, Facebook, Google+, and Twitter can build one's business and professional network(s).

Your website

– make sure your site has web copy that presents your brand in the best light and is completely optimized for SEO keywords.

Your blog

– write content consistently that targets your audience, optimized them for search, and promote them on social media.

Local listings

– for local businesses, online presence management includes claiming and managing local listings and directories online. Be sure to respond to reviews on directory sites.
6 Fantastic Tips for Managing Online Presence
Want to leverage online presence management? Follow these six tips.
Use Professional Networking Sites
When looking to advance your career, It is important to use sites such as LinkedIn, Facebook, Google+, and Twitter to build community and business. Companies have found that there are a lot of benefits to using multiple social media networks. The top benefit is that you can access a large audience demographic range. If you create content or post on one site, your biggest audience will be on that site.
Create a Strategy
One of the best methods to tackle a large audience is to cover as much ground as possible. For example, if your blog content is shared on Facebook and Twitter, you have just reached three different audiences. You will also likely get more comments, thus allowing you to engage with them and connect more with your audience.
Be Authentic
Personal and professional brands should be authentic in their tone and voice online. It is essential to be authentic when announcing new products, services, or other news developments relevant to your business. This will also help you keep a consistent brand image that connects with your audience.
Keep It Personal
People always respond better to a message that is directed at them. Using social media and online platforms, you can do this by using the person's name (real or fake) or referring to a friend request (if you have mutual friends). This shows that you are interested in this person, and they will reciprocate by liking, commenting, or sharing your message.
Be Consistent
Being consistent with your marketing efforts will help improve your online presence while staying top of mind with your followers. Consistency in both message and number of posts establishes your brand image and allows your followers to connect with you more personally.
Use Visual Media
Make sure your website, blog posts, web content, and social media posts use high-quality images. People are more likely to be drawn in by pictures than copy, so use images that capture your audience's attention. In addition to imagery, consider adding video as well. When done correctly, Video can engage web users across all online platforms.
Wrapping Up: Using Online Presence Management
The bottom line is to think about your digital presence management from the audience's perspective. What do they want from you? How do they want to engage with you? Once you figure out the answers to these questions, you can create a cohesive strategy to execute.
Need help with online presence management? Reputation911 is an experienced reputation management agency that can help you manage your online presence, working with businesses and individuals.
About us
We are a Online Reputation and Privacy Management Company that helps our clients Restore, Promote, and Protect their online image.