This post was most recently updated on April 14, 2022
5 Personal Brand Tips to Enhance Your Reputation
Creating a strong personal brand online can be extremely helpful for anyone looking to advance in their personal life or professional career. Your online reputation can either make or break your success with a quick Google search. With these personal brand reputation tips, you'll be able to take control of your online search results while creating a strong personal brand.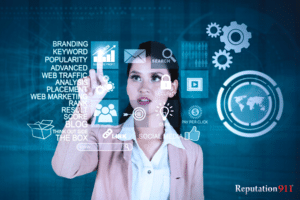 Why is Personal Branding Important? 
Your online reputation has everything to do with how people perceive you based on the image you portray online. If someone types your name into Google, what kind of search results will they find? 
For anyone looking to gain more success in their career or personal lives, maintaining a positive and professional online reputation can open many doors to a brighter future. 
Consider improving your personal brand if you are any of the following: 
College applicant

Job seeker

Public figure 

Entrepreneur
Anyone can benefit from improving their online brand which benefits your online reputation. The more professional, trustworthy and knowledgeable you appear to someone who is looking for more information on you online, the better chances you have of impressing them with a first impression.
A strong personal brand can be the deciding factor of getting that new job, being accepted into that college, or getting your first client. 
The Basics of Online Personal Brand Reputation
Here are the basics of creating and managing your personal brand online, with insight from Talaya Waller, CEO & Founder of Waller & Company and personal branding professional.
Conduct a Personal Brand Assessment
The first thing required when building your brand would be to conduct an online and offline brand assessment. There are numerous metrics to account for when conducting such an assessment, but one of the most popular concerns is measuring your personal brand reach. Brand reach is determined by how many people you reach when posting content on online platforms. These can be platforms you own (i.e. your website) or social media platforms. Offline brand audits are often conducted in the workplace at performance review time, but there are numerous opportunities to receive feedback from your professional stakeholders. Are you receiving positive sentiments or negative sentiments overall? Tracking brand sentiments and reach will help your personal brand grow a strong network.
Build Your Network
Don't worry if you don't have much of an online presence; you can always start building your network (for free) today. But before you go and sign up for every social media platform, creating multiple profiles across the internet, you first need to think about who your stakeholders are and what social media platforms they most likely use. I recommend only signing up for two social platforms in the beginning. Why? More than likely you will only have enough time to optimize two social media platforms if you are a full-time professional employee. Focusing on only two platforms allows you to learn how to use the platforms while giving you more time to create content specifically for them.
Optimize Your Online Profiles
Create content for your profile, starting with your headshot. You never get a second chance to make a first impression, and today more and more of these impressions are made digitally online. Technology doesn't change what we do; it changes how we do it, especially in the days of the coronavirus when we are fast becoming a predominately virtual workforce.
Think of your headshot as your logo for your brand because when someone thinks of your name, your headshot will be the first thing that comes to mind. If a picture is worth a thousand words, what exactly is yours saying? When a new colleague or client is meeting you online for the first time, it's wise to communicate your brand professionally and authentically. Take available time and resources and invest in a professional photographer or find good lighting and a friend to create a headshot that communicates your personality and the brand you want to share with the world.
How to Create & Execute Your Personal Brand Strategy
When preparing to brand or re-brand yourself, these are the things to do to create, strategize and execute your personal brand. These tips are from Jasmine Sandler, Personal Branding Consultant, Keynote Speaker, Author and Trainer Warrior Women in Business & #BRANDYOU Conference Producer.
Identify where your expertise lies and build a brand around that with certainty.
To do this, first look at your top skill set. I generally have my personal branding clients look at their LinkedIn profiles to determine where they have the most search interest, endorsements, and recommendations around their skills, as well as a review of their job experience and where they shined. Uncovering your focus is essential before doing any personal branding work.  This is not solo introspection only. I suggest that you ask former employers and colleagues what they think about you professionally and your skill-set.
Define your personal branding goals.
Determine if this is to support your business, raise your employee monetary value, to gain positions on Boards, to become an Influencer and thought-leader. Personal branding planning, as I have done for thousands of people and business owners, needs to be looked at just like business planning. Think of yourself as a business. How do you want this business to operate? Who is your customer audience? What are you trying to achieve?
Brand consistently
Once you have a personal brand plan and begin execution of brand and content, the brand has to be consistent with the brand promise and mission. This means everything from tone, coloration, font, messaging, and more. The personal brand has to be looked at as a brand but a brand with a real human element and that element must be authentic. In my work in personal brand execution, design and execution is only a piece of it, the monitoring and management of the personal brand is equally as important.
Enhance Your Online Image with These 5 Personal Branding Reputation Tips 
1. Remove Negative Search Results   
Google is your number one search engine. If someone has a question, odds are they're going straight to Google for their answer. With over 1.7 billion searches a day, it's the leading search engine used worldwide, by a landslide. 
Try typing your name into Google, what does your first page of search results say about you? Are there any negative results that might raise a concern? Articles, comments, tweets, images, videos – it's all considered fair game when it comes to the internet.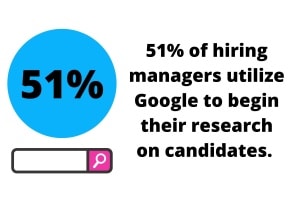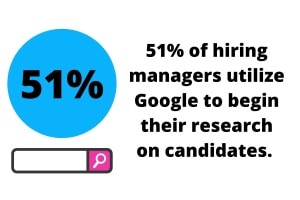 The first step to help build your personal brand is to remove negative content published online. Go through anything you have posted online, and remove any content that could possibly have a negative impact on your online reputation. Once you hit publish online, your digital footprint becomes magnified to the public.
2. Build a Website 
Creating a personal website is a surefire way to improve your personal brand reputation. Website builders like Wix and Squarespace are platforms created specifically to build a website on your own. The key is to keep things simple, engaging, and unique to who you are. 
A homepage, examples of your work, and links to social media profiles are a good place to start. Adding an "about me" page with a professional headshot can help reassure the person searching your name that you are indeed a trustworthy, professional and likable source. Make sure to utilize SEO (Search Engine Optimization) techniques to make sure your website can easily be found online. 
3. Start a Blog 
Just like a website, a blog can also be a great way to improve your online reputation and benefit your personal brand. By creating a blog, you have the ability to "show off" one of your areas of expertise and prove yourself to be a thought leader. 
By positioning yourself as an expert in something that aligns with your own personal brand reputation, you have the opportunity to build your own credentials and validation to your name. 
You can either star in guest blogging in an existing forum, or build your own. If you've already built your own website, adding a blog will offer domain authority and help increase your site's ability to be found online.
4. Utilize Social Media 
Social networking is regularly used as a personal brand reputation technique. It not only offers a way to connect with an audience but it can also be used as a tool for content marketing. If you've made your website and blog, make sure to share it on all your social accounts to gain traffic. With every social media posting, you create new content associated with your name, which should always be mentioned in your username and profile. 
Just like blogging, social networking can also help you become an expert in your industry. Try following other pages and profiles that share similar interests. You never know who you'll impress – networking events don't always have to be in person. 
5. Start Networking on LinkedIn  
Linkedin is a professional networking site that can be an especially useful tool when improving your online reputation. Unlike other social media platforms, LinkedIn is specifically designed for professional networking and career development opportunities. 
By taking the time to perfect your LinkedIn profile, you have the ability to be in control of how others see you as a professional, no matter what your career or background looks like. The beauty of this networking site is that your profile does all the talking for you, so it pays to take the time to do it right and create a professional-looking LinkedIn profile.
Even if you are not actively looking for a job or career change, taking the time to improve your profile keeps the information up to date and at the top of your Google search results.
Maintaining a professional LinkedIn profile automatically improves your online search results just by being on the site itself because it is associated with other professionals, in turn boosting your credentials by the power of association. 
Not only can a proper LinkedIn profile enhance your online reputation by making you look like an industry professional, but it can also help grow your network. Ever heard the phrase, "it pays to have friends in high places," – that same saying goes for your online network. 
By networking on LinkedIn, you also boost your own professionalism (again, that power of association goes a long way). Broaden your online network and increase your connections on LinkedIn by adding coworkers, mentors, and friends. You can even follow other companies and join groups that might inspire you or be relative to your career background or interests. 
Bonus Tip: Hire a Reputation Management Expert  
Branding yourself online can be a daunting task, even for those who are highly tech-savvy. In some cases, working with a personal reputation management company is crucial in order to build a personal brand reputation for long-term success. 
Hiring an online reputation management expert ensures that anyone searching your name on Google will find nothing but impressive results showcasing you as an expert in your field. Whether you've started building your online brand but haven't yet been successful, or need help finding where to start, working with professional reputation management services could be the answer you've been looking for. 
We are a reputation management company that helps to make you Look Good Online.