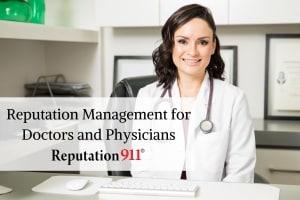 Reputation Management for Doctors and Physicians
Reputation Management is an important practice for doctors, practitioners, physicians and dentists. On average, 82% of Americans evaluate doctors based on their online reviews and use them to make decisions on whether or not to schedule their next visit.
Reputation Management for Doctors is especially important for those in the medical practice who understand the importance of their online presence. Google is the first place people go to answer questions, especially about those we want to trust.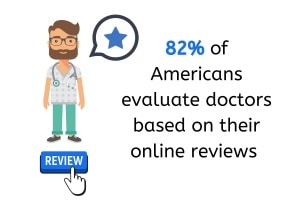 Why Are Online Reviews Important for Doctors? 
Online reviews are just as important as word of mouth recommendations, weighing heavily on the decision making process of potential patients, or existing.
When unhappy patients take their frustration out online, review sites are some of the first places they go to when voicing their opinion. Patients reviews either help or hurt your business. A positive review will improve a patient's ability to trust you, where a negative review will do the opposite.
The patient experience is a determining factor in gaining a customer base as a medical practice manager, and can either strengthen, or hurt existing patient relationships. 
The Effects of Social Media 
Just like review sites, social media channels are the second most popular place for patients to voice their opinions online. Negative reviews on social profiles are equally important considering the patient experience and satisfaction. 
Due to the viral nature of social media, a negative review can quickly escalate into a reputation crisis, leaving a lasting negative impression on your professional career. 
How Does Online Reputation Management for Doctors Work? 
Managing your online reputation with the help of a professional is a secure way to improve your credibility online and drastically improve your patient retention. Reputation Management is also for those just starting out in the field, helping make sure your career gets started off with a solid foundation inpatient care. 
With the use of search engines like Google, we are able to find out information on anything and everything. Reputation Management involves taking control of your online reputation with the use of SEO or Search Engine Optimization practices. 
Our team of trained professionals will work to create a custom plan designed specifically for your goals and expectations. With the help of a content creation plan and exemplary branding strategy, your online reputation will not only be managed and restored, you'll have the peace of mind knowing your online reputation will be secure long term. 
Monitoring Your Practice Online 
Online Reputation Management services help doctors increase positive patient reviews, and grow a more professional medical practice. 
Positive reviews are one of the post important aspects of providing trusted care to your patient base. Your patients trust online reviews because they are coming from honest people who offer a valuable opinion. Having a deeper understanding of your patient's sentiments will help you and your practice grow and evolve. 
Improve Your Overall Patient Care 
We have helped numerous professionals in the medical field restore and manage their online reputation. Negative reviews and misleading information can be misconstrued and blown out of proportion when it comes to the internet. Gain control of your online reputation and get the insight you need for long term success. 
Reputation911 Can Help Doctors
We can help Doctors in a number of different ways
Want to learn more about our reputation management services? We offer business reputation services for doctors, physicians and other similar businesses. See how Reputation 911 can help you today, and contact us to get started.