How Online Reviews Can Help You Get New Customers
These days the Internet has become the go-to source for information on just about every industry out there. With the wide-range of online review sites now available, most consumers with Internet access tend to check online reviews before they decide to buy anything from a cup of coffee, to a fancy dinner, to new cars and homes.
The accessibility of online review sites has made it easy for potential customers to decide whether or not to give you or your competition their new business.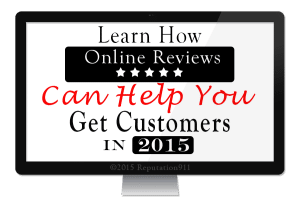 This has, in turn, made many industries more competitive than ever. Businesses looking to find a high level of success will have to figure out how to gain the competitive advantage over the other major players in their industry.
Businesses will have to start showcasing their positive customer reviews, awards and accolades to keep their customers from going to the "other guys?"
One great way to do this is to hire a reputation management company that can not only control your business reviews but also your search results which are the first thing people will see when searching for you or your business online.
Building Positive Customer Reviews

Focusing on customer service is a super effective way to build positive customer reviews.  When the customer sees that you are putting in the time and effort to give them the best possible result, he or she may be inclined to leave a great review.

It is also always a smart idea to ask some of your most loyal and dedicated customers to write reviews of their experiences with your company. If a customer has been with you for a long time, there is obviously something about your business that keeps bringing them back.

When your dedicated customers share their positive and honest experiences about working with your company, they can inspire future clients and customers to do the same. Overtime, you are sure to gain more attention from local consumers than your competitors who are not consistently getting positive reviews.

Avoiding Fake Reviews

Fake customer reviews have become an epidemic and just a one-star rating decrease can cost you up to 9% of your business' revenues according to a Harvard Business School Study. Countless businesses have been found to be creating false accounts to write positive reviews for their own company in an attempt to boost revenues.

At the same time, many businesses are also writing fake "bad" reviews for their competitors. Although this may seem tempting, it will only result in ruining your own company's reputation.

These practices are cheap and immoral and will get you nowhere in the long run.  Online review sites like Yelp! can quickly and easily find these fake reviews and will 'flag' your business to the public if they find you are behind them. It's just not worth it. Spend time making real improvements to your business rather than hiding its imperfections.

Managing Online Reviews

Once the reviews start coming in, it is important to pay attention to what your customers are saying.  This is how you will make stronger connections with your customers and show the public your business is the best choice out there because you truly do care.

Just a few quick responses to some positive reviews can go a long way. Letting your customers know you appreciate their feedback is a great way to keep them coming back and to get new customers interested as well.

It is also important not to ignore the negative reviews. When a negative review is posted, you need to approach the issue in a calm and professional manner. Figure out if there is anything you can do to remedy the situation. You may be able to turn that customer's experience from negative to positive and keep them from switching over to a competitor.
As competition in many industries continues to rise and information on the Internet becomes more and more accessible, businesses are eager to find ways to stand out and gain a competitive edge against "the other guys."
While there are many ways to go about this, one thing stands true; it is impossible to ignore quality, positive customer reviews. Happy customers result in positive reviews, which bring in more happy customers to leave more positive reviews, building you a platform upon which you'll stand way above the competition.
It is critical to keep track of what is being said about your business online, but with so many review sites out there, this can become quite difficult.
To find out more about how to monitor and manage your online reviews and fix your online reputation, contact Reputation911 by filling out the form on the bottom of this page or by calling us at 866-MY-REP-911.
About us
We are a Online Reputation and Privacy Management Company that helps our clients Restore, Promote, and Protect their online image.