Why Reputation Management is Important for Businesses
This post was most recently updated on August 31, 2021
Whether you know it or not, your business continuously shapes its online reputation with every tweet, post, blog or update published online. A business's online reputation is equally shaped by the information others share online about your business, like news, mentions and reviews. This article helps outline the reasons why a business should have reputation management and create a business reputation policy.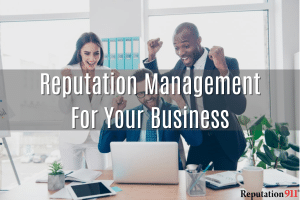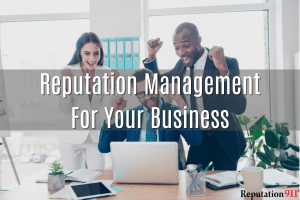 The Importance of a Business's Online Reputation
Any successful business, whether a local small business or fortune 500 company, requires a reputation management plan to be successful for the long term. Whether it's facing a bad review with confidence or building a stronger brand with the help of your online presence, reputation management can make all the difference in beating the competition and staying ahead of the game.
4 Reasons Why Business Reputation Management is Important
Why should a business have reputation management? Here are four reasons why reputation management matters for the performance of your business.
Rank Higher in Organic Search Results  
When someone searches for your business online, what type of results will they find? Is your business higher in the search results compared to your competitors? 
Search engines like Google are used as an online directory, made to connect users with the best possible answers. If someone types in "best pizza shop near me," you're going to want your business to be the first name that potential customers sees, right? 
Regularly managing your online reputation helps improve your overall online presence. The better your online presence, the higher your rank in Google search results! 
Regularly managing your business's online reputation not only improves the customer experience of your current audience, but it also helps convert sales.
What's the sense of having a beautiful website if it's not reaching the right people? Reputation Management involves creating a digital marketing plan designed to improve business online. 
With the help of Reputation Management you create a plan to help you find the right target audience, bring them directly to your website, and sell them on your products and services! 
Improve Your Social Media Presence
Social media has never been more important for successful businesses. According to eMarketer's research, almost 70% of people ages 18-29 use Instagram, and a whopping 2.45 billion people use Facebook every month.  
There are endless opportunities to connect with your target audience on social media. Improving your business's social media presence on online platforms helps you build a stronger brand, improve your networking connections, and get more people talking about all the greatness your business has to offer. 
Get Better Reviews Online
Online reviews are extremely important for all business types, especially small businesses. One negative review handled incorrectly could completely squash your ability to thrive. 
Over 90% of consumers read online reviews before visiting a business, and they trust them just as much as personal recommendations by world-of-mouth. That means almost every single person interested in your business is going to look up your online reviews and use that information to determine their purchasing decision.
If bad reviews and customer concerns fill your review pages, what kind of message does that send to your potential customers? 
With the help of Reputation Management, your business will gain the confidence in knowing bad reviews can be handled professionally, and can actually improve your business's customer service.
By responding to customer's concerns with care and consideration on a public platform, you're not only helping improve that customer's experience, you're also showing potential customers that you care about your customer's concerns enough to address negative comments directly. 
Interested in improving your business's online reviews? Learn more about online review management.
Choosing the Right Reputation Management Company 
Working with a company that provides professional reputation management services  gives you peace of mind knowing your business's online reputation is protected for good. Build, restore and protect your business's online presence with the help of Reputation911 business reputation management.
We are a reputation management company that helps to make you Look Good Online.