3 Ways Online Reviews Affect Revenue
Online reviews play a big part in the success of online reputation management campaigns for businesses, as explained in our blog post about 3 reasons your online reputation management strategy needs online reviews.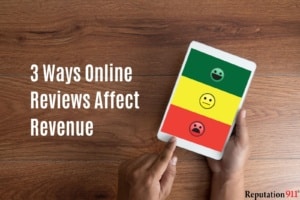 How Online Reviews Affect Revenue
According to Fan & Fuel, a whopping 94% of all online customers read online reviews before making any purchase decisions, and BrightLocal reports roughly 60% of consumers to read online reviews for cafes and restaurants, 40% for Bed and Breakfasts, and 33% for services involving medical procedures.
1. Positive Reviews Are Like Free Advertising
Although advertising campaigns get customers to remember your company's name, they will still search for you online before buying your products or services. Online reviews play a pivotal role in any company's search results.
Each positive review acts as its own advertisement, as reviewers praise everything from product quality to service, and even the atmosphere of your physical location. 
For example, the phrase, "try the new scones. They're the best in the city!" carries more weight in an online review, where it feels like a testimonial than it does in a print advertisement where it comes off as a gimmicky marketing tagline. 
Meanwhile, negative reviews can be as detrimental as a slanderous campaign. A poor experience detailed by a reviewer will convince individuals who read that review to look for another business.
2. Improve SEO With the Help of Positive Reviews 
Search engine optimization, or SEO, is the process of making a web page rank higher in Google search results. Online reviews help in this process because the more reviews a business has, the more online mentions it has.
When search engines such as Google see this high number of mentions, they recognize the business as more important than less-mentioned competitors. Thus a high number of online reviews, even if they are not all positive, will help businesses rank higher when customers search general phrases like "Boston dentists" or "Raleigh Mexican restaurants." 
This SEO boost can also help in online reputation management since reviews will push damaging content off of the first page of Google search results.
3. Increase Your Business's Credibility with Positive Reviews 
Most businesses have a web page and many have a social media presence, but the majority of small businesses still have not done enough to build a credible reputation. A social media profile that has not been updated in over a year will leave customers wondering whether or not the business is still open.
Customers who are researching businesses before leaving their house will choose to stay home or look for a more trustworthy business if they are not sure whether or not you are still open. However, a recent online review will signal to consumers that the business is still open, which will lead to more new customers walking in the door. 
Even a response to a negative review will boost credibility because it shows that the business is transparent. A business that only has positive reviews is actually more suspicious since customers know that not everyone can be pleased.
How to Handle Business Reviews Like a Pro: 
Learn how to handle any type of review with the help of our free Online Review Best Practices & Strategies Guide. One single bad review can negatively impact business, two can start a trend, and after that, your business may be looking at a reputation crisis. 
No need to fear, online reviews only have so much power over your business. What's even more important is how you respond to those reviews. With the help of our free Online Review Best Practices & Strategies Guide you will learn: 
The importance of Google reviews

How bad reviews can affect your online reputation

How to handle fake reviews 

How to handle a bad review 

How Reputation911's Online Review Management Services can help
About us
We are a Online Reputation and Privacy Management Company that helps our clients Restore, Promote, and Protect their online image.