What Do Reputation Repair Services Include?
Last Updated on May 22, 2023
Reputation Repair Services
It's never a good feeling to discover your online reputation might be at risk. Thankfully, expert reputation management companies can provide you with services to help fix it.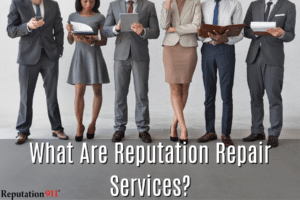 Reputation repair could be right for you if you've experienced any of the following: recent negative reviews, negative news stories, concerning feedback, or lackluster sales. Companies specializing in repairing your personal reputation or business reputation will first take a look at the most concerning searches related to your brand. Then, they will discuss options on how to minimize unwanted search results or remove them altogether.
But first, what types of reputation repair services are there?
Types of Reputation Repair
#1 Business Reputation
Your business reputation means everything. It's the associations people make with your brand and their own personal relationship to it. It's important to have a positive business reputation to keep everyone in your business ecosystem happy—employees, supply chain, stockholders, customers, and more.
#2 Personal Reputation
Your personal reputation online is the search results that appear when you search your name into a search engine like Google or Bing. Any personal websites or social media platforms you're on will likely be at the top of your first page of results. For individuals, repairing your reputation starts with addressing search results and social media platforms.
Our Reputation Repair Services
At Reputation911, we pride ourselves on our full-service reputation management services. No matter how big or small your reputation repair goals are, our team will help develop the best strategy and implementations for you and your business.
Our business and personal reputation repair offerings include:
Suppression

of negative search results through exchanging undesirable terms or phrases for more favorable terms and results.

Removal

of negative search results, links, images, videos, and reviews.

Crisis Management for time sensitive matters (learn more: how to handle a personal reputation crisis or business reputation crisis)
Protection

of newly established reputations for long-term success.
What Do Reputation Services Include?
A reputation management company can offer you a full stack of reputation defending services. From content suppression to removal, they will be able to tailor the right solution to your needs.
At Reputation911, we pair you with a dedicated account manager who assesses your current search results and provides you with a customized strategy of content suppression, link removals, and promotion of positive sites and associations. We benchmark your search term's progress over 30, 60, and 90 day intervals so you can truly see long-lasting results.
Why Should I Invest in Online Reputation Repair Services?
Let's face it—running a business and managing all the marketing is a lot of work. We operate in a time-poor society and some things are better left to the experts. Investing in online reputation management services saves you unnecessary stress and headaches and allows you to focus on what you do best—running your business.
For example, what if you don't understand where your negative reviews are coming from and whether you should respond to them or not? Instead of guessing what you should say (or perhaps even saying the wrong thing) let us guide you through the best steps to take in both your customer's and Google's eyes.
Getting Started With Reputation Repair Services
When you Google reputation repair services for personal image or for the brand of a business or organization, you might feel overwhelmed by the sheer volume of information you're confronted with. From signing up for new accounts on social media platforms to purchasing a whole new website altogether, it can be very confusing to know where to start.
That's why it takes an expert's knowledge and years of experience to guide you towards your reputation redemption. A brand new reputation doesn't happen overnight, it takes time to repair any damage that's been done and time to cultivate new reputation sentiments.
If you know you need to redeem your reputation but are still not sure if you have the time or skill set needed to fix it, consider hiring a professional reputation management company to do the heavy lifting for you.
We are a reputation management company that helps to make you Look Good Online.